Scandinavians jet into Dubai as SAS bookings increase by 41%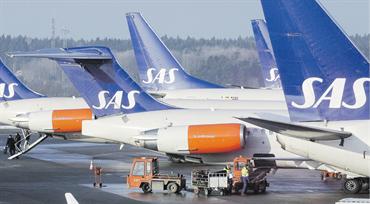 SAS Scandinavian Airlines has recorded a 41 per cent increase in bookings for its winter season service between Dubai and Copenhagen, compared to the same period last year.

The national carrier for Denmark, Norway and Sweden, which flies to Dubai from October until April every year with three weekly flights, has attributed this increase in demand to a 30 per cent decrease in airfare, coupled with UAE's growing attraction as a tourist destination to Scandinavian countries.

"After last year's global economic downturn, like most carriers, SAS Scandinavian Airlines was also forced to slash its airfares by nearly 30 per cent globally to stimulate demand," Albert Henschel, SAS General Manager to the UAE, told Emirates Business. "We were forced to reduce our seat capacity last year by 20 per cent, which meant that nearly 20 planes were grounded."

He also confirmed that the airline was also forced to close several routes, along with reducing frequency to cities such as London.

However, Henschel said no aircraft orders had been cancelled by the Stockholm-headquartered airline, without revealing SAS's order book or its value; according to the airline's website, there are 159 aircraft currently in the fleet.

Henschel seemed confident that the worst of the aviation industry was behind them, with demand already on the rise. He said: "The first indication of this was our bookings on the Dubai-Copenhagen sector, which were up by 41 per cent when compared to the same month last year.

"As demand continues to rise, airfares will gradually follow suit and the playing ground should get more competitive."

When quizzed over the reasons for the sudden boost in demand, Henschel said a large part of this could be attributed to the sudden influx of leisure tourists from the Scandinavian countries to Dubai.

"The increase in demand is twofold," he explained, adding: "One of the first things we did last year, when demand dipped, was to fly out many tour operators here to package Dubai to clients back home. Added to that was Dubai's sudden publicity in the international press and people were suddenly curious to know more about this place. Scandinavian countries are known for their bitter winters, so coming to sunny climes was an extra incentive."

However, when asked if SAS would increase its limited five-month presence to a year-round route for the airline, and Henschel gave a conservative response.

"Dubai is a very important destination for the airline, and a hub to the rest of the GCC, which has been targeted by us as one of the more lucrative emerging markets," he said.

"We would hope to increase our flights here sometime in the future, and increase our Middle East network as a whole. And we have previously flown to Saudi Arabia, Iran and Iraq.

"But we are still comparatively a small airline with a limited number of aircraft. We would much rather use our aircraft on more profitable routes such as Chicago or Beijing. However, as demand for these routes dips during the winter months, we were left with the option to ground those planes or send them somewhere else. Dubai was the ideal choice for those five months."

Plans for new code share agreements with Mideast carriers also appeared on the cards for SAS. Henschel said: "We are always looking forward to forging new partnerships and code sharing with Mideast carriers would be ideal for travellers based in the UAE, looking to connect to Europe or the US through SAS's hub in Copenhagen. Things are looking very interesting on that front and it is on the plan, however, nothing has been cemented yet."

The recently concluded Copenhagen environmental summit saw SAS at the forefront of talks in reducing carbon emissions in the aviation industry.

"As airline operations account for 95 per cent of the SAS Group's environmental impact, most of which is caused by the consumption of non-renewable energy, primarily fossil fuels, we are fully committed and supportive of Iata's [International Air Transport Association] vision of having zero emissions in the air transport industry by 2050," said Henschel. "SAS principal strategic targets include 20 per cent lower emissions by 2020, including traffic growth, and 50 per cent lower emissions per unit produced by 2020."

He said: "We are already making headway with our Green Landings, which allows us to land by keeping our engines idle. This reduces emissions, is more fuel efficient and cancels out noise pollution. This is just one of many initiatives the group has implemented and we do believe our 2020 targets are achieveable."
Keep up with the latest business news from the region with the Emirates Business 24|7 daily newsletter. To subscribe to the newsletter, please click here.
Follow Emirates 24|7 on Google News.