Shipping and logistics will remain key to GCC growth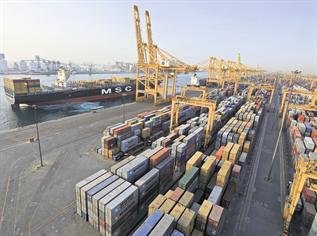 Shipping and logistics movements into the GCC and the region will continue to remain the focal point of growth, as more global companies try to increase their presence in this market, said a New York-based logistics company.

Michael Notarangeli, Vice-President of Field Operations at Choice Logistics, yesterday told Emirates Business that the primary reason behind the company's move to expand in the region and set up its base in Dubai is because of the demand of clients.

Dubai also enables hassle-free entry into Saudi Arabia and other countries, cutting down permissions and paperwork significantly. "Our company has had a lot of growth in Europe, the Middle East and Africa. In North America, we have a very stable and mature market. A lot of our clients are US multinational corporations and as they expand their footprint and sell their systems in emerging economies, our business also grows and we have seen a lot of growth in this region," said Notarangeli.

"Middle East, specifically, is where our clients are doing more business and are looking for more innovations from us in how to address the markets better, which enabled us to open the Dubai hub. It will serve all countries in the region and Africa and other destinations where it makes sense to ship from Dubai."

Choice Logistics is a third-party logistics provider. "In some ways we are like a fourth-party logistics provider. We operate a global network of distribution centres, what we call strategic stocking locations. We total about 400 locations and we do just one thing – warehousing and delivery of mission critical spare parts," said Notarangeli.

The company specialises in transporting devices that power medical, computer or telecom networks.

"We are very focused and our whole process or system is dependent on making a two-hour delivery to a client engineer or an end user anywhere in the world," he said.

Describing the current industry situation, Notarangeli said: "Right now the industry is challenged. The amount of volume that we moved has gone down by about five to 10 per cent. From the industry perspective, I can say everybody's volumes have dropped."

Like every other company we have had some challenging times over the past 18 months. However, whether the economy is booming or at a low point, the type of work we do will continue because we focus on mission critical systems – on things that keep enterprises running and working."

Given the current situation, the demand from clients has also increased.

"We have been challenged in some ways because clients are very focused on efficiency and reducing cost. Obviously they are pushing down on us to become more efficient, effective and innovative and help them to do more business at less cost. This is true for the industry as a whole," said Notarangeli.

"What we have experienced with our clients is that they are stocking less parts because inventory is cash. Clients are very concerned with cash. So they are not storing as many spare parts in the market and a lot of our clients have changed the way they support our customers. Instead of same-day repairs, or maintenance, they have postponed it to next-day basis. So that means that we ship it overnight to meet their needs and thereby we have been put under pressure to perform.

"Under these circumstances shipment becomes very critical and it is important for us to get into the market. That is where we have to be concerned about the customs process, export compliance, licensing, regulation and inspection."

Luisella Basso, Senior Manager for Global Trade Compliance, said the company has been shipping from the European Union (Rotterdam) to Saudi Arabia and the timeline requirements were pretty strict.

"It required a very long pre-shipping clearance process, the transit time was quite long and sometimes several weeks depending on the availability of the documentation required. Because of that we started looking for a better and more efficient way of serving our clients," she said.

"Dubai turned out to be the actual solution for us. We had tested some shipments by routing them to Saudi Arabia through Dubai and we were able to cut the transit time considerably. The Rotterdam-Saudi Arabia routing took about 20 days on an average, which also included a pre-clearance process. We basically needed to go through a pre-inspection of everything that we were moving to Saudi Arabia when we were shipping out of Rotterdam. When we tested Dubai, the transit time reduced considerably, and we had about an average of two to three days for shipping and clearance to Saudi Arabia. Being a part of GCC, shipping out of GCC also meant that there was an advantage as far as restrictions were concerned."

The company has been operating from Dubai through its partner Aamro Freight and Services.

"Dubai's business-friendly environment has allowed us to expand our operations and to create a regional hub and do more stocking of critical spare-parts. We will be shipping them to the Middle East and Africa from Dubai where it makes more sense than shipping from the EU," Basso added.

Meanwhile, according to Notarangeli, Choice Logistics has witnessed growth at a much slower rate in 2009 compared to the previous year. "In 2009, we continued to invest in resources, capabilities and infrastructure. We are continuing to attract resources that we need to develop our capabilities in order to be prepared when the economy rebounds. We see the remaining months of the year as a continuing challenge. We are optimistic the economy has improved in some segments," he said.

"Discussion with our clients has revealed that they, too, are optimistic and they are asking us to open new locations and develop new solutions. I think the fear of 2009 has passed and people now realise that there is more economic activity and growth expected over the next 12 months."
Keep up with the latest business news from the region with the Emirates Business 24|7 daily newsletter. To subscribe to the newsletter, please click here.
Follow Emirates 24|7 on Google News.