Singapore airlines suspends some flights amid downturn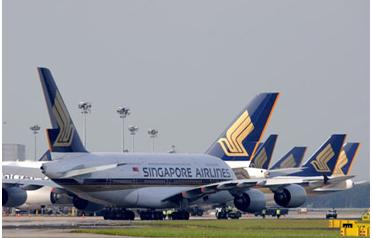 Flights to India, Southeast Asia, the United States and Europe will be affected, SIA said in a statement.
"Singapore Airlines is making further adjustments to its route network to better match capacity with demand," it said.
"Where demand falls, capacity adjustments will be made and this process will continue going forward."
It said the changes will be implemented progressively and will apply until the end of March.
Flights between Singapore and the Indian city of Hyderabad will be cut to three times weekly from four, the airline said.
Service between Singapore and New Delhi will be trimmed to five times a week from six, while Mumbai-Singapore service will be cut to four times a week from five.
In Southeast Asia, two flights between Singapore and Bangkok will be suspended from February 2, although the airline said it will continue to operate 25 flights a week to and from the Thai capital.
In Europe, two flights operating between Singapore and London will be suspended on Mondays and Thursdays from March 9-23. The frequency on the Singapore-London route will be cut to 19 flights a week from 21.
Services between Singapore and Zurich will be reduced from daily to five times a week, SIA said.
At the same time, it said it would add some services to the Middle East.
Earlier Wednesday, SIA said it was reducing its all-business class service to New York and Los Angeles in the face of the global economic downturn.
The 14 weekly Airbus A345 flights will be cut to 10, it said, adding the change will initially take effect between February 17 and March 25.
"This is part of our capacity adjustments to ensure capacity better matches demand during the economic downturn," SIA's vice president of public affairs, Stephen Forshaw, said in a statement.
"We don't want to be flying half-empty planes around the world any longer than we have to, because it increases our cost burden at a time when we can least afford that."
The non-stop all-business service to New York began in May last year, followed by Los Angeles in August.
SIA said its December passenger numbers were down 7.5 per cent year-on-year.
Analysts have said the airline industry will be hit hard by the deepening global economic slump which has seen people cut back on discretionary spending such as leisure travel.
Airlines based in the Asia Pacific region carried 141.5 million international passengers in 2008, or 1.8 per cent fewer than record levels in 2007, an industry group said last week.
Follow Emirates 24|7 on Google News.
Singapore airlines (SIA) said on Wednesday it will suspend some international flights as the worsening global economy takes its toll on travel demand.