Strong growth potential for Middle East airlines in 2009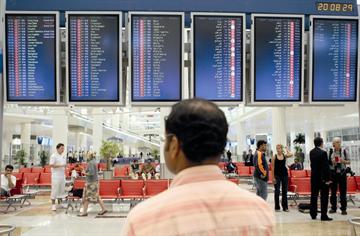 The Middle East airlines are expected to add 114 aircraft to their fleets in 2009 [eight per cent of worldwide deliveries] and 122 in 2010 [nine per cent of the total], whereas, most European and Asian network airlines will either reduce capacity or remain around current levels, according to a latest industry report.

The Middle East Aviation Outlook 2009 report by Capa (Centre for Asia Pacific Aviation) remains relatively bullish about the region's prospects. It revealed that there is a lot more capacity coming on line in the region in the next two years, adding that a disproportionately large number of long-haul orders, which Boeing and Airbus have on their books, are from the Gulf.

"The Middle East is fast becoming the 'next-gen aviation centre of the world'," the report stated.

Emirates, Etihad Airways, Qatar Airways and several other operators lead the global list and, according to recent reports, with no intention of slowing their delivery schedules.

Orders on a high

While the economic crisis is forcing other airlines to cut back, the UAE's aviation strength continues to grow, with airlines in the UAE set to more than triple the number of aircraft based in the country over the next two decades, according to the Capa forecast for the year.

It said Emirates' fleet and orders as of January 2009, rested at 306, with 179 planes on order and 127 already in service. And the carrier has no plans to delay or defer aircraft deliveries over 2009, which will see it take delivery of more A380s and ultra-long range Boeing 777 variants.

Scheduled to take delivery of about 18 aircraft over the next 12 months, Emirates' overall capacity is expected to increase by 14 per cent this year, and passenger growth to increase by a similar amount, the airline said yesterday in a statement. In the past five years, Emirates' capacity has increased between 15 per cent and 26 per cent.

Abu Dhabi-based Etihad Airways has 118 aircraft on order with 44 in service at present, as per the Capa report. It stated the airline needs to find $125 million (Dh459m) per month on an average in fresh finance over the next 12 years to fund its mammoth fleet plans.

"This could be the biggest challenge yet for an airline that celebrated its fifth anniversary in late 2008, particularly as the financial crisis deepens and concerns over the Gulf intensify as the value of petroleum exports decline," said the report.

Etihad, however, announced more than $1.4bn in financing agreements for new aircraft during 2008. It said it would use "diverse funding" sources for $18bn in aircraft financing to be raised over the next 12 years.

By 2020, Etihad plans to handle 25 million passengers per annum, with a network of 100 destinations and a fleet of 162 aircraft. Ten aircraft are scheduled for delivery in 2009, with deliveries peaking in 2010 with 11, Capa said in its report, adding that the Middle East carriers would be growing this year while others are stagnating.

Qatar Airways, meanwhile, has 135 aircraft on order (more than double its current fleet size of 65 aircraft) and other GCC carriers, such as Jazeera Airways (based in Kuwait and Dubai), Gulf Air and Saudi Arabian Airlines have announced major orders over the past 12 months. At the same time, Capa warns that other countries in the region are not "exactly dragging their feet", either through aggressive expansion of state-owned carriers or through opening up their aviation sectors to more competition.

Profit outlook positive

Despite an 88 per cent cut in profitability during the first half of its current financial year, Emirates is still maintaining an air of confidence about its financial performance as it enters 2009, according to the Capa report.

It said the carrier's Vice-Chairman, Maurice Flanagan, who described the current economic slowdown as a "hiccup", forecast that global passenger traffic growth of approximately five per cent would return after the worst of the crisis has passed, expected to bottom out within the next 12 months.

Fuel, not slowing global traffic growth, was "entirely" responsible for the previous drop in the carrier's profitability, according to Emirates. The carrier reported a net profit of $77m in the first half of the financial year 2008-'09 and has forecast net profit of approximately $425m for the second half of the fiscal – although declining external conditions may reduce this.

A sharp fall in the price of oil has seen the carrier's fuel costs [as a percentage of overall operating costs] fall from 43 per cent at the peak of the oil crisis to approximately 25 per cent in mid-December 2008, boosting its outlook.

According to Capa, Emirates expects to report a full-year result better than $500m for the year ending March 31, 2009. It said: "Although a significant reduction from the $1.4bn net profit was reported for FY2007-08, it is expected to be the strongest result in the Middle East, a region which Iata expects to report a $200m overall loss in 2009."

The carrier has further dismissed rumours that it intends to reduce its workforce, stating that on the contrary it will continue to need more staff to handle the large amount of capacity and new routes that will be introduced in 2009.

Meanwhile, the challenge for Emirates over the next few years would be intense international competition it is likely to face due to consolidation taking place in Europe and North America, Capa said.

At the same time, this year would be another year of aggressive expansion by the carrier, according to Capa's projections, as Emirates deploys the new aircraft coming into service, with Australia, Africa, the Americas and Europe featuring prominently in its expansion plans for the year.

Budget carriers

With Dubai's first budget carrier, Flydubai, to enter the low-cost race sometime in the middle of this year, there is a growing force of low-cost carriers in the Middle East, mostly based in the Gulf, with Air India Express from outside the region, as now a substantial operator, according to the Capa report.

"Most recently, the cross-border joint venture strategy has extended this to North Africa, as Sharjah-based Air Arabia joined with Morocco's Regional Airlines to allow it to establish a base in Casablanca in early 2009," it said.

The report said: "Other homegrown LCCs, like Kuwait's Jazeera Airways and the soon-to-be-launched Flydubai, are ensuring that regional markets will undergo significant change, too. As the long-haul markets of the region's network airlines entrench the Gulf's global role in aviation, it is inevitable that short-haul expansion will mirror this expansion."

However, budget carriers still comprise just a fraction of the total market share in the Middle East – less than five per cent, "but are an increasingly important element in the regional and short-haul markets", Capa said in the report.

It further pointed out that even though the Indian LCCs are becoming more prominent in the Gulf short-haul markets, along with the formidable force of home grown carriers, it would be wrong to assume there will be no new LCC entrants in the short-term.

Flydubai is gearing up for a flying start, with a start-up order of 54 Boeing 737-800s. The airline confirmed plans to launch services in the second quarter of this year, despite a long machinists strike action at Boeing in September last year.

Capa report says Flydubai hopes to add at least seven aircraft to its fleet by the end of 2010, with as many as five aircraft to be operational within 12 months of its launch.

Air Arabia, on the other hand, is living up to its reputation as the world's most profitable airline (by operating and net margins), with a strong final quarter. The carrier's net profit for the three months ended December 31, 2008 rose 45.5 per cent to $37 million, producing a net margin of 23.8 per cent. Its passenger numbers rose 29 per cent year-on-year to 959,067.

However, Air Arabia could find conditions in 2009 more difficult than last year. The coming year will see "serious challenges to the worldwide aviation industry", the airline's Chairman, Abdullah bin Mohammad Al Thani, recently said. "This uncertainty about the future will place additional pressure on the bottom lines and earnings expectations of airlines across the globe," he said.

But the launch of Air Arabia's second hub in Morocco in April 2009 would be the highlight, while the carrier is also diversifying its revenue streams through a new 300-room budget hotel at Sharjah International Airport, the report said.

It added that overall, Air Arabia should continue to "outperform" most other airlines worldwide with its highly efficient asset utilisation rates and access to growing markets.

Kuwait's Jazeera Airways, meanwhile, currently operates a fleet of eight new Airbus A320s, with firm orders for 32 additional aircraft for delivery until 2013.

By 2014, Jazeera plans to operate to 59 new destinations in and around the Middle East, "connecting the dots", said the report, adding that the carrier also has ambitious plans to increase passenger numbers to 8.5 million per annum over the next four years, which is almost equivalent to Qatar Airways' 2007 passenger levels.

Sector set to soar

Whatever happens in the remainder of the world, there are still strong indications the Middle East will continue to support strong levels of traffic growth – on both long-haul and short-haul point-to-point operations, according to Capa report.

It stated while the expanding fleets of carriers such as Emirates, Etihad and Qatar Airways, will continue to enhance their positions in global markets, other regional carriers like Gulf Air and Oman Air will also make "more modest, but still significant contributions".

But, meanwhile and less conspicuously, the highest growth rates are likely to be experienced in regional, point-to-point markets, Capa said, adding that it would be catered to not just by new entrant LCCs, but also due to expansion by some of the larger and longer established airlines in the region, like Saudi Arabian Airlines and Egypt Air – currently holding large orders for short- haul single-aisle aircraft, according to the report.

"Expansion of the LCC sector, in particular, will be accelerated markedly if fuel prices remain low, if aircraft values fall [so that aircraft are readily available at low prices] and – always the big if – if regulatory barriers to entry are relaxed," Capa said.

Further highlighting the prospects for the Gulf airlines in 2009, Capa's outlook states that the carriers in the region are "extraordinarily well positioned" to be the beneficiaries of a prolonged economic downturn. "Although they too must suffer some pain, the timing of this reversal could hardly have been better."

"They have the potential to emerge from difficult times with their global position greatly entrenched because they are well funded and well conceptually founded," the report stated.
Follow Emirates 24|7 on Google News.