Summer travellers to India gain from lower fares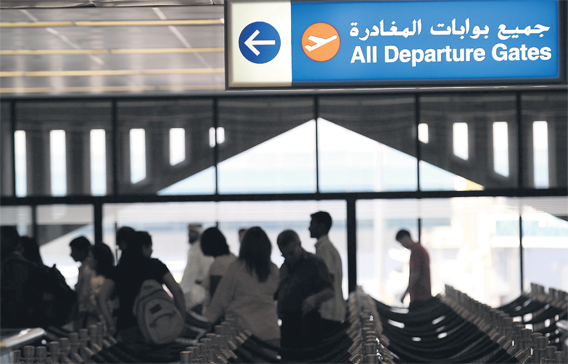 UAE residents planning summer trips to India are expected to benefit more from lower airfares compared to previous years, say travel industry sources.
In the past, airlines have banked on the increased demand during the school holidays to hike up ticket prices in summer. However, early figures for 2010 indicate a dip in advance bookings. Experts say if this depressed market trend continues, it will prove difficult for carriers to balance out their yearly revenue on the basis of a booming third quarter.
A senior official at a leading travel agency in the UAE said: "Most airlines normally use the summer vacation period to make up for the losses they accumulate in the off-season. Airlines offering tickets for Dh500 or Dh700 in the off-season tend to increase prices in the summer vacation period.
"But in coming vacation season, airlines will not be able to increase prices because the supply will be greater than the demand due to stiff competition and the poor economic situation. It is a difficult situation for many airlines that are fighting for survival.
"Forward bookings are not encouraging – only 30 to 40 per cent of seats have so far been booked. If the main carriers increase their rates, the budget carriers will get more bookings."
As the playing field heats up with airlines offering competitive rates and added incentives to lure passengers, Indian carriers appear to have an added advantage. In last month's sudden move, India's state-owned oil distributors – Indian Oil, Bharat Petroleum and Hindustan Petroleum – announced a 2.5 per cent cut in the aviation turbine fuel price, on falling global rates.
"Return airfare from the UAE to Mumbai, Kochi or New Delhi in the summer vacation period is expected to cost between Dh1,300 and Dh1,800, which was the price of a single ticket a few years ago," said one source.
"Fares have come down by almost half and airlines are not keen to hike prices because customers cannot afford exorbitant rates in the current economic situation. Even if the airlines hike prices at the last minute, the cost of a return ticket cannot go above Dh2,000."
Another source added: "Airlines are in a difficult situation because the peak summer vacation period is when they make money. Throughout the rest of the year, airlines can sometimes incur operational losses because a fare of Dh400 to Dh500 is not enough to cover their costs."
Competitive rates
Shakir Kantawala, General Manager of Jet Airways, Dubai and the Northern Emirates, told Emirates Business: "Rates are very competitive now. Considering the fact that last year many people did not travel due to the economic crisis, now many of them will travel because a visit home is overdue."
KM Basheer, Chairman of the All-India Airport Users Forum, an organisation that works to ease the travel problems faced by Indian expatriates in the UAE and the other GCC countries, has urged Indian carriers to offer reasonable fixed summer rates.
"In the past, Indian carriers such as Air India and Indian Airlines hiked up their rates every summer to exploit ordinary Indian families," Basheer said.
"There has been a change in this attitude and we hope this year's fares will be reasonable. If Indian carriers increase their fares, then other airlines – including the budget carriers – will be forced increase theirs.
"Due to our campaigning, people can now travel for Dh500 and we are demanding a fixed rate in the summer. The losses incurred by Indian carriers are due to their domestic operations. The Gulf sector has been doing well and traditionally airlines have seen it as a region where they can impose unreasonably high rates in summer when most India families travel."
Connectivity card
NM Sharafudeen, Chairman of the Kerala state chapter of the Indian Travel Agents Association (Itaa), said: "The new private Indian carriers like Jet Airways and Kingfisher Airlines are also taking advantage of their domestic networks in India to pull demand in their direction."
Kantawala said: "We are one of the few airlines that grew in the past year and the summer looks promising. We have more flights and destinations to offer now from Dubai to India. Last year, we did not fly to Hyderabad and Kochi. Using Jet Airways will allow customers to connect to 48 smaller Indian cities."
"Signs of improvement are visible in the market. Bearing in mind the level of demand in summer, we have changed all our South Indian day departures to night departures. Many travellers prefer night departures during summer."
Vinay Nambiar, Regional Manager of Kingfisher Airlines for Oman, the UAE and Qatar, said: "Kingfisher Airlines' capacity to the Indian subcontinent has also increased substantially. We are adding a new flight to India for the summer vacation period to keep up with the growing demand."
Increased availability
Adding to the mix are new players in the market that will see daily seat availability increase even further.
Currently, Emirates operates over 184 flights a week to 10 Indian cities, along with regular connections offered by Etihad Airways, Jet Airways, Air India, Air India Express, Indian and Air Arabia. Other regional carriers also offer flights through connections.
Kingfisher Airlines is the newest player in the market, which already connects Dubai with routes such as Bengaluru and New Delhi. The airline, owned by Vijay Mallya, announced earlier this year that it has already bagged traffic rights for the Dubai-Mumbai sector.
Sharafudeen, who also runs Omega Travel and Tourism Agency in the UAE, said: "A new budget airline is also likely to start its service from Saudi Arabia."
On the flip side though, the only silver lining for airlines battling to capture passenger loyalty is the decision by Hong Kong-based Cathay Pacific Airways to discontinue its popular Dubai-Mumbai flights from March 28, citing route restructuring.
Cathay's Country Manager, UAE and Oman, Clement Au, earlier told this paper: "Initially, the flight would arrive from Hong Kong into Mumbai at 3.15am – a time that wasn't suitable to passengers. Because the plane sat on the tarmac for nearly 12 hours before turnaround, we initialised a tag flight to Dubai. But as we switched the timings on the primary flight, a Dubai tag cannot be possible."
For people such as R Mulidharan, whose family of four skipped its annual hiatus to Kerala last summer thanks to the economic downturn, this turn of events has prompted the advertising executive to book tickets already. "I don't expect tickets prices to stay on the lower side for long. I saw our chance and grabbed it," he added.
Games to fuel demand
In order to stimulate inbound traffic for 2010, Indian Tourism Minister Kumari Selja announced at last year's World Travel Market a number of initiatives and events have been put in place to fuel demand for World Commonwealth Games in Delhi, which is expected to attract up to 100,000 people in October.
"We are already in the initial stages of planning extended holidays into India for those travellers who are flying down to attend the games," Shakir Kantawala, General Manager of Jet Airways, Dubai and Northern Emirates, told Emirates Business earlier. "We are positive it will turn out to be a huge draw for tourists."
Zubin Karkaria, CEO and Managing Director, Kuoni Travel Group India, added: "Our team has already started working on creating special packages for the Commonwealth Games, which will be rolled out to international travel agencies soon."
As one of the largest tour operators in India, with a turnover of Rs22.29 billion (Dh1.8bn) in 2008 alone, the company is also in the business of offering wholesale packages to international travel agencies.
As with the Olympic Games in Beijing in 2008, India is hoping to attract visitors beyond the two weeks of the games, with the aim that New Delhi will function as a base from which tourists will explore other parts of the country.
Karkaria is positive this goal is achievable, saying: "The outlook for travel from this region to India this year is quite positive, with leisure and corporate travel indicating an upswing of nearly 10 per cent growth." (Bindu Suresh Rai)
Follow Emirates 24|7 on Google News.