Tanker profits to be volatile this year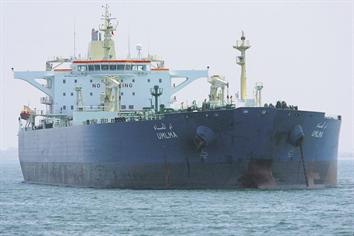 Tanker owners in the region will this year rake in reasonably high profits from voyages made at lucrative routes from the Middle East, although profit margins will remain volatile, say industry players and analysts.

Spot market charter rates on the Middle East-Far East route are likely to firm up in the first quarter of 2009, following a slide in the last quarter of 2008.

Although players do not see a quick return to the high levels of profits witnessed in the first quarter of 2008, they believe that the tanker sector will continue to operate far above the breakeven point and will remain the healthiest sector.

"There is a high possibility that the current financial crisis will ease in the first quarter of this year, we see demand returning to levels that will bring more profits for the sector," said Abdullah Al Shuraim, Chairman Gulf Navigation Holding (GNH).

"We do not anticipate a problem of over supply as most single hulls are scheduled to be phased out and some tankers on order could face delays in delivery."

According to a leading shipping broker RS Platou, 2008 has been "the best year ever" for tanker owners, with charter rates reaching the highest levels in almost a decade. Charter rates for Very Large Crude Carriers (VLCCs) reached $110,000 (Dh403,700) per day in the first quarter of 2008 on the back of demand for oil, especially in the Far East.

However, rates slumped in the third quarter of 2008 by almost half as oil prices fell from their historic peak of close to $150 a barrel, which was followed by a cut in oil production by Opec.

According to the tanker index of RS Platou, which is derived from six different sizes of crude and product carriers, average daily earnings for owners were $64,000. This figure is marginally higher than 2004 levels which previously held the record, said the report.

The report pegged Suezmax and Aframax earnings for this year at $67,200 and $49,800 per day respectively. According to the Norwegian brokerage, both product and chemical tanker rates "have bucked the general trend in shipping of slumping returns, particularly in the dry-bulk and container shipping sectors," it said.

The year 2008 saw several instances of counter-seasonal strength in spot tanker rates, which pushed earnings for many owners to record levels, according to Tankerworld. This counter-seasonal strength in spot rates has been attributed to heightened oil demand from the United States, China and India and rising exports from tonne-mile intensive Opec producers. Stockpiling ahead of the Beijing Olympics and port delays in the US and Japan also contributed to counter-seasonal increase in spot rates.

Several players also said that robust conversion and scrapping volumes checked tanker supply growth and in turn propped up rates.

"During the first nine months of 2008, the world tanker fleet grew by three per cent, a decrease from the annual fleet supply growth rate of about six per cent experienced for the same period in 2006 and 2007," according to one source. Leading operator Teekay Corporation said rates for medium-sized crude oil tankers remained relatively firm.

This is "primarily due to the seasonal increase in oil demand during the northern hemisphere winter, rising volumes of non-Opec production as seasonal maintenance was completed in the North Sea", it said.



Dry bulk rates to be low in the first quarter

The cost of shipping commodities such as iron ore and coal will stay "very low" this quarter after a record decline last year, said Fearnley Fonds, an investment bank specialised in shipping.

The Baltic Dry Index, a measure of commodity-shipping costs, fell 92 per cent last year as steelmakers cut output because of slumping demand from carmakers and builders.

The steel industry accounts for almost half of all dry bulk trading, according to shipper Golden Ocean Group.

"We expect dry bulk rates to remain at very low levels in most of the first quarter, before various rescue packages in China and the rest of the world should kick in and help improve parts of the construction industry," Oslo-based analyst Rikard Vabo said.

China, the world's biggest steelmaker, announced in November a four trillion-yuan (Dh2.1trn) economic stimulus package running through 2010.

Gains is shipping rates will be curbed by a "large supply growth" of new ships, Vabo said.
Follow Emirates 24|7 on Google News.