Tankers may continue to face delays at ports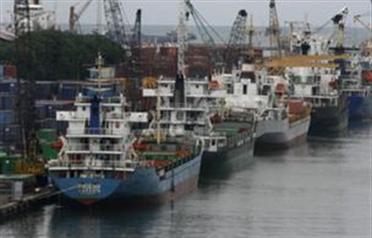 Oil tankers will likely experience continued port delays following a rise in fuel demand and a return of ships that were last year storing cargoes, according to McQuilling Services.

The US-based shipping consultant in its report said that delays climbed in 2009 for three of five tanker types. It also cited Chinese crude-oil stockpiling, port dredging in Europe, political instability in West Africa and bad weather as other causes that could cause delays.

"Increases in global oil demand forecasted by Opec, United States' EIA and the IEA predict demand to average 86.3 million bpd this year – more than a one million bpd increase from 2009. Nearly 140 tankers employed in floating storage, many of which may potentially join in the traffic awaiting port operations," the report said.

An additional day of delay removes eight supertankers, each able to haul two million barrels of crude, from the market, McQuilling estimated. It eliminates 10 suezmax tankers half the size from the fleet; 24 aframax vessels; 6 panamax ships; and 14 medium-range oil carriers, according to the report.

There are 140 vessels storing cargoes rather than delivering them, McQuilling said. "Many of the ships will start collecting and supplying consignments again this year, adding to port congestion," the firm said.

Meanwhile, port congestion and delays in 2009 continued to detract from available tanker supply, following similar trends seen in 2008.

"Various social and environmental factors around the world, as well as limited infrastructure improvements seen in ports, have alleviated at least some portion of the bulging supply of tankers on today's high seas," it said.

According to it, delays in port have the effect of extending voyage durations, conceptually equivalent to slowing ships down.

Following an exercise that measured average port times of the tanker fleet from 2007 to 2009 using the proprietary data systems, it said that, "in 2009, VLCC's spent about three days more in port per voyage (two port calls) than they had in 2007, effectively reducing 24 ships from the trade".

In 2007, the tanker fleet spent an average 3.2 days at each port, increasing in 2008 to 3.8 days per calling, and then 4.0 days through 2009.

The climb in port time from 2007 to 2008 was attributed primarily to socio- economic turbulence, bad weather, and port infrastructure insufficient to meet transportation demands.

Delays in 2009, the report said, may largely be due to the fast-paced expansion of the tanker fleet amidst a lagging increase to port capacity. Additionally, 2009 saw numerous cases of delayed discharge orders issued by oil companies seeking to take advantage of contango oil market conditions.

While West Africa experienced a decrease in tanker port times, other regions did not see the same results. Vessels in the Arab Gulf stayed in port an average of 3.5 days per calling – roughly the same as in 2008. The VLCCs sustained an average 4.7 days, Suezmaxes 2.8 days, and Panamaxes 3.1 days per port call in the Arab Gulf. Vessels in the Far East were frequently subject to chronic port delay and congestion, resulting from China's ever-growing oil demand amid lagging port developments.

The VLCCs berthing rose to 3.8 days per calling and Suezmax calls rose to 3.7 days. However, Panamax and Aframax berthing remained steady averaging 1.8 days per calling.

Ports in the Mediterranean and throughout Europe continued to show an increase in port delays. The VLCCs averaged 5.2 days per calling, while LR and medium-range tankers averaged 4.4 days. Suezmaxes averaged only 3.3 days per berthing, though they experienced other delays such as traffic at the Bosporus Strait. Heightened delays in the region were primarily due to weather constraints, the EU's severe lack of storage facilities, port dredging and the prevalence of French union strikes.

"These same factors along with numerous other events on the cusp for this year to cause continued port delay in 2010," the report said and added that not much can be done to combat port delays by the participants of the tanker markets alone.

"Weather-related delays will continue to stall trade. Improvements in port infrastructure appear at the moment the Achilles' heel of market growth, particularly evident in those nations hard hit by global recession.
Keep up with the latest business news from the region with the Emirates Business 24|7 daily newsletter. To subscribe to the newsletter, please click here.
Follow Emirates 24|7 on Google News.