The carbon-free ride that offers a great workout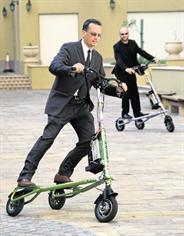 When Simon Boaler steps aboard his Trikke uPT, a small crowd soon formed outside the Virgin MegaStore wondering what the businessman was riding.

The three-wheel scooter is not wholly dissimilar to the two-wheel versions favoured by the nation's teenagers but there is no need to keep propelling yourself along the road with one foot on this device.

And this is one reason Boaler, Managing Director of Sustainable Technologies – Division of Bond Group, uses this motorised scooter to get to work every day.

The Trikke uPT, or Trikke ultralight personal transporter, has recently gone on general sale in Dubai following a successful introduction in the corporate world being used by such companies as Abu Dhabi police, traffic enforcement officers and warehouse workers, looking for a cheap way to get around that does not require a parking space. They will also one day be seen at Masdar.

"Because you're higher up than other devices of this nature, you have better visibility of the road. And, likewise, it also means other people can see you coming so you're less likely to have an accident. The three wheels also make it completely stable," explains Boaler, demonstrating the point by pulling of the brakes on the handle bars and tipping the bike back to prove he will not fall off.

But perhaps one of its biggest selling points is the fact it has zero carbon emissions and that every part of it can be recycled. Driven by a 250W internal, brushless hub motor, the Trikke emits zero carbon emissions. The battery takes two-and-a-half hours to charge, lasting up to 40km, and is done in the same way as a laptop or mobile phone. Some people also add an MP3 player to the front so there is music while on the go.

And at just 17kg, it can also be folded away in seconds and transported in the boot of a car.

When used with the motor, the scooter provides a low impact light workout for the rider allowing them to run errands while also keeping fit but those choosing to use it in the traditional manner will see even more dramatic results.

Bond Group research shows that riders work their arm and shoulder muscles as well as their buttocks and legs, burning an average of 500 Kcalories per hour at speeds of 15kph, more than a steady jog.

"The average person will travel at about 20kph but you can get up to 35kph using the body alone," says Boaler, and turning into corners using the legs rather than slowing to turn the handle bars will help tone even quicker.

Competing against the better-known Segway, Trikke was developed in California in 2001 as a human power product but the idea to fit a 36v Panasonic lithium battery to the frame has opened the device up to a wider audience. Its inventor, Gildo Beleski wanted a machine that had a similar motion to carving down ski slopes but now it has become motorised it is much easier to use. Indeed, Emirates Business was away with just a few seconds' explanation and we are pleased to report it is simple to ride even in high heels – although windy weather is havoc on a skirt!

On sale at Virgin MegaStores across Dubai Boaler says the Dh8,900 price tag is great value for money.

"You can buy five Trikkes for one Segway and this is more stable because it's on three wheels, not two. It's much better and more versatile as you can fit a basket to the front for any shopping or a small trailer at the back, making it ideal for use in airports," he says.

"If I lived in a gated community I'd rather my kids went from one place to another on one of these than on foot. It gives them independence and is perfectly safe."

Boaler is also keen to point out that the Trikke can be serviced at any bike shop as many of the components are the same. The frame is made from aircraft grade aluminium but the brakes, for example, can be altered with just an alum key so it's "cheap to maintain", he says.

But is anyone in the UAE going to trade their car in for one? "People will buy it as well as a car," says Boaler.

"You can ride it anywhere you ride a bicycle. In Europe there is a big craze for electric bikes and many of those carry the same components as this but they retail for between €3,000 (Dh15,860) and €3,400. The UAE doesn't have that benchmark but this is a more attractive option because it's cheaper. "It delivers the goods better than any other vehicle in its class. It's just a lot of fun. There's something about the side-to-side movement that brings a smile to people's faces."
Keep up with the latest business news from the region with the Emirates Business 24|7 daily newsletter. To subscribe to the newsletter, please click here.
Follow Emirates 24|7 on Google News.