The iPod beats horsepower for tech-savvy young car buyers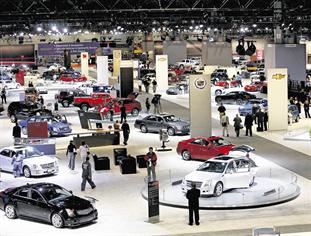 Tech-savvy teenagers and 20-somethings may have more control over the future of the US auto industry than they realise.

Detroit's auto makers, for all their woes, recognize a big potential audience when they see one. Some estimates show that the 16-to-31 age group will constitute the largest class of drivers in the United States by next year.

By loading their vehicles with electronic plug-ins and ports, auto makers have started to aim their marketing and design efforts at the younger types whom they hope will improve the long-term viability of the struggling industry.

At this week's Chicago Auto Show, car makers said that to appeal to these consumers, their new entry-level or small-car models are emphasising such features as e-mail capabilities, hookups for iPods, laptop computers and other gizmos, many with easy-to-use controls.

"A 19-year-old is going to look for all of that. If you don't offer that technology, you are off the list," said Scott Settlemire, Chevrolet's exhibit manager at the show.

That is a drastic change from aging baby boomers, who although increasingly graying still hold considerable sway in terms of automobile buying power.

When the boomers, now in their 50s and 60s, bought their first cars in the 1960s and 1970s, the features that mattered to them were horsepower, wide tires and dual exhausts. In the age of Obama, however, electronics rule.

THE MILLENNIAL GENERATION

Ford Motor estimates that by 2010 the 16-to-31 demographic will make up the largest chunk of the car-buying public with a 28 percent share.

Many of those drivers fall into the so-called Millennial Generation, a term some commentators use to describe people born roughly between 1982 and 2000.

In 2010, Ford will launch Fiesta, an entry-level sub-compact loaded with the technical features that young drivers crave.

"With the new Fiesta launch next year, we're targeting the Millennial Generation because there is an urgency to reach out to them due to the potential size of the market, plus the fact that they are not brand-loyal yet," said Ford spokesman Alan Hall at the Chicago show.

According to Ford, about 11,000 Millennials reach legal driving age every day, and by next year about 70 million of them could be driving.

To pull these youthful drivers to Ford, the company sponsors hit reality show American Idol and uses online social networking sites to push products. It also designs cars to accommodate the electronic devices.

"Fun-to-drive is about having connectivity," said Chantel Lenard, Ford's marketing manager for small and medium cars. Ahead of next year's launch of the Fiesta, Ford will select 100 young drivers to drive these vehicles free of charge for six months, said Lenard. The drivers will then relate their experiences on such media sites as Facebook and YouTube.

"There is always going to be your enthusiast who still has their heart set on a Challenger with a big Hemi-engine," Ed Garsten, Chrysler spokesman, said of the firm's revived version of its classic muscle car.

STAYING CONNECTED

"But for the most part the young folks are looking for things that they use in their life, whether it's connectivity, a really great sound system, or a jack to plug in the MP3 player."

In addition to Fiesta, other car makers at the Chicago show touted such entry-level, youth-oriented cars as Caliber and Cobalt. "Entry-level", however, can mean other things besides "small inexpensive car".

Geography and utility can determine an entry-level vehicle, according to Chevrolet's Settlemire. A teenager or 20-something in Texas may want a pick-up truck, while in Chicago that same youthful driver would prefer a fuel-efficient car or small van. As a result, Chevrolet is equipping a variety of vehicles with the technology hookups that young drivers appreciate.

The soon-to-be launched Chevrolet Camaro sports car, which goes into production in March, also is targeted at the Millennials, which is why General Motors Corp worked with Hollywood to place the car in the 2007 motion picture Transformers. The Camaro will also appear in the sequel, which is scheduled to be released in June.

"The Millennial Group is a force that has to be reckoned with," said Ford's Hall.

"It is a growing segment that may even be bigger than the baby boom generation."
Follow Emirates 24|7 on Google News.