Third-party logistics to drive growth in tough scenario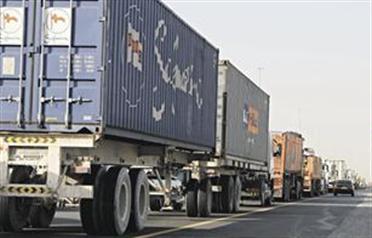 The Middle East has remained a major attraction to international third-party (3PL) logistics players, but for the first time in many years, the region's logistics industry is expected to register a slowdown for 2008.

Industry players and analysts had predicted growth to reach 19 per cent this year compared to last year's 15 per cent, however this figure is being revised downwards to 11 per cent due to a crunch in cargo volumes moved in and outside the region.

The region has for the past three months been the best performing and is expected to grow far above the entire industry, whose growth is projected to fall from nine per cent last year to an average of five per cent in 2008.

A sharp drop in demand in the West has forced major shippers to cut their cargo volumes, but some shippers in the region are taking the initiative in order to cut down investments, as the future remains uncertain.

As a result, industry players expect volume growth for inbound express airfreight to drop to five per cent from the 12 per cent year on year growth achieved in the past three years. Outbound volume growth has in the past few years averaged at 18 per cent, but is expected to grow between seven to eight per cent this year.

"The drop in volumes in the region should not sound an alarm considering what is happening to other regions. We continue to grow albeit at a slower rate, but other regions are either flat or registering negative growth," said Hamdi Osman, Fedex Senior Vice-President for Europe, Middle East, Indian Subcontinent and Africa.

"This region's logistics industry is well positioned to survive the current financial storm due to availability of liquidity despite falling oil prices and this region will be the first to rise up again once this crisis is over."

International companies whose operations in other regions have been largely affected by the international financial crisis with revenues slowing down, hope that the Middle East will help in offsetting the poor results from those regions.

Industry players believe that the current financial challenges will force most companies in the region to restructure their businesses by opening their doors to outsourced 3PL services.

This, they believe will continue to present opportunities to international 3PL companies that have entered the region in droves in the past two years.

"Companies are beginning to realise the need to focus on their core businesses and outsource their logistics requirements to third party professionals. This trend is likely grow faster next year as firms seek more efficiency," said John Tansey, UAE's General Manager for UPS.

However, the restructuring programme will not affect jobs in the logistics industry and most companies say that no job or pay cuts will be considered as a cost cutting measure.

The strategic location of the Middle East as a link between the East, West and Africa is viewed as a selling point for the region, which continues to attract new players in the field.

More than 40 international and local new 3PL companies are reported to have entered the UAE logistics market in 2008. Prominent among them are Ceva logistics, which replaced EGL following its acquisition, UK based Gazeley, which was acquired by Economic Zones World (EZW) and Millenium Logistics, created by Sharjah based terminal operator, Gulftainer Company.

The problem of an acute shortage of storage facilities continued to hamper business for logistics services providers, causing a steep increase in storage tariffs.

However, players hope that new warehousing projects and a slight drop in cargo volumes will help to ease the current pressure on existing warehouse facilities in the coming year.

Investments in expansion programmes and new projects by many firms will go ahead as scheduled in anticipation of a surge in demand for services in the future.

"The current slowdown will definitely be short-lived given the business opportunities the region will naturally continue to present. Development of Logistics infrastructures by regional governments and the private sector will impact regional economies and no slowdown is anticipated in that area," said Hussein Hachem, Aramex CEO for the Gulf.

Logistics companies in the region are investing a total of more than Dh50bn in the next three years on expansion of their fleet, building new warehouses and distribution centers, advancement of IT infrastructures and skills development.

Ceva Logistics is investing Dh3 billion in the region in the next two years by building new facilities and acquiring existing companies, as part of its move to strengthen its presence in the region.

"We do not see any roadblocks in our intentions to maximise all the opportunities presented by the region's logistics industry. Our aggressive expansion plan will go ahead as planned, we see a bright future ahead of us," said Shamsudeen Ahmed, Regional Director for Ceva.

Its state-of-the-art 63,000 square metre facility in Jebel Ali Free Zone (Jafza) that will provide integrated supply chain solutions is under construction and is expected to be ready by mid-2009.

Ceva Logistics has also initiated a massive expansion in its Jafza facility that will see it grow from seven folds, from its existing 20,000 sq m to 135,000 sq m, in the next 12 months.

Ceva focuses on a diverse range of market sectors including automotives and tyres, technology, industrial, retail and consumer goods, oil and gas, publishing, aerospace, and healthcare sectors. Gazeley, also a new player in the region is hoping to spread its footprint within the region in the coming months through construction of new warehouses that will be later sold off to logistics companies.

Gazeley is building Ceva's facility in Jafza.

New local player in the logistics industry Empost cargo and logistics, a subsisidary division of UAE's national courier company, Empost, is expecting a 20 per cent growth in 2008 compared to 31 per cent growth achieved in the previous year, but maintains that business is growing.

"We have been able to meet all our business expectations for this year and we are determined to continue with our growth path with the aim of becoming a leader in the industry. Over the next two years there will be a lot of new projects implemented to help us serve various communities, especially, the UAE, India, Philippines and Indonesia," said Sultan Al Midfa, CEO for Empost.

In order to support the growing logistics industry, Gulf countries such as UAE, Bahrain and Saudi Arabia are moving ahead with their projects to set up logistics cluster zones in order to create professionalism and also attract more industry players into the region.

The 21.5 sq km Dubai Logistics City envisioned to be the world's first multi-modal integrated logistics platform, is expected to continue receiving positive response from major global players seeking to take advantage of its unique offering.

Industry players believe that regional trade would receive an impetus upon DLC's completion as it will eventually have a capacity of 12 million tonnes of cargo annually, nearly three times more than that of the current busiest cargo hub in Memphis, United States.

The $280m Bahrain Logistics Zone (BLZ) has already gained the attention of international logistics players and this year it signed leasing contracts with major international names in the logistics industry including Danzas and Ceva.

Plans to increase the size of BLZ site by 150 per cent from the current 475,000 square meters of leasable land could attract up to $600m in direct investment in the coming years, according to experts.

Bahrain is currently ranked second in the Middle East in the World Bank's Logistics Performance Index and it is expected the BLZ will become the focal point for international, regional and local businesses wishing to expand and trade more efficiently within the region.

While a degree of uncertainty hangs over the regional logistics industry's future, locally-headquartered companies are determined to benefit from the financial crisis by acquiring or merging with companies, whose takeover values have been undermined by the crisis.

Aramex, a leading regional logistics services provider, said the global financial crisis has missed it and the firm intends to spread its wings into China and Southeast Asia as falling prices make takeovers increasingly appealing in that region.

"Regardless of the current economic situation, we will pursue our acquisition and expansion programmes in any market that we find appealing, particularly in China and Southeast Asia," said Fadi Ghandour, Aramex Chief Executive.

"We have already reached the discovery stage of takeover talks with specific companies. The market is slowing and that makes it the ideal time to buy."

GAC Group, which provides logistics and shipping solutions, has also invested about Dh200m in acquisitions and expansion programmes in Algeria and Australia for shipping services and Kazakhstan for oil logistics services.

In 2008, GAC Group acquired 100 per cent of UK-based shipping and logistics group OBC. The acquisition saw OBC rebranded as GAC-OBC and the company will continue to handle vessels in ports in the UK, the Netherlands and the US Gulf Coast.

The GAC Group has opened a new sales office to meet growing demands for logistics services in Poland.

Industry players are confident the average growth rate registered by many transport and logistic companies in the Gulf over the past two years will grow even higher once the unified market for GCC countries becomes fully operational, following its launch in January 2008.

Industry players believe that a fully operational unified market will help in overcoming obstacles in the GCC transport and logistics service sectors such as delays in dispute resolution and solving of business related conflicts as well as better legal interpretations.

"Once this is taken to another level, it will help raise quality standards in the industry and increase efficiency. However, there is need to streamline the existing Gulf Customs Union to create uniformity between the member states," said David Christmas, Regional Managing Director for DHL Exel.
Follow Emirates 24|7 on Google News.