Topaz in acquisition talks with a marine firm in Singapore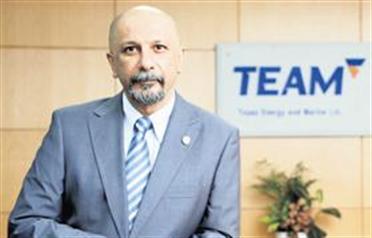 Dubai-based Topaz Marine and Engineering is in talks for acquiring a Singapore-based offshore marine services company, Emirates Business has learned.

The acquisition plan – expected to be concluded within this year – is slated to cost more than the value of Doha Marine Services (DMS), which the company had bought for Dh455 million last year. Unlike DMS, the South East Asian company that Topaz is planning to buy is not debt-free. "This particular company is not debt-free, which is part of the challenge," Topaz CEO Fazel A Fazelboy said in an interview. "And in any acquisition, you've got to look at the enterprise value not just the asset or debt value. That is part of our diligence now."

He said the company is currently talking to a number of banks and is expecting to have the deal sealed within this year.

"If this acquisition is going to go through, it would certainly have to be this year," he said. "There are banks that have shown interest. The transaction would have to be scrutinised on its own merit."

"Would it be a syndication? It's early to say. When we come to a point of knowing the debt and equity and acquisition price, the bank, which we agree to take on the lead position may want to syndicate the loans or carry a larger share. These are things that are ahead of us and we haven't crossed that bridge yet."

Fazelboy said it is a "very good" time to buy these days although the liquidity is tight and the rates are high. "Today, it may cost a lot of money to buy something but if the value is low, it means it is a low asset value in your book and it can always be refinanced in a year or two years' time," he said. "If the asset is distressed then you can have a better deal. It is an ideal time but you have to strike the right mix between availability of credit and value of the asset."

Topaz, a subsidiary of Oman-listed Renaissance Services SAOG, is currently beefing up its marine division, which represents roughly 70 per cent of its profits. The division comprises Topaz Marine Azerbaijan (BUE Caspian); Topaz Marine Kazakhstan; and Topaz Marine Mena (Nico Middle East, Doha Marine Services and Topaz Saudi Arabia). Overall, these three business units will have 96 vessels by next year-end.

Fazelboy said 88 of these are operational while the remaining eight – which cost around $100m – will be delivered between 2009 and 2010. Three of the orders are for BP Azerbaijan, a 10-year contract worth $225m. The first vessel for BP will be delivered next month and would start operating in May. The other two vessels will be delivered in 2010.

Four of the eight vessels are not contracted but they have been built according to design and specification that is consistent with Saudi Aramco's requirements. The Saudi-owned oil giant is looking at about150 vessels over the next three to five years for its expansion plans. Fazelboy said they will bid in this growth plan when the vessels are ready. The last vessel, a crew boat to be delivered this June, will be for its engineering unit in Fujairah.

In addition, four barges/motorised vessels will be delivered over the next three months. The barges, which cost $30m, are all contracted to AGIP in Kazakhstan for seven years.

The financing for all of these orders – including the barges – are financed except for the two vessels for BP.

"They will be delivered in 2010 so we still have time to finance them," Fazelboy said.

"We have paid the deposits and we don't need the balance funding in place until delivery. I don't anticipate having problem on this because it's a long term secured contract and BP is a blue-chip client."
Follow Emirates 24|7 on Google News.