Topaz subsidiary delivers crew boat to Miclyn Express in Singapore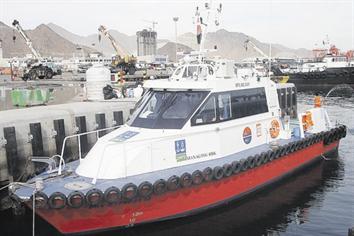 Nico Craft, a subsidiary of Topaz Energy and Marine, recently signed off on the delivery of the crew boat – DNV Express 18 – for Miclyn Express Offshore in Singapore. The 17.2 metres vessel was designed by Teknicraft, New Zealand, and all marine construction work was undertaken by Nico Craft in Fujairah.

DNV Express 18, a medium-speed, mono hull, aluminium vessel is designed to service ships within a distance of 50 nautical miles from a port of refuge.

The overall length is 17.2 metres on a moulded beam of 4.8 metres and a draught of 0.65 metres. The crew boat has a deck cargo capacity of 1,000kg and can carry the crew of four and up to 10 passengers at a speed of 24 knots. The vessel was built under Det Norske Veritas (DNV) certification.

Nico Craft, established to cater to the increasing demand for work boats in the region, recently launched a 19-metre aluminium catamaran diving support vessel, aptly named Nemo.

Nico Craft currently has over 10 boats under construction including five steel mono hull crew boats designed by Incat Crowther, Australia and a 23-metre crew boat for Miclyn Express Offshore.

Nico Craft's focus has been passenger ferries, fast patrol boats, crew boats, utility boats and various commercial craft up to 40 metres LOA. The new state-of-the-art facility has two sheds of 120 metres each with all the required production machinery. Topaz Energy and Marine, a wholly-owned subsidiary of the Omani listed entity Renaissance Services SAOG, is one of the leading marine and oil and gas fabrication companies in the Middle East with over 35 years of experience in the region.

Operating throughout the Middle East, Caspian and South East Asia with its operational headquarters in Dubai, Topaz will in 2009 operate through two primary business divisions – Topaz Marine and Topaz Engineering.
Follow Emirates 24|7 on Google News.