Toyota halts work on two hybrid models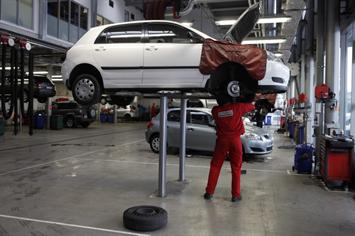 Toyota suspended production of two hybrid models yesterday as it develops a fix for those vehicles' faulty brakes amid massive recalls, a spokeswoman said.

The world's biggest automaker has stopped producing the Sai sedan and the Lexus HS250h in Japan at least through February 20, said Toyota spokeswoman Mieko Iwasaki.

It had yet to be decided whether production would resume on February 21. The company did not say how much the suspension would dent its production.

Local media reports have said it would reduce the company's output by more than 2,000 vehicles.

Toyota yesterday announced in the United States it was voluntarily recalling 8,000 of the 2010 model Tacoma four-wheel drive pickups to inspect the front drive shaft. Another 1,500 units are being recalled in Canada and some 200 more in Mexico, Hawaii and other islands, Iwasaki said.

Toyota has recalled millions of vehicles over the past few months due to problems linked to accelerator and brake functions.

The recall followed supplier Dana Holding Corp's report to US safety regulators that 34,000 drive shaft components it supplied to Toyota, Ford and Nissan could have cracks.

Dana said it was investigating the cause of the problem and remedies would be specific to each vehicle on which the parts are used. It believed less than two per cent of the parts shipped to the automakers had cracks.

About 17,000 of the parts were supplied to Ford Escape and Mercury Mariner car-based SUVs and a review found no potential impact on the vehicles, said Ford spokesman Said Deep.

"Our rigorous testing and review concluded there are no safety or performance issues," Deep said.

The parts were supplied for a small number of model year 2010 four-wheel drive Nissan and Infiniti brand trucks and SUVs, Nissan said.

The vehicles "will not experience a loss of control or present a safety risk even in the unlikely event the part should fail", said Nissan spokesman Colin Price.

Toyota said in a document obtained by Reuters that the all-wheel drive version of the 2010 Tacoma trucks may have a component containing cracks in the joint portion of the drive shaft due to an "improper manufacturing process control".

The cracks eventually could cause the drive shaft to separate and strike the road surface, potentially causing drivers to lose control of the vehicle, the document showed. Toyota said in the document the pickups were built from mid-December to early February.

Toyota's latest move follows a string of recalls in recent months that cover more than 8.5 million vehicles due to the risk that a loose floormat or a sticky accelerator pedal may lead to unintended acceleration.
Keep up with the latest business news from the region with the Emirates Business 24|7 daily newsletter. To subscribe to the newsletter, please click here.
Follow Emirates 24|7 on Google News.