Two-day Dubai event to discuss piracy threat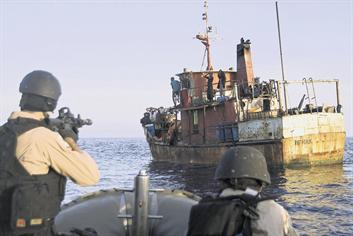 Security officials from the shipping industry will gather in Dubai for two days starting tomorrow to discuss the security threat posed by piracy amid such growing incidents.

The latest incident includes MV Rim, a Libyan cargo ship carrying a crew of 17, which was hijacked by Somali pirates operating south of Yemen.

The seafarers are from Romania and Libya, reports quoting a European Union anti-piracy force and a maritime group said.

The number of piracy attacks worldwide leapt almost 40 per cent last year, with gunmen from the failed Horn of Africa state accounting for more than half the 406 reported incidents, according to International Maritime Bureau.

The conference organised by ACI will provide the platform for industry decision-makers to formulate a combined response to maritime security threats.

The outcomes of the event will form a blueprint for tackling the problem, which can be applied in the Gulf of Aden and elsewhere world-wide.

Last month, Somali pirates hijacked four ships in five days. Somali pirates commenced 2010 hijacking two ships in the Gulf of Aden on New Year's day, including a British-flagged car carrier and a Singaporean chemical tanker.

There has been a surge in the number of attacks on cargo ships of late.

The ICC International Maritime Bureau recently reported a number of violent attacks on vessels off the Nigerian coast. In all of the most recent attacks reported to the IMB's Piracy Reporting Centre (PRC), heavily-armed pirates, at the very least, threatened crewmembers with deadly weapons.

IMB Director Pottengal Mukundan said: "While Somalia is rightly getting a lot of media attention for its piracy problems, a worrying trend is emerging off the coast of Nigeria. We have noted a higher level of violence in attacks off Nigeria than any other region in the world."

Meanwhile, efforts are also being made to strengthen the security scenario. Reports indicate that the European Union defence experts are looking at proposals for an ESDP mission to offer support to the coast guards of nations around the Horn of Africa region in an effort to strengthen the battle against Somali pirates.

The plan under consideration will involve a civilian mission to develop the coast guard forces of Yemen, Djibouti and Kenya as well as Somalia itself, to provide greater local involvement in efforts to tackle the pirates, who increased attacks on shipping in 2009 despite the beefed up international naval presence in the region.

Somalia's transitional federal government has been asking for help to set up a coast guard since an international conference last April, but the situation is complicated because much of the county's coast is controlled by breakaway authorities in the territories of Somaliland and Puntland.
Keep up with the latest business news from the region with the Emirates Business 24|7 daily newsletter. To subscribe to the newsletter, please click here.
Follow Emirates 24|7 on Google News.