UAE business travellers bullish about 2010 plans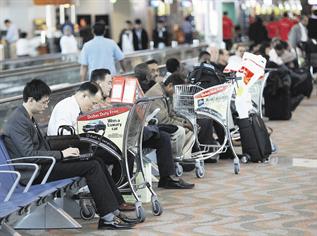 In what could be regarded as an early sign of recovery in the aviation industry, the business travellers in the UAE are bullish about their plans. Findings from YouGovSiraj, an online market research agency, suggest that this quarter the travel trends are in favour of the aviation industry.

The survey based on interviews conducted with 330 leisure travellers and 255 business travellers from the UAE, revealed 46 per cent of respondents expect their business travel to increase. The increase in the expectations is about 22 points higher than the figures in the corresponding quarter last year, the agency said yesterday.

Meanwhile, 16 per cent of the respondents also suggested that their travel will drop over the next year. The findings come at a time when the global aviation industry is passing through turbulent times. "It has been a lean year for executives [who] used to travel for business around the world on company expenses, but business travel looks set to take off again," Jane Wilson, Director, Travel and Tourism Research at YouGovSiraj, said in a statement, attributing it to the positive outlook of the economy by travellers.

Comparing the data collected by the market research agency, more respondents still preferred economy class to business class. There was a fall in people travelling business class compared to last year. "First or business class travel in January 2009 was seven points higher than last month. (But) in January 2010, 24 per cent of the respondents said they flew first or business, compared to 31 per cent in January 2009. Economy travel [53 per cent] is up by four points, and premium economy [23 per cent] increased by three points, compared to the same period of last year," the research said. "The financial crisis has forced firms to look more at what these business trips can achieve," said Wilson.

Looking at future expectations, the study shows a majority of 55 per cent of the business travellers plan to fly more premium economy this year, marking a significant increase of 46 points compared to last year's where only nine per cent of the travellers had such plans.

Meanwhile, 22 per cent of the respondents stated they were unsure about their budget changes, but 34 per cent said they were optimistic about an increase in their budget in future.
Keep up with the latest business news from the region with the Emirates Business 24|7 daily newsletter. To subscribe to the newsletter, please click here.
Follow Emirates 24|7 on Google News.