UAE companies bag contracts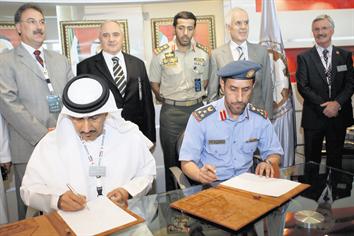 The second day of the International Defence Exhibition and Conference (Idex) yesterday witnessed a number of major deals of multi-million dirhams between participating companies and organisations.

One of yesterday's deals with a value of Dh460 million was between the Critical National Infrastructure Authority (CNIA), the UAE homeland security organisation, and Abu Dhabi Shipbuilding Company (ADSB), while the other, with a value of $90 million (Dh330m) was between Abu Dhabi-based Al Jaber Group.

Emirates Business has learnt the third day of the show will witness a major multi-billion dirham contract between a local investment company and two participating establishments.

ADSB, under the agreement, will build and deliver 34 high-speed interceptor vessels for CNIA, with the first delivered within a year from now.

CNIA Director-General Staff Brigadier Muhair Ali Al Khateri, after signing the agreement, said: "Through this deal, CNIA aims at expanding the capabilities of its fleet which is tasked with protecting the country's critical marine assets and facilities.

"The contract is to provide high quality boats that are built using state-of-the-art multi-purpose technologies and equipment. These boats will be globally competitive."

William Saltzer, CEO of ADSB, said he was delighted for being chosen to build vessels for a crucial organisation like CNIA.

ADSB and Yonca Onuk, another partner in the project, also signed an agreement with International Golden Group to assist in the project.

Al Jaber Group signed an agreement with Rokestan Company of Turkey, for jointly designing, developing and producing a weapons system for the Middle East market. The agreement was signed by Al Jaber Group Chairman Obeid Khalifa Jaber Al Murri and Rokestan General Manager Huseyin Baysak.

"Worth $90m, the joint agreement is for five years, for designing, developing and producing weapons systems for the region. Parts of the systems will be developed and produced in Turkey and parts in Abu Dhabi," Evren Aybars of Rokestan told Emirates Business.

The General Headquarters of Abu Dhabi also signed an agreement at the Idex to help plan an integrated police security system solution for the emirate They signed the agreement with EADS Defence and Security (DS) includes a comprehensive threat assessment, analysis of business needs and security gap analysis, system design concept as well as a complete implementation plan.

The design of the system is intended to provide the Abu Dhabi Police with an improved intelligence capability, comprehensive situation awareness over the whole emirate in the area under its responsibility, as well as all the necessary means for effective response command and control. It will utilise the most modern surveillance detection and distributed information systems. These features will be integrated with existing systems, optimising force performance and providing maximum to the Emirate and its communities.
Follow Emirates 24|7 on Google News.