UASC manages to keep yearly volumes flat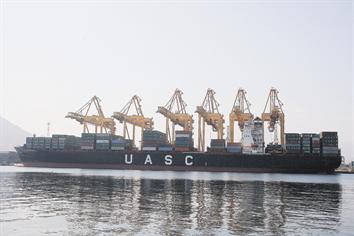 The year gone by was a tough one for the global container shipping industry and the supply and demand balance is likely to remain negative during 2010, according to Jorn Hinge, President and CEO of United Arab Shipping Company (UASC), one of the largest operators of container vessels in the Middle East.

However, he said compared with 2008 the firm managed to keep the volumes flat last year, unlike many container shipping lines globally. In an interview with Emirates Business, Hinge spoke on the company's performance, prospects of container shipping this year, freight rates, hull insurance premium, and lots more.


Last year was a watershed year for the shipping industry in the wake of the global recession and contracted world trade. How badly did it hit you?

Last year was a very difficult year for the shipping industry. After many years of double-digit growth, the world container trade witnessed an unprecedented sharp decline in volumes throughout 2009, while new capacity was still entering the market.

Weathering the storm was about navigating through the imbalance between supply and demand. Freight rates cascaded down to reach an extreme low during the first half of 2009, which made it cheaper to stop sailing for many global players in the shipping industry.

UASC, like the rest of the shipping lines, suffered during 2009 from the global slowdown, but we were able to sustain our operations through various cost control measures and alternative strategies to maintain our position in the market. We addressed the drop in volumes on weakened trade routes by adjusting the number of voyages and even idling some ships. Luckily, we did not need to lay-up any. We have adopted slow steaming on certain routes to save on bunker costs; this allowed us to deploy more ships and maintain unchanged weekly capacity.

How was UASC's performance in terms of revenue and volume?

The global container shipping business losses amounted to somewhere between $15 billion [Dh55bn] and $20bn in 2009, according to industry reports. UASC had its share of losses but final figures will only be ready following our AGM in April/May 2010.

Last year, volumes were not as we expected them to be, but compared with 2008, our volumes remained pretty much flat. We took delivery of eight new buildings of 6,919 TEU capacity in 2008 and of 10 ships with a 4,200 TEU capacity each, which substantially increased our fleet capacity. The increased capacity combined with the flat volumes resulted in reduced vessel utilisation.

Which has been a profitable route or destination relatively?

All major trade routes experienced decline in traffic, so we can't really speak of profitability per se. Certain routes suffered more during the first half of 2009 such as Asia-Europe trade. Interestingly enough, this route is seeing the fastest recovery in rates since Q4 last year. But it is still far below what it was during the pre-crisis days.

What are your plans for fleet expansion or acquisition of new buildings this year?

Currently, there are no such plans. We completed our delivery of eight x A7 ships last year. In 2008 we placed an order for nine 13,000 TEU capacity new buildings, which will be delivered in a couple of years. Overall, UASC owns and charters approximately 50 container vessels.

Have you revised charter rates?

Charter rates dropped globally as a result of the oversupply. Our charter rates for long-term contracts have not been revised because these came into effect before the slowdown. However, we got substantially better rates on charter parties concluded during the past 12 months.

Which market in the Gulf has proved more comfortable than others for UASC?

The volumes in the Gulf dropped by about 10 to 12 per cent as a result of the drop in construction material, given the severe repercussions of the global crisis on the construction industry in this region. The Asia-Europe trade went down by more than 20 per cent.

Do you plan to diversify into other segments such as tanker business?

We have a subsidiary called United Arab Chemical Carriers, which was set up in August 2007 and is dedicated to carrying clean petroleum products and chemicals.

Have you cancelled or deferred any order for new buildings?

Cancelling a contract is not an option. However, we are in negotiation with shipyards on the possibility of rescheduling deliveries and payment terms, hoping that by the time of deliveries the trade would have recovered.

Do you expect hull insurance premium to go up, especially due to surge in piracy off Somalia?

Several variables determine the hull insurance premium. One being the track record of a shipping line and past claims record. Given our history we don't expect an increase in our hull insurance premium. Insurance companies also provide additional insurance to cover trading in less safer areas. This type of insurance cost or premium has gone up recently for ships transiting through the Gulf of Aden. But generally, container ships have lesser risks than others because of their faster speed.

UASC has also implemented a rate restoration of $200 per TEU for shipments from Asia to North Europe, East and West Mediterranean as well as Adriatic ports effective January 15 this year.

Does rate restoration mean you've increased the rate per TEU?

Yes. It is of utmost importance that container operators recuperate the revenues lost over the past 12 to 18 months to enable us to maintain our high service levels.

Of late, a number of global container shipping lines have been raising freight rates on different shipping routes. Can you explain the rationale behind it and do you believe raising rates at this time could delay recovery in container shipment?

Container lines were hit very hard last year due to the distortion in the supply and demand balance. Lines are now able to increase rates and recover some of the revenue lost as most lines are sensible to having adjusted capacity to fit cargo demand. Presently, approximately 11 per cent of the worldwide container capacity is idle.

Raising rates would not delay recovery because the cost of shipping a product remains negligible compared to the total cost of the product itself.

This month UASC announced the launch of a new joint service with Hanjin Shipping, covering the trade line to and from West Africa. What is the purpose of this service?

West Africa is an active fast growing trade route, and our new service comes in line with UASC's strategy to continuously expand our network to cater to the growing demand of our clients. This is also part of our long-term plans in preparation for the arrival of our new bigger ships. West Africa represents a strategic destination, which allows us to expand our reach on the Asia-Europe routes with efficient transshipment of cargo in the Mediterranean.

Containerised shipment was the worst hit sector within the shipping industry last year. How do you assess the prospects of container shipping this year? Is recovery in sight?

Overall the supply and demand balance is expected to remain negative during 2010. However, provided shipping lines continue to adjust capacity to cargo demand it is very probable that their freight rates will improve further.

What are the challenges being faced by shipping lines in the Gulf? Are they any different from the global shipping lines?

I don't believe we face challenges that are any different than the ones facing the shipping industry globally. We are all concerned with the global trade and wish for a fast recovery and the faster restoration of consumer confidence.
Keep up with the latest business news from the region with the Emirates Business 24|7 daily newsletter. To subscribe to the newsletter, please click here.
Follow Emirates 24|7 on Google News.