UASC to lay up some vessels on the back of falling demand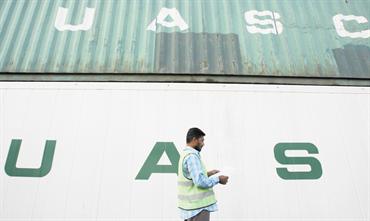 United Arab Shipping Company (UASC), the largest container shipping company in the region, will this year lay up part of its vessel fleet in a move aimed at reviving freight rates from their lowest point in 30 years, said a senior company executive.

The company will take out of service three to four ships of up to 3,000 TEUs (twenty foot equivalent units) for some time this year to help narrow the widening gap between demand and supply.

The company has also started a restructuring exercise for services across its global network by placing underutilised tonnage into trade routes where demand is relatively high.

"Some of our older ships will be idle for a while during 2009 to ease pressure on utilisation," Ken Bloch Soerensen, UASC's President and CEO, told Emirates Business. "By taking out some of the vessels, we will be able to bring back some level of utilisation to the remaining fleet, and this can help to push up rates."

Freight rates, the main determinant for profitability in the container shipping industry, have come under pressure since the second half of 2008, with rates on some major trade routes falling more than 80 per cent.

Several shipping lines have been operating at a loss for the past six months, and a few of them are idling part of their fleet to reduce costs and also lessen supply.

According to Soerensen, the major impact has been on the Asia-Europe trades where about 25 per cent of the capacity has either been or planned to be taken out to bring back the balance between supply and demand. Also lay ups have been made of the east-west trades.

"At current freight levels, liners are losing money, so utilisation is very important for our business. We know that demand will not come back with a vengeance like it did in 2002. So what we have left is to work on our supply since we can not make people buy more items that will eventually drive demand," said Soerensen.

He said although the company will see growing figures in revenues and volumes for 2008 over the previous year, profitability in the second half of the year had been affected beyond anyone's expectations.

UASC has embarked on a restructuring exercise of its services by putting more capacity into regions such as the Middle East that continue to perform better than others and also expanding its network into new sectors.

Last month, UASC launched a new service called IMR connecting Pakistan and India with ports in the Arabian Gulf and the Red Sea as well as ports between these two seas.

The new service consists of six 2,000-TEU vessels with the following port rotation: Karachi, Port Qasim, Pipapav, Nhava Sheva, Ras Al Khaimah, Jebel Ali, Djibouti, Jeddah, Yanbu, Aqaba, Sohkna, Jeddah, Port Sudan, Hodeidah, Ras Al Khaimah, Jebel Ali and back to Karachi.

The company also recently launched the Middle East-Indian Sub-continent-North America (Mina) service that combines its current Mix (Mediterranean-India Express) and Sina (South East Asia, India-North America) services.

The new Mina service runs between the United States East Coast, Mediterranean, Middle East and the Indian sub-continent with 11 2,000-TEU class vessels of which nine are supplied by UASC and two by Hanjin Shipping.

Soerensen said the container shipping sector in the Middle East continues to perform better than in other regions where demand has been severely hit by the global credit crisis.

"But we do not know for how long this trend will continue. Our business is driven by the gross domestic product of the regions in which we operate and we have seen adjustments being made almost weekly. It is hard to make any predictions," he said.

Soerensen warned that any further declines in freight rates from their current levels would force some container shipping players in the Middle East and other regions out of the business, especially new entrants. He, however, noted that following the Chinese New Year, there have been some signs of volumes coming up as well as recoveries in demand that collapsed in October and November last year.
Follow Emirates 24|7 on Google News.