US demands documents from Toyota in recall probe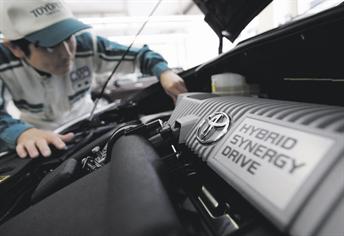 The United States demanded Toyota hand over documents to officials investigating some of the Japanese automaker's recent vehicle recalls to determine whether they met safety obligations.

The US auto safety watchdog, the National Highway Traffic Safety Administration (NHTSA), said it was using its statutory authority to obtain the documents "to determine if the automaker conducted three of its recent recalls in a timely manner" and whether their scope was too limited.

The three recalls for acceleration problems involve Toyota and Lexus vehicles.

The agency, part of the Department of Transportation, said it "is requiring Toyota to provide documents showing when and how it learned of the defects affecting approximately six million vehicles in the US alone".

"Safety recalls are very serious matters and automakers are required to quickly report defects," Transportation Secretary Ray LaHood said in the statement.

The detailed US request for information was the latest blow to embattled Toyota Motor, fighting to restore consumer confidence.

The world's largest automaker has recalled millions of vehicles worldwide in recent months due to problems linked to accelerator and brake functioning that have sullied the company's reputation. In response to the NHTSA request, Toyota said it took "responsibility to advance vehicle safety seriously and to alert government officials of any safety issue in a timely manner. "We are reviewing NHTSA's request and will co-operate to provide all the information they have requested."

The number of complaints alleging deaths related to unintended acceleration in Toyota vehicles has surged since Toyota announced on January 26 it was suspending sales and production of eight models in the US. According to the agency's website, 34 deaths allegedly were caused by the problem, including 13 deaths caused by nine accidents between 2005 and 2010 that were reported since late January.
Keep up with the latest business news from the region with the Emirates Business 24|7 daily newsletter. To subscribe to the newsletter, please click here.
Follow Emirates 24|7 on Google News.