US steps up inbound air travel security measures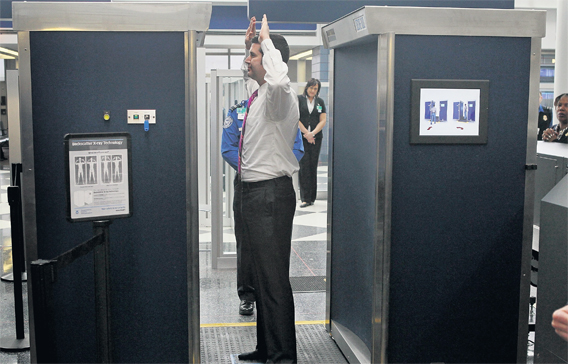 US officials have unveiled new security measures subjecting all US-bound plane passengers to screening methods that use real-time intelligence to target potential threats.
The measures were announced on Friday, in the wake of the botched Christmas Day plane bombing blamed on a young Nigerian en route from Amsterdam to Detroit.
"These new measures utilise real-time, threat-based intelligence along with multiple, random layers of security, both seen and unseen, to more effectively mitigate evolving terrorist threats," Homeland Security Secretary Janet Napolitano said in a statement. Her agency warned that "passengers travelling to the United States from international destinations may notice enhanced security and random screening measures throughout the passenger check-in and boarding process".
Travellers can now expect to face advanced imaging technology, pat downs, explosives trace detection and canine teams.
The new system aims to combine fragments of intelligence from various sources to determine whether a passenger raises flags.
"This is not a system that can be called profiling in the traditional sense. It is intelligence-based," an administration official told the New York Times. "It is much more surgically targeting those individuals we are concerned about and have intelligence for."
Until now, tough screening procedures introduced in the wake of the Christmas Day plot were aimed at passengers from a blacklist of 14 mainly Muslim countries, prompting outcries the measures amounted to racial and religious "profiling".
But a major US Muslim rights group hailed the new plans. "We applaud the Obama administration's new passenger screening policy because it does what security experts and civil libertarians have always asked for – it screens passengers based on actual suspicious behaviours or actions, not on national origin or religion," Nihad Awad, Executive Director of the Washington-based Council on American-Islamic Relations, said in a statement. "This new policy is an acknowledgment that racial, religious and ethnic profiling is inefficient and ineffective."
State Department spokes-man Philip Crowley acknowledged the previous screening system had its flaws and said the change was inevitable. "You basically have a system that says for particular countries every citizen can be pulled aside for secondary screening. That is not sustainable," he told reporters.
Napolitano also released a new assessment of security of surface transportation, including mass transit, commuter and long-distance passenger rail, freight rail, commercial vehicles and pipelines. The Homeland Security Department said the new measures, the product of a three-month examination, were designed to be more flexible and "to reflect the most current information available to the government".
A senior US official said that while the administration's top priority was safety, it was well aware the 14-nation list had hurt the US image overseas.
"There's no question that while the steps that were put in place were effective, there was a cost," the official said on condition of anonymity.
The current "no-fly" list will remain in place under the new procedures, albeit supplemented by cross-referenced information that may see passengers subjected to further screening even if their names are not flagged, the Wall Street Journal said.
Characteristics such as nationality, age, recently visited countries, and partial names will be used alongside the "no-fly" list, it said.
The move seeks to avoid the intelligence failures that allowed the alleged Christmas Day bomber, Nigerian Umar Farouk Abdulmutallab, to board a US-bound jetliner from Amsterdam wearing underpants rigged with explosives, despite US intelligence on him.
Follow Emirates 24|7 on Google News.