Volume of ships lying idle will increase to 6%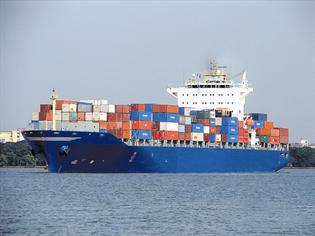 The number of container ships lying idle is growing fast. French maritime consultant AXS-Alphaliner said 255 ships, equivalent to 675,000 TEU (20-foot equivalent unit) in capacity, (5.5 per cent of the global container ship fleet), were laid up as of January 19.

It said the volume of container ships on standby will jump to the equivalent of 750,000 TEUs in early February this year, accounting for six per cent of the entire global box ship fleet.

Since the week before Christmas – just one month ago – the number of ships lying idle has grown by 90 or 255,000 TEU.

Alphaliner estimates that new build deliveries in 2009 will represent 14 per cent of the current fleet.

Another 12 per cent will join in 2010. Despite continued scrapping, the weak demand trends will fall well short of absorbing this new capacity. Compounding the problem, as pointed out by Alphaliner, is that bunker prices are reaching the point where the popular coping practice of "slow steaming" becomes uneconomical. In short, the idle fleet will expand considerably.

"Only 12 months ago they [carriers] were making record profits from Asia-Europe trade, but from this summer, freight rates have plummeted and still appear to be in a decline," said an analyst report by the UK-based maritime consultancy company, Drewry.

The report said the situation in the container shipping industry will further deteriorate in 2009 as fleets are expected to grow while "demand patterns and outlook are poor". "It is supply that will be the largest headache for the industry in 2009," the report said.

Due to the vacuum of credit there are unlikely to be any takeovers this year, but come 2010 and 2011 analysts are convinced the box sector will have plenty of takeover targets – another period of consolidation is closing in.
Follow Emirates 24|7 on Google News.