Yemen and France plan island port to fight piracy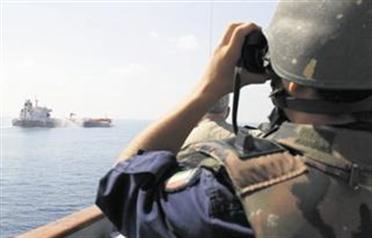 Yemen and France are planning an artificial harbour off Yemen's Perim island to help the international campaign against piracy in the region, said a French diplomat. Speaking after French Foreign Minister Bernard Kouchner met Yemeni President Ali Abdullah Saleh, the diplomat said: "This anchorage will facilitate the missions of vessels helping in the counter-piracy fight."

France, Yemen and Djibouti are preparing a letter of intent on an "agreement in principle" to create the harbour at Perim, which lies in a strategic location at the entrance to the Red Sea between Yemen and Djibouti, the diplomat added.

Kouchner said he and Saleh explored ways their countries can join forces to battle against high-seas piracy. "We had very sincere talks, that centred on increasing visits to Yemeni ports by foreign ships battling piracy and on helping train coastguards," said the French foreign minister.

"We must look at stepping up regional cooperation to avoid security problems," said Yemeni Foreign Minister Abu Bakr Al Kurbi, noting that humble fishermen have been targeted by foreign vessels on counter-piracy operations.

Yemen wants to create an operations co-ordination centre, since we "must help the fishermen to earn their living", Kurbi said.

The country currently operates only a small anti-piracy monitoring centre.

Yemen will allow foreign warships to chase suspect vessels into its territorial waters, on a case by case basis and when Yemen is unable to act itself, a French diplomatic source said.

It is "progress compared to a few months ago", the source added.

Kouchner is also expected to travel to Djibouti for talks with the presidents of Djibouti and Somalia.

More than 130 ships were attacked in the area in 2008 alone. The heavily armed pirates operate high-powered speedboats and sometimes hold ships for weeks before releasing them for large ransoms.


Djobouti calls for co-ordination 
Djibouti's foreign minister said a structure to co-ordinate international anti-piracy efforts should be established here ahead of international talks on the subject.

"We have the means," Mahmoud Ali Youssouf told his visiting French counterpart Bernard Kouchner.

"If we don't have coordination, we risk a naval battle," he said.

The European Union, the US and several other countries all have ships patrolling the pirate-infested waters off the Horn of Africa where 24 pirate attacks have been registered since January, three of them successful.

Attacks have led some shipping companies to avoid the route and, at greater cost, sail around Africa instead.

Countries interested in creating a co-ordinating mechanism are expected to meet in London, diplomatic sources say.

Besides its strategic location, the tiny east African country has another asset.

"Countries all around are in conflict, more or less, and Djibouti is a safe place," Kouchner said.

Nearby Yemen has also indicated its interest in anti-piracy co-ordination. Separate plans to establish an information-sharing centre among neighbouring states have yet to get beyond the discussion stage, a French diplomat said.
Follow Emirates 24|7 on Google News.