Bullish data sends oil price above $80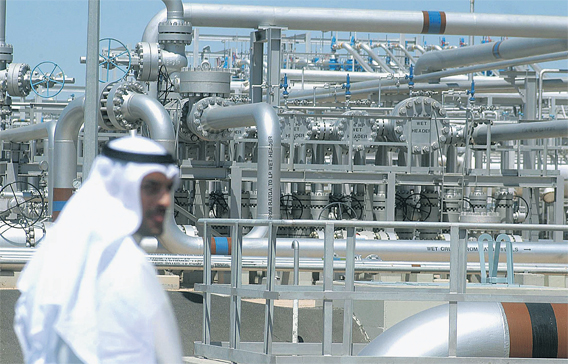 Oil extended gains to rise above $80 a barrel yesterday, lifted by a rally in the copper price, a steady US dollar and bullish global economic data.
US crude for April delivery rose 79 cents to $80.45, after having climbed by as much as 96 cents. On Friday, the contract settled up $1.49 at $79.66 and posted its biggest monthly percentage gain since May 2009.
London Brent crude rose 76 cents to $78.35.
Copper futures jumped to their highest in more than five weeks yesterday after a massive earthquake in top producer Chile on Saturday sparked supply worries and threats of a new 2010 peak for the widely-used metal. "These raw materials have a huge correlation, because when China and other emerging markets pick up speed they will need copper and steel and fuel," said analyst Andy Sommer at EGL in Switzerland.
Yesterday's market move is also related to bullish sentiment in general and a bit of dollar weakness.
"Oil prices are also benefitting right now by the fact that the dollar is weaker against the euro," said senior commodity analyst Ed Meir at MF Global.
Any progress towards an aid plan for Athens could boost the euro, as well as bond prices and banking stocks in Greece and other indebted countries on the euro zone's southern periphery. But any rally by the euro might be brief, because investors would also worry that a dangerous precedent was being set for Germany and other rich states in the zone to take on the liabilities of poorer ones.
On Sunday, a senior military official from Iran, the world's fourth-largest exporter of crude, said the country could make European nations suffer by cutting off energy supplies and could target any adversary with its missiles.
Iran is disputing its nuclear energy programme with the United States and its allies, who say it is aimed at developing weapons.
Tehran says it is only interested in power generation and medical research. Oil traders will look to economic reports this week, with key focus on US jobless data on Friday, that should give more clues on consumer spending.
Other economic indicators due include US manufacturing yesterday and US home loans tomorrow.
Positive economic data on Friday from the United States, which saw the world's largest economy grow faster in the fourth quarter than initially thought, also helped increase investors' appetite for more risky assets, lending further support to oil.
Saudi Arabia, the world's biggest crude exporter, agreed to increase crude supplies to India to 40 million metric tonnes a year, or about 770,000 barrels a day, from 25.5 million tonnes a year, during a meeting between Oil Minister Ali Al Naimi and his counterpart Murli Deora, India's Oil Ministry said on its website.
India is seeking to increase supply for refinery projects at Paradip, Bhatinda and Bina, the ministry said. The three new plants will increase India's refining capacity of 178 million tonnes a year by almost 20 per cent by the end of 2012.
The Opec countries increased crude-oil production to a 14-month high of 29.17 million barrels a day in February. Saudi Arabia led the gain, with output rising 100,000 barrels a day to 8.25 million.
Keep up with the latest business news from the region with the Emirates Business 24|7 daily newsletter. To subscribe to the newsletter, please click here.
Follow Emirates 24|7 on Google News.