Oil and dollar may move in tandem this year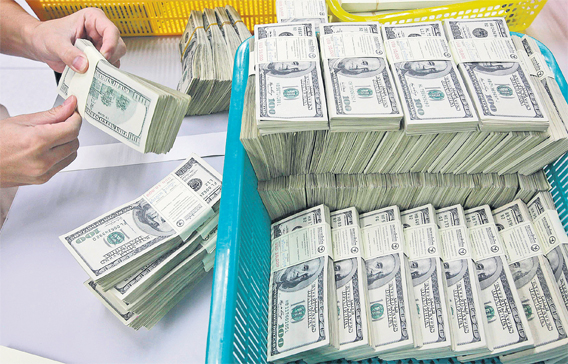 In 2009, the US dollar has had an inverse relationship with oil – that is the price of oil rose as the greenback dropped in value. In 2010 however, this trend may reverse, oil and commodities analysts said.
While the US dollar is expected to strengthen almost throughout this year backed by intermittent good economic data from the US, the price of oil is supposed to rise as well on the back of strengthening global demand. "This will be an interesting year with regard to oil and dollar correlation. On one hand, the value of the greenback is expected to rise as the euro falls. On the other, demand for oil is expected to rise," said Dheeraj Shahdadpuri, an oil economist based at Dubai International Financial Centre (DIFC).
In the end, oil may face a fate similar to gold, that is, it could break its correlation to the greenback, analysts said.
In the four weeks between January 23 and February 21, the euro has largely dropped against the dollar due to the financial turmoil in Greece which is a member of the European Union. According to market figures, one dollar was equivalent to €0.71 (Dh3.55) on January 23 this year. On February 18, one dollar equalled €0.74, registering one of the steepest drops in the value of the euro (and therefore a rise in the value of US dollar) in recent days. The greenback rose against the euro throughout 2009 before beginning a steep fall in December.
Following the established correlation, oil has almost continuously dropped since having attained a high of close to $83 (Dh304.8) a barrel in the first week of January. Oil remained below the Organisation of Petroleum Exporting Countries' (Opec) "comfortable" price of $75 a barrel from the last week of January to the mid of February before beginning to rise again. Nymex crude for delivery in April stood at $79.85 a barrel yesterday having risen 0.05 per cent from the previous day's close.
Some oil economists say that an inverse relationship between oil and dollar is largely what markets have determined for their convenience. "An inverse relationship between oil and the dollar holds at times and it does not at times. It's a simple explanation for trade that the market has assumed," said Robin Mills, a Dubai-based economist.
There are several reasons that suggest that the dollar will continue to strengthen this year vis-a-vis the euro – the first being the continuation of the euro's decimation. Second, the expected positive economic data from the US and indications from the Federal Reserve that it wants dollar strengthening. Analysts see the International Monetary Fund's (IMF) recent announcement on sale of 191.3 tonnes of gold as a result of US persuasion. "It's difficult to understand why the Federal Reserve is adamant on strengthening the dollar. After all, it may adversely impact their exports," a Dubai-based analyst said.
No analyst is confident of the euro's strengthening in the near term because of the quagmire Greece is in. "When sub-prime hit in earnest, insuring against Greek default suddenly became a lot more expensive, the credit default swap spread rising six-fold in eight weeks. The same risk measure is now around 400 basis points, the cost of insuring against Greek default no less than 20 times higher than it was in January 2008," Bill Hubard, Chief Economist, MIG Investments, said.
Other countries in Europe have their own difficulties. "Default risks are growing in Portugal and Spain too, the eurozone's fourth biggest economy. The problem is that default dangers in Greece – where €20 billion of debt falls due in April and May – are making creditors think twice about lending to other cash-strapped governments. Even if Greece avoids defaulting, this crisis means governments everywhere will have to pay more for their finance, which in turn will 'push up' borrowing costs for everyone – right across the eurozone and beyond, including in the UK."
As for oil, demand is expected to continue rising this year on the back of a global economic recovery. Francisco Blanch, Global Head of Commodities Research with Bank of America Merrill Lynch linked the rise in oil demand to globalisation. "Ultimately, trade is GDP on steroids, as a one per cent increase in GDP is typically associated with a 2.9 per cent increase in trade, and trade is primarily about arbitraging input cost differentials across regions. In turn, increased trade means increased transportation and increased oil demand," Blanch wrote in a recent report.
Keep up with the latest business news from the region with the Emirates Business 24|7 daily newsletter. To subscribe to the newsletter, please click here.
Follow Emirates 24|7 on Google News.