1,500 new firms to start operating at Hamriyah this year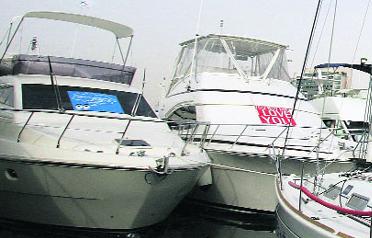 At least 1,500 new companies from a range of industrial sectors are expected to start operating at Hamriyah Free Zone (HFZ) in the current financial year.

And the authority that runs the zone in Sharjah also plans to build a maritime city there as well as an area dedicated to small and medium enterprises (SMEs).

"The maritime city is the latest addition to the zone's specialised industrial areas," said Rashid Al Leem, Director-General, Hamriyah Free Zone Authority. "Currently there are zones for oil and gas industry, perfumes, construction, timber and steel.

"Three-quarters of the inner harbour work is complete and we expect about 100 companies from around the world to set up premises. There will be facilities for ship maintenance and repairs, oil rig manufacturing and other maritime industries."

Al Leem said the area was not intended to offer direct competition to Dubai Maritime City and added that Hamriyah Free Zone complemented all other Free Zones in the UAE rather than competing with them.

"We have already invested Dh450 million in developing 800,000 sqm of infrastructure for the maritime city," he said. "The maritime industry is a capital-intensive sector and we expect about 100 companies from the maritime industry to have a presence in the maritime city. There is lot of interest from around the world in the maritime sector. The shipping industry will be looking for consolidation and alliances."

Al Leem has made a presentation to shipping companies in Singapore that are interested in establishing a presence in the Middle East.

He said the phase two expansion of the zone was proceeding smoothly; a bridge and 5km of new roads had been built to link the two sections. The zone opened in 1998 with just 19 companies.

"Hamriyah Free Zone has attracted Dh7.4bn in investment from 3,500 companies from 120 countries. With the second phase we expect the total investment to reach Dh11bn.

"This year we expect about 1,500 new companies to start businesses in the zone. These projects are not affected by the temporary economic cycles or downturns but are based on the long-term vision of the Sharjah Government.

"We are satisfied with our achievements so far – 3,500 companies and 50,000 employees. The zone has witnessed increasing numbers of new enterprises at an average of 100 registrations per month. We have grown at above the industry average and is the preferred free zone service partner of many mega-companies."

He said the economic slowdown was a reality that posed new challenges – but life has to go on. "These are challenging times but business has to be done. There are trade-related anxieties such as food shortages and a need to protect jobs. However, as Asian and European industries grow more people are looking overseas, especially to the Middle East, for sound investment opportunities.

"The credit crisis or the tightening of bank finance may not affect free zone companies because they are mainly subsidiaries of cash-rich multinational firms. There are big international and local banks operating in the UAE to support such companies and we haven't seen any impact from the credit squeeze on free zone companies," Al Leem said. "We are aggressively marketing our zone in the international market. Currently we have requests from 10 countries including India for us to manage, market and finance new free zone developments.

"These proposals are at an early stage and we cannot disclose more details. But the Sharjah Government has the financial resources to participate in these projects and we have the expertise and resources."

The UAE is strategically located and the proximity to a deep harbour is an advantage. Hamriyah Free Zone is a gateway to global business. "We offer many incentives including 100 per cent ownership, relaxation from taxation and a strategic location in a peaceful and secure country.

"Major companies like Essar of India and Modern Steel have ambitious projects in the steel city. So far there has been no change in their investment plans."

Al Leem said the dedicated area for SMEs would be "magnificent". "Due to the financial turmoil there is a growing realisation that the future lies in SMEs.

"We need to support small enterprises and the Sharjah Government has supported the idea. The SME zone will be operational by March 2009 and will have 500 units.

"Integrating SMEs with the big corporations in the zone will provide easy access to down-scale industries and secondary players," Al Leem said.

He said the authority was working hard to encourage women entrepreneurs.

"Women-owned enterprises are seen as significant business entities that contribute to job creation and family businesses. If given proper opportunities and encouragement, women have the potential to excel.

"The authority is encouraging women entrepreneurs because there is big scope for them. An incubator for businesswomen is being planned and this model can be replicated in other countries such as India and Pakistan."

He said the authority had not studied the potential impact of any moves by the GCC countries to introduce taxes – personal income tax and value added tax – on companies operating in free zones.

"We haven't seen details of the taxation plans. Talks are in the air and it is difficult to speak about taxation plans before they come into practice."

He said the businesses that had moved into the zone had not done so solely to take advantage of low energy costs.

"Oil is only one factor that has attracted manufacturing companies to the zone. The most important reason why companies are investing in is because of the open economy, security, government support and strategic location. The fluctuation of oil price from $147 to $50 will mainly affect companies engaged in these sectors, not others."

The Phase II expansion of Sharjah Hamriyah Free Zone, which will cover 10 million square metres, is located opposite the road facing Phase I. About 70 per cent of land in the Hamriyah Free Zone Phase II has been leased out to big clients because investors are in a hurry. The new inner harbour work is progressing; Sharjah Hamriyah Port will be able to receive Panamax ships – ships with the maximum dimensions that will fit through the locks of the Panama Canal. An increasing number of ships are built precisely to the Panamax limit, in order to transport the maximum amount of cargo in a single vessel. Much bulk merchandise, such as grain products, is moved primarily on Panamax (sub-Panamax) ships.

Meanwhile Perfume World, one of the seven zones within the Hamriyah Free Zone Authority, was designed as a special zone for the perfume manufacturers, traders and packaging firms that are keen to tap the growing demand for perfumes, cosmetics and toiletry products in the Middle East. Consumer demands for perfumes are changing for the young population whose disposable income has been increasing.

"About 50 per cent of the region's population is under the age of 20. New and attractive retail environment are spurring growth in this segment with malls, pharmacies and supermarket chains attracting customers throughout the region, giving retailers and manufacturers greater visibility as well as distribution opportunities. The Middle East market for cosmetics, perfumes and toiletries is estimated at $2.1 billion – 75 percent from the GCC market – and is growing at 10 to 15 per cent. Perfume World is the only dedicated zone in the whole of GCC for manufacturing, packaging and trading of this aromatic business. Perfume multinational companies are using the zone for the regional markets.

A number of Indian companies have presence in the HFZ. Recently, the Kerala Chamber of Commerce and Industry in Cochin invited HFZ delegation seeking increased co-operation with the South Indian State.

Tecom, the Dubai investment company, has already got a big project in Kochi – Smart City. It is an information technology hub for the Dubai Internet City-based IT companies.

The Associated Chamber of Commerce and Industry (Assocham) has recently selected Hamriyah Free Zone for its best performing Special Economic Zone Award. D S Rawat, Secretary-General, Assocham, said HFZ is great special economic zone success stories in the region and the entire wold. "From planning to granting licenses, HFZ has set an example for those aspiring to run a SEZ in a sustainable and effective manner," Rawat said.



Labour City

An integrated labour city to accommodate 25,000 free zone workers is being built in line with international standards in terms of hygiene, room size, entertainment facilities and support services.

"We will have financial services like money exchanges and catering facilities within the labour city," said Al Leem. "About Dh1.8bn is being spent on the infrastructure development. The work, which includes laying 25km of new roads and providing water and electricity supplies – is progressing and may be complete by next year."
Follow Emirates 24|7 on Google News.