Aedas spreads wings in region, sees growth in 2010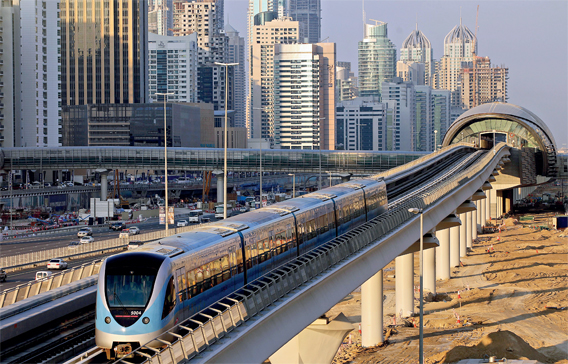 Dubai Metro is an important project for Dubai and the UAE and is a forerunner of a number of transport projects proposed throughout the Middle East, said a senior official of the Dubai-based division of Aedas, the architectural practice.
The firm is working on major transport projects in Abu Dhabi and is assisting the Qatar 2022 Fifa World Cup Bid Committee with stadia design, lead by Aedas Sport (which is based in Los Angeles but works on projects in Bahrain, Qatar and the UAE), said its executive director.
"We have maintained our revenue throughout 2009 with a turnover of $220 million (Dh807.4m) and are projecting modest growth for 2010," said Robert Troup.
"We are also opening offices this year in Riyadh and Damascus, as we have ongoing projects in Saudi Arabia and Syria and see great potential there."
While Dubai remains the hub for the region, Aedas is increasing its local presence throughout the Middle East, he told Emirates Business.
Could you elaborate on the types of projects that are in your portfolio in the UAE?
In addition to Dubai Metro, we have worked on a number of transport projects. The Al Sufouh Tram project is being designed by our Singapore office in collaboration with the Dubai office and has reached an advanced stage of design development.
We are working on Abu Dhabi Water Transport study and are also assisting in the design of some of the advanced works for Abu Dhabi Metro and have provided similar design assistance on the advanced works for the New Doha International Airport Station. At the same time, the transport architecture team in our office here is also designing stations for the Toronto metro.
We are the main consultants for Manara Al Saadiyat, the new temporary museum for TDIC on Saadiyat Island, which was opened in November last year. We are also the main consultants for two hotel projects: The Hard Rock Hotel and the Southern Sun hotel in Abu Dhabi, which are in the design development stage.
We are also bringing in our experience in educational buildings. For example, the redevelopment and extension of the British School Al Khubairat and the British Council buildings in Dubai, Abu Dhabi and Bahrain.
What is the Aedas business model?
We do not have one headquarter. Our business model is different to the traditional design consultant, which is why we have three main "hub" offices — Hong Kong, London and New York — and are now building up our regional hub in Dubai for the Middle East and North Africa. What we do is that we bring international design expertise together with a strong local presence and an understanding of the local culture in the countries and cities in which we work.
Aedas Dubai office was established in 2005 and is developing into our regional hub for the Middle East, where we also have strong offices in Abu Dhabi, Doha and Bahrain. Each office becomes an integral part of the community where it operates rather than functioning as a project office or branch controlled by a head office.
Could you elaborate on your projects in Doha?
We are the main consultants for Phase 1B of the Mushreib project in Doha.
We are the executive architect and also provide engineering and specialist design services to the project via our sub consultants WSP and Halcrow. It is very relevant to Qatar and for the region. In the sense it is a very different design in an urban environment when compared to many of the projects that we see based on high-rise developments. It will generate interest in the Middle East since it features environmentally sustainable urban design, particularly, appropriate for this climate.
We are perhaps seeing a shift, from developments that are based on high-rise to projects that are equally dense but lower scale, more people and pedestrian friendly. Having said that, it is exciting to design high-rise towers and we see relevance in both types of urban design, depending on the location and circumstances.
Another example of our global network is our work with the Qatar 2022 Fifa World Cup Bid Committee, whom are assisting with stadia design, lead by Aedas Sport.
How was the Dubai Metro experience?
It is an incredibly important project for Dubai and the UAE and is a forerunner of a number of transport projects proposed throughout the Middle East.
We are very honoured to have been chosen as the lead design architects for Dubai Metro Red and Green lines for 45 stations, two depots and control centres (we did not design the footbridges).
We were design architects from concept to completion. The design is complete and the Red line was inaugurated on schedule on 09/09/09 and we were pleased to have been part of that achievement.
The original brief from the client was that the stations were to be welcoming, iconic and make reference to the culture and heritage of Dubai. Modern metros have particular requirements due to the high level of use and hence you have to select materials that not only looks good but are robust and highly durable.
The challenge is to create an environment that is welcoming and attractive and addresses all the requirements. The safety and security issues are also important, considering the number of people using the Metro.
Following completion of the design, we had a small team of architects who worked closely with the design-build team on the construction side — the procurement of materials, inspection of materials. In general, given the fast-track nature of the project, we are pleased with the results. There was a certain consideration given to working with local suppliers, which had some effect on the appearance of the stations.
As an architectural practice, do you participate in design competitions in the region?
We do not see architectural competitions as necessarily the best way for clients to select architects. The reason being that our design process is very collaborative — we like to meet the client, explore their needs, quickly produce a number of options to discuss with them and fully understand their objectives and needs.
In a competition, we don't have access to the client: it is like designing with a hand tied behind your back; trying to imagine what the client might like. We don't recommend this as the way for a client to select an architect.
However, over the years, we have won a number of competitions in the region.
In fact, the first project with which we entered the UAE was a design competition, which we won for Ocean Heights, an 80-storey residential tower for Damac at Dubai Marina.
Do you see a rise in requests for proposals (RFPs) in the region?
In 2009, we had far less enquiries than 2008 but had a much higher "success rate". So we are now operating in a situation where enquiries are fewer but our "success rate" is higher: We have maintained our position and are expanding our portfolio of projects and clients. Our work in healthcare, education and transport is developing across the region and we had a relatively good year in the Middle East. We are projecting modest growth for 2010.
Keep up with the latest business news from the region with the Emirates Business 24|7 daily newsletter. To subscribe to the newsletter, please click here.
Follow Emirates 24|7 on Google News.