Beauty remains a secret ambition: Rem Koolhaas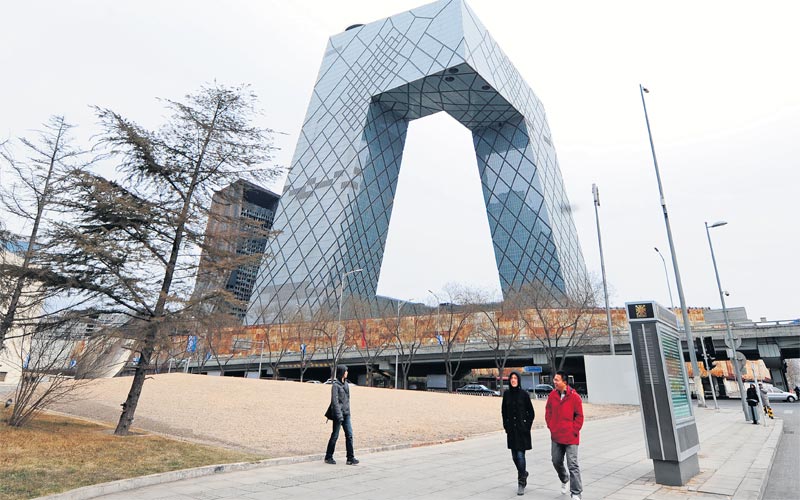 Writing is one way of understanding the issues of a city and participating in a more intelligent way, according to Pritzker award-winning Dutch architect Rem Koolhaas.
The principal of the Office for Metropolitan Architecture, or OMA and AMO and author of books such as Delirious New York and S,M,L,XL (co-authored with Bruce Mau, Jennifer Sigler, and Hans Werlemann), Koolhaas spoke to Emirates Business on his new book release Al Manakh Gulf Continued (see box), his work in the region, responsibilities of an architect in the context of globalisation and how beauty remains a secret ambition of all that he does.
What is the difference between the first book Al Manakh and the second book titled Al Manakh Gulf Continued?
Three years ago, we published the first book, which was a series of essays written by outsiders looking at this place. It was also the first time that we were able to form a number of relationships in this region, which enabled us to create a broader base to generate information and to understand what was going on here. It was also the first time that we started a relationship with Pink Tank.
Then we conceived the second one. However, this one had people from this region looking at the evolution of this place. It is a multifaceted registration by various people of a phenomenon that we knew was important but, of which, no one had an overriding clarity.
We did not then anticipate that the [economic] crisis would happen here. On the one hand, that made it even more interesting because something really intense happened here. On the other hand, it also made it more difficult because it was not easy to interpret what we were seeing.
What is the connection between this book and the role of the Abu Dhabi Urban Planning Council?
They were our clients for the first Al Manakh. We then became collaborators and developed this second initiative. Therefore, we were able to develop this picture from the ground and not from above or the outside.
So at what point did you take a decision to stop the book?
The second Al Manakh took 14 months of documentation. We then decided to compress it – the book is a mosaic; an image of a region at a particular moment in time.
What are the highlights of the book?
To me, there are all kinds of infrastructural projects that try to create connections between them. Then, there is an enormous initiative that we can see in terms of education. Which, over the next couple of years, will result in a real effort to generate sufficient intelligence to understand this region on its own terms.
Do you just look at the UAE or the region?
The book also looks at the region. One of the main ambitions of this book is to also look at Saudi Arabia. We believe that is where many things are happening, which are also crucial. So we were able to develop that and show all kinds of modernisation processes that were going on in the country.
During the process of this book, did you have dialogues with regional architects or involve them?
Yes, we did. By the way, architecture is not the point of the second book. The process of modernisation is accelerating at some point, slowing down and then taking place elsewhere in this region. The intensity keeps shifting to another point. Hence the book is a documentary; an overview of modernisation and the shape that modernisation takes.
You are currently working on projects in China. What are your feelings on globalisation of architecture and the crossover of architecture across the world?
This is a very interesting moment. For the first time, in the history of the world, there is no fundamental limit for architects and where they can work. So that is, in a way, a wonderful moment. But it also implies serious responsibilities because it would be criminal if we collectively, as a group, produce that freedom to generate the same conditions everywhere in the world. So in a way, I am trying to outwit that kind of situation by trying to be more engaged with what is happening locally, whether, in China or the Arab World. Personally, I have never found it simply enough to be an architect at a given location and do my thing. I have always felt that I needed to be more aware of what the issues were in most situations. I also do that by writing books wherever I have been – whether in the US and China or this region. So this way, I will know what the issues are and participate in a more intelligent way. Not simply producing a homogenous, kind of global substance of work but be precise enough to do something that is more appropriate to the region.
So how do you define context when there is no context? Or there is a gap between the time of the concept design to the built project? In a situation where some buildings look fantastic on paper but not as good when they reach completion? This is a criticism of certain architecture nowadays.
The term context is a very good word to connect. In China, you could aim to be part of the context but by the time you are ready, the context might have disappeared. Here, you could have the same ambition but the context that you were aiming for never materialises. Context is a wide word. You have to extend that definition and think about what it is, at time of modernisation, and what it would benefit most.
Take the CCTV building in China. It is a building that talks about the organisation and initiates a loop and puts all the participants in touch with each other. The building makes a comment on how to bend hierarchies and the shape never looks the same from any angle. The message is that there is no stability or definitive identity. In the same way, we have tried to do things in a way that are also intelligent of the local situation. We designed the Porsche Design Towers in Business Bay, Dubai. It was the most interesting gesture to the city, a building of extreme simplicity, which stated that you focus on values other than decorative. But it has not been realised.
Do you see the future as going from XL to S; in reverse? On lines of your book S, M, L, XL?
It does and all these levels are present at the same time.
What is your current portfolio of projects in this region?
We are working on the headquarters of the Qatar Foundation in Doha, the Education City in Doha and a library. We are also involved in Libya, Egypt and Morocco but it is too early to tell. Cities here are using this hiatus to define what they want. We have seen so many master plans that were not executed. So, today there is a certain modesty regarding that term. People are beginning to use other terms. Maybe it is more about buildings now.
In the past you have talked about being an instrument of chaos and beauty as a byproduct?
So what is your take right now?
If you are from here, you can endorse the word chaos. As for beauty as a by product, I still feel it. I come from a culture that is quite inhibited in terms of certain pleasures and we are more comfortable in pursuing rational aims than beauty per se. But secretly it remains an ambition in everything we do.
Architecture, writing, films – what is your order of priority? Are you looking at films in future?
There is no order of priority. We have always tried to extend architecture and stretch it in many different directions. Films would be interesting. It is too early to tell, but yes. As for writing, we are interested in seeing how something like this [Al Manakh] would happen again.
Al Manakh: Gulf continued
Al Manakh: Gulf Continued features more than 140 contributors reporting from six cities in five countries (UAE, Bahrain, Qatar, Kuwait and Saudi Arabia) on the new connections being forged within the Gulf, and the new kinds of influence emanating from the region despite the bleak economic climate.
Follow Emirates 24|7 on Google News.