Big ticket projects needed as UAE cement output likely to increase by 19% in 2011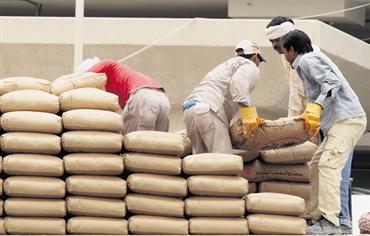 The UAE's cement capacity will increase by 19 per cent in 2011, according to a latest Global Investment House (GIH) report.

"UAE's current cement capacity at 34mtpa (20mtpa of listed cement manufacturers and remaining of the unlisted cement companies) is expected to increase to 40.6mtpa (24.5mtpa of the listed and 16.1mtpa of the unlisted companies) by 2011. Such a growth in capacity would give rise to multiple problems provided economic revival comes up with the continuation of the big ticket projects," it said.

"Based on our universe, the sector profitability is expected to show a decline in 2009, mainly because of a drop in realisation prices, expected decline in utilisation rates and a majority of projects being put on hold. However, we believe that certain cement players would continue to perform well due to favourable cost structure and advantageous location."

Exaggerating the market

Out of the nine listed cement companies in the UAE, two have recently completed their expansion.

Arkan has raised its cement production capacity from 1.2mtpa in 2008 to 5.7mtpa by 2009 while Fujairah Cement Industries has raised its production capacity to 4.6mtpa in 2009 from 2.2mtpa earlier.

Share of the listed cement companies, which currently stands at 60 per cent, is estimated to remain same this year, while major cement players such as Arkan Building Materials, Union Cement Company and Fujairah Cement Industries would account for 36 per cent of the market this year.

In the unlisted segment, majority of the cement players will come with a full fledged production in 2010, which will further exaggerate the already glutted cement market.

Unlisted companies, whose current share of the total market is estimated at 40 per cent, are likely to remain same by 2010.

Major newcomers with capacity of more than 2mpta are Sharaf Group Cement Factory and National Cement Factory, said the report.

Cost control measures

With external factors such as cement demand outlook being very bleak, the majority of the cement players in the region are looking at internal measures to prop up their business and survive.

Cement manufacturers in UAE are firing multiple kilns to control their energy costs. Meanwhile, average realisation prices as of 9M-2009 have declined on an average of six per cent in GCC when compared to 2008.

"Countries with relatively stable prices are Saudi Arabia and Oman while the rest have witnessed a major fall.

In the UAE, cement manufacturers witnessed a fall of 7.4 per cent during 9M-2009, which are likely to go down by another four per cent in the last quarter, ending the year with a drop of 11.4 per cent during 2009. As of December 2009, 48.7 per cent of total projects in UAE are on hold, said the GIH report.

"With continued economic uncertainty and unfolding of major events in UAE, development projects in majority of the fields are being put on hold. Out of the total $924.8 billion (Dh3.4 trillion) worth of projects in the UAE at the end of December 2009, 48.7 per cent have either been postponed or being put on hold. The figure has risen from around 38.8 per cent in June 2009 to 45.6 per cent in September 2009.

"Despite issues, majority of the cement players in the country have gone ahead with their expansion plans and have turned the tables upside down from a demand supply gap ranging between 3-5mtpa earlier to a surplus of more than three million in 2009," said GIH report.

Increasing petrodollar liquidity generated through high oil prices fuelled unprecedented growth in construction activity and boosted real estate activities in the country. "Such a situation has given birth to increased demand for cement earlier and raised the cement production capacity from 29mtpa (17.7mtpa of listed companies and 11.6mtpa of unlisted companies) in 2008 to 34mtpa (20.0mtpa of listed companies and 14.1mtpa of unlisted companies) in 2009 and to an estimated 40.6mtpa (24.5mtpa of listed companies and 16.1mtpa of unlisted companies) by the end of 2010," it added.

Nine major players

For the consolidation of the sector financials, GIH had analysed nine listed firms – Arkan Building Materials (Arkan), Fujairah Cement Industries (FCI), Gulf Cement Company (GCEM), Ras Al Khaimah Cement Company (RAKCC), Union Cement Company (UCC), Sharjah Cement (SCIDC), National Cement Company (NCC), Ras Al Khaimah White Cement (RAKWCT) and Um Al Qaiwain Cement Industries (QCEM).

Consolidated revenues of the sector were down during 9M 2009 against the same period for 2008 due to decline in cement sales volume as well as a sharp decline in cement realisation prices.

However, the same during the 3Q-2009 against 3Q-2008 witnessed a much sharper decline as majority of the projects in UAE were being called off or were put on hold. On the cost side, the sector witnessed a decline due to the installation and commissioning of coal mill successfully by majority of the players giving them the ability to burn multiple fuels and safeguarding them against an increase in prices of a particular fuel.

Other income, which in the past continued to cushion the bottom lines of the UAE cement sector, put "a circuit breaker this time around due to their heavy losses on their investments in real estate, property and equity markets," said the report. Meanwhile, major reasons for the decline in profitability were due to lower operating income and lower contribution from the non-core income sources of the companies, it added.

Gross margins of the industry have been on the declining trend as the cost of energy is depreciating their margins. Nevertheless the players are taking cautious step and are installing coal mill giving them the ability to burn multiple fuels and safeguarding them against hike in prices of a particular fuel. On the whole the margins of the industry has gone down to 26.0 per cent in 9M-2009 as compared to 24.7 per cent in 9M-2008.

Ras Al Khaimah-based cement companies such as Gulf Cement and RAK Cement enjoy the highest gross margins at 31.1 per cent and 30.6 per cent respectively as of 9M-2009.

Reason for higher gross margins is because of being relatively close to the raw material quarries in Ras Al Khaimah emirate.

Operating margins among the peers has been wide ranging, said GIH.

The least been 13.9 per cent of Arkan and the most at 29.5 per cent by Gulf Cement and 25.8 per cent by RAK Cement.

"Going forward we believe that the operating margins would remain stable as lower cement prices would be offset by the multi-fuel burners installed by majority of the cement players in the country. Nevertheless, the downside risk would always be there as fuel costs for distribution and administrative costs because inflation would continue take the charm away," said the report.

Meanwhile, overall net margins of the sector were at 17.7 per cent, which have doubled from that achieved in 2008 at 8.3 per cent.

Financial charges

Overall sector financial charges as percentage of debt has declined to 6.5 per cent in 9M-2009 as compared to 9.7 per cent at the end of 2008.

Liabilities of the sector mostly include the payables and most of the financing for expansions purposes is done through equity or through huge cash balance, which shields the firms from acquiring loan and ultimately results in lesser financial charges. Financial charges as percentage of debt for the sector has declined tremendously as the two listed firms Arkan and FCI have completed their expansion.

The capital structure of the cement sector is strongly equity based. The majority of the cement companies have strong liquidity and a very conservative capital structure. For the sector as a whole, equity accounts for 80.3 per cent of total assets in 9M-2009.

The company, which has a highly conservative capital structure among all is Union Cement and RAK Cement at 95 per cent each. FCI has high liability as percentage of assets followed by Arkan.

Cement companies in the UAE have strong exposure to the regional equity and real estate investments, making some of them extremely risky. In 2008, other income/(loss) was a major eroder of the profits as its percentage to the net income was -149.2 per cent. Gulf Cement Company registered heavy losses in 2008 and the same trend has continued in 9M-2009 as its contribution to the total income has been -40 per cent at the end of 9M-2009.

Meanwhile, return on equity of the cement companies have been fairly low which can be attributed to the highly skewed capital structure of the companies in the region. Equity has more than 80 per cent contribution to the total assets of the sector, which in turn reduces its return. As of 9M-2009, FCI and RAK Cement enjoy highest ROE at 8.8 per cent and 7.8 per cent respectively. However, in ROA terms, RAK Cement and Union Cement take the lead at 7.5 per cent and 6.9 per cent.

Pressure on prices

In the UAE, cement prices increased at a tremendous pace in the past on account of booming real estate and construction market. Such rising demand fuelled prices as well which increased the prices of other construction materials as well.

Many a times government intervened and capped the cement prices and on the other hand continued to import cement to ease the shortage and rising prices.

But as of now the situation has changed as the prices of cement has gone down significantly and are reaching the levels of 2007. On an average realisation prices in UAE have gone down by over 7.5 per cent in 9M-2009 to $85 a tonne as compared to $92 a tonne in 2008. Prices on an average in GCC also went down by seven per cent during 9M-2009 as compared to those in 2008.

Average cement prices in GCC reached $77.4 a tonne by 3Q-2009, as compared to $83.2 a tonne in 2008. Prices in Kuwait and Qatar witnessed the highest decline at 16 per cent and 11.6 per cent respectively. On the other hand, Saudi Arabia and Oman enjoyed a 3.1 per cent and 1.4 per cent respective increase in cement prices during 9M-2009.

The UAE cement firms witnessed a scenario of excess demand that lifted cement prices high in 2008. Excess supply after the global credit crisis halted major construction projects which has now put pressure on cement prices.

UAE cement companies enjoy local supply of raw materials especially in Ras Al Khaimah, which is full of limestone, but also a majority of UAE cement companies import raw materials from neighbouring countries such as Saudi Arabia, India and Pakistan causing cement prices to increase.

The cement manufacturers, which witnessed a major fall in the realisation prices during 9M-2009 were Gulf Cement and Fujairah Cement. Realisation prices for Gulf and Arkan went down by over 17 per cent and 11 per cent respectively during 9M-2009. Prices of other cement players on an average went down by three per cent during 9M-2009.

GCC scope

Some of the major big projects, which were continuing despite the downturn such as Burj Khalifa and Dubai Metro, have also completed or are in their final stages in Dubai. However in Abu Dhabi, end-user demand in the property market looks set to pick-up, due to greater availability of mortgage financing, a short-to-medium term supply-demand mismatch and a structured pace of development.

The short-term demand driver in UAE would be the construction and real estate market in Abu Dhabi and nuclear projects worth $41bn in UAE which require an early completion. But GCC construction market still offers huge scope for contractors, particularly for those willing to seek work beyond the UAE. Saudi Arabia and Qatar construction market has $845bn worth of project market out of which only seven per cent are on hold.

Buy and sell

The report further valuated four out of nine listed cement companies of UAE – Arkan, FCI, GCEM and RAKCC. GIH recommends buy on FCI, RAKCC and GCEM and sell for Arkan.

"The FCI the only cement player in UAE focusing on its core business unlike others who are heavily invested in the equities, real estate and properties. We expect the company's utilisation rate for clinker and cement to drop the most in 2010 and then after expect it to gradually pick up in 2011 and 2012," said GIH.

"Going forward, we expect Arkan's revenue to increase at a CAGR of 8.8 per cent during 2008-2012 on account of continuation of cement projects in Abu Dhabi where it has stationed its big clinker and cement factory.

The blocks business would also continue to bode well for the company as it has not many competitors in the region. Arkan remains focused on the regional construction industry and intends to expand its portfolio of businesses but it ventured into the steel segment in 2008 and 2009 for which it received a severe burn because of depreciation in commodity prices during the year and wrote down inventories worth of Dh430m.

All out efforts are being made by the company to sustain their business segments but the time is not favouring them as majority of the capacities are coming online in the region along with a depressed demand scenario in UAE itself. "Only favouring aspect is the presence of its significantly huge clinker capacity in Abu Dhabi."

Meanwhile, RAKCC, which was earlier considered as one of the laggard in terms of not catching up with the growing demand scenario and not undergoing any expansion, would be one of the safest players in tougher times as of now, said GIH.

"RAKCC clinker and cement capacity stands at 1mtpa and 1.1mtpa respectively. We expect RAKCC gross margins to go up to as high as 31 per cent in 2009 as compared to 21 per cent in 2008. Going forward with the continuation of such measures we expect the gross margins to touch 33 per cent by 2011, said the report.

Meanwhile, it expects GCEM going forward, to report CAGR of 2.5 per cent in revenue during 2009-2012.

"Lesser growth in the revenue would be because of continuation of capacity expansion by various regional cement players, resulting in a drop in the utilisation rate and market share," it said.
Keep up with the latest business news from the region with the Emirates Business 24|7 daily newsletter. To subscribe to the newsletter, please click here.
Follow Emirates 24|7 on Google News.