Bridge work to link Adnec and Marina Zone begins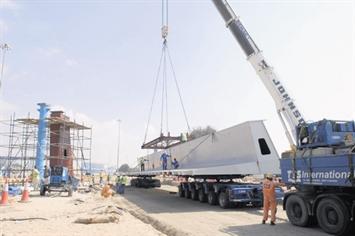 Work has begun on the construction of a bridge that will connect the Abu Dhabi National Exhibitions Centre to the new Marina Zone.

The installation will be completed in time for the Idex 2009 defence show and will provide pedestrian access to the naval displays.

The 162m bridge is being fabricated from 600 tonnes of steel and 132 glazed panels and will span all eight lanes of the Khaleej Al Arabi Road. It has been designed by architects Dissing & Weitling and is being built by specialist engineering company Waagner Biro of Austria.

"The development of this bridge is part of the ongoing commitment of the Abu Dhabi National Exhibitions Company (Adnec) to create the world's leading destination for exhibitions, conferences and live events," said a spokesman.

"By linking the Marina Zone to the exhibition facilities Adnec is providing a truly integrated site, which will allow for indoor, outdoor and marina exhibitions. In addition Adenc is providing a genuine improvement to the city by making the Adnec Marina Zone fully accessible to pedestrians."

The Marina Zone has undergone eight months of intensive development, including the construction of a 350m quay wall and the dredging of the sea channel to a depth of 6m.

This work will enable ships to dock outside the exhibition centre for the Idex exhibition – previously they had to dock 20km away at Mina Zayed.

A contra-flow system will be set up on Khaleej Al Arabi Road (30th Street), while the bridge is built and will remain in force afterwards to enable the creation of the outside demonstration area for Idex. The exhibition takes place from February 22 to 26.
Follow Emirates 24|7 on Google News.