Burj Dubai at 818m?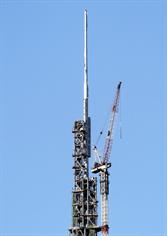 Burj Dubai is believed to have risen to its final height of 818 metres, according to one of the project contractors.

"We have been shown the final blue-print for our installation work and it states the height to be 818 metres," said the contractor.

The towering commercial and residential building reached the final stages of its construction when Samsung Engineering and Construction erected the spire on top in the third week of December last year. Since then, a beacon has also been installed on the top.

"The beacon is the last to be installed once a building has reached its height limit," said an engineer working on the project.
Emaar, the developer, has officially confirmed that the building has reached 780 metres in height.
Follow Emirates 24|7 on Google News.