Call for reimposing customs duty on cement and steel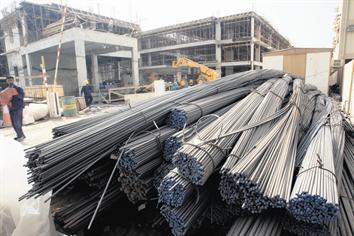 UAE cement and steel producers say the time is right for the reintroduction of customs duty on imports in an effort to protect the interests of local manufacturers.

In March 2008, the UAE government removed the five per cent customs duty on both materials in an effort to curb rising costs and increasing supply. Several local producers fear that as global demand for construction materials declines, imports could glut the local market. However, some warn that a duty could result in higher construction costs and add to the pressures on the financing of the project.

Mustafa Gorgunel, General Manager of Union Cement Norcem, said the time is right to re-impose the duty. "I would say it should be increased from five per cent to 10 per cent. It has become absolutely necessary because there is sufficient availability of locally produced cement in the market," he said.

"When they removed the customs duty last year, there was a shortage of clinker due to the high cost of imported clinker. But now the situation has totally changed."

Ahmed Al Amash, General Manager of Gulf Cement, said: "It is for the government to decide. However, in my opinion there is an immediate need for customs duty to be imposed above the previous five per cent. Our sales witnessed a drop and are still falling. Due to several ongoing projects, we are continuing production. But once these projects are complete, we will face a much more difficult situation."

Gulf Cement has an annual production capacity of about 3.8million tonnes.

Due to the slowdown of construction activities across the globe and low freight prices, cheap imports to the UAE could increase and contribute to the glut in the UAE market, Al Amash said.

There is a risk that the global slowdown could increase cement imports in the Middle East as "demand in the US and Europe starts to dry up", said a recent Al Mal report. Saudi Arabia has restrictions on cement exports, but it might be lifted in the near future, it said.

Cement producers told Emirates Business that Saudi Arabia's cheap production cost could add to the woes of local manufacturers.

"We have been hearing about this for some weeks now. Saudi Arabia can export cement bags but it is not easy to export large volumes of cement unlike clinker. In any case, the production cost in Saudi Arabia is much lower than other countries in the region – especially because of major government subsidies," said Gorgunel. "Our company too is facing lower demand. There has also been a slight drop in prices; it has fallen by about three to four per cent."

Cement prices have fallen by about Dh10 from the Dh360 price cap imposed by the government.

Meanwhile, it is the steel sector, more than cement, that will be affected by any decision on customs duty. Prices of reinforcement bars fell from $1,540 (Dh5,656) in July 2008 to $490 per tonne.

Ajay Aggarwal, CEO of RAK Steel, said the government decision to reintroduce the tariff will discourage speculators. "It is not a protectionist measure. It existed and was removed because any speculation or volatility in prices is not good for the market. Hence, re-imposing the duty will be good for the industry," he said.

The only danger of such a decision is that it will pave the way for further escalation of construction cost, warned Riad Bsaibes, COO of Amana Steel.

"When they took the decision, the prices were getting too high and the demand too was increasing. But now that the prices have dropped it could be reintroduced," he said. "But this would be mainly beneficial for steel as most of it is imported. Given the drop in the demand and value of building materials it is fair that they reintroduce it. Though that will increase construction costs and it is not clear what that outcome would result in."

Construction activity has dropped because of a lack of demand. "So if you increase the cost of building or constructing, it will put more pressure on the financing of the projects," he added.

Sridhar Krishnamoorthy Deputy CEO of Emirates Steel Industries, said the company is prepared to face the competition and is not counting on governmental intervention in the market. Emirates Steel, according to him, has the capacity to produce two million tonnes of steel annually and will operate at that level this year.

Our policy is that all players should be open to fair competition and it should be the survival of the fittest," said Krishnamoorthy.

"Presently the market situation is not ideal and we are increasing our competitiveness and getting ready to face the situation. As a company we are not placing any expectations on the reintroduction of the five per cent customs duty on imported steel and cement," he said.

According to him, 2009 will continue to be a challenging year for the market. "We feel that the crisis has brought us opportunities," said Krishnamoorthy.

Customers here, he said, would not take the risk of importing. "As a result consumers will benefit in sourcing their needs from local suppliers like us," he added.

He said the second half of 2009 would be better than the first half. "The primary reason for steel prices to fall was the massive imports and stocking of the material. Today the industry is de-stocking. Very soon the situation will become normal again. All along we witnessed a massive fluctuation in prices. But from now there might be an upward movement in prices," he said.
Follow Emirates 24|7 on Google News.