Cement firms told to comply with new price structure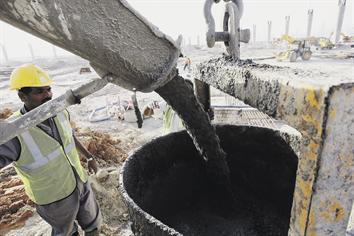 Action could be initiated against cement factories that fail to comply with the new price structure finalised by the Cement Manufacturers Association, a senior official has warned.

The new price structure for cement sales in the UAE comes into effect from tomorrow. According to Abdullah Mohammed Al Sayah, President of Cement Factories and Producers Group, all cement plants in the UAE will follow the new price structure.

"All UAE-based cement producers have signed a memorandum of understanding stating that cement will be sold as per the agreed price structure. So it is expected that they will follow it. However some sort of action could be taken against companies that violate the agreement," said Al Sayah without elaborating on what the punitive action would be.

While a tonne of cement in Abu Dhabi will be priced at Dh250, in Dubai it will be sold at Dh240 per tonne. In the Northern Emirates, where most factories are located, cement will be priced at Dh220 per tonne.

"If factories wanted to sell for less they would not have been party to the MOU. Although no legal action can be taken against factories found violating the rules, some sort of penalty measure will be imposed," added Al Sayah.

Meanwhile cement factories told Emirates Business yesterday that they would implement the new price structure from February 1.

A senior official at Star Cement yesterday said: "We all will be following what the association or the group has finalised. It will bring about some sort of regulation in prices as far as cement is concerned."

Cement prices in the UAE have been fluctuating, mostly based on demand and availability of supplies and the government has had to intervene twice during the past two years to regulate the cost prices.

With the construction boom in 2007 and 2008, demand for cement in the UAE peaked and a near shortage of the material resulted in prices moving above Dh400 per tonne.

In May 2008, the UAE Ministry of Economy increased the price of a tonne of cement to Dh340 per tonne and Dh16 per 50kg bag, following a meeting with the Cement Producers Group. However traders continued to sell at more than Dh400 per tonne.

Soon demand started to drop and by the second week of January 2009, cement prices in the UAE had fallen by about 10 per cent to between Dh340 and Dh400 depending on the urgency and payment method.

By the second quarter of the year, the Ministry of Economy again decided to reduce the price of cement by 22 per cent and with effect from April 1 cement companies were informed that the new price had been fixed at Dh280 per tonne and Dh14 per 50 kg bag.
But prices only dropped by about six per cent with cement being sold at about Dh300 per tonne to Dh310 per tonne, and a cement bag priced at Dh15.

The third quarter witnessed further reduction in prices as it dropped to around Dh260 per tonne to Dh280 a tonne. By the fourth quarter, prices fell further dropping to around Dh220 per tonne to Dh225 a tonne in Dubai and to around Dh170 a tonne to Dh190 per tonne in the Northern Emirates.

Experts feel the new decision will provide some breathing space for factories that were otherwise recording severe losses. Most cement factories in the UAE experienced the brunt of the slowdown and registered negative growth rates.

Union Cement Company, one of the UAE's largest producers reported that the total sales revenue decreased by 58 per cent in 2009 compared to 2008.

Total sales revenue up to the end of the year 2009 was Dh699.8 million compared to Dh1110.8m in 2008. The company's net profits in 2009 were Dh56.5m, compared to Dh155.4m in 2008.

Similarly the net profit of Ras Al Khaimah Cement also fell during 2009. The company's revenue decreased by 33 per cent from Dh426m to Dh284m during the year and net profits declined by 10 per cent from Dh80m to Dh72m.
Keep up with the latest business news from the region with the Emirates Business 24|7 daily newsletter. To subscribe to the newsletter, please click here.
Follow Emirates 24|7 on Google News.