CGC entering UAE for infrastructure projects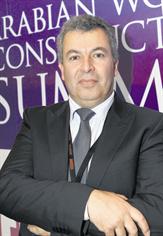 Combined Group Contracting Company (CGC), a leading Kuwait-based contracting and trading firm, says it is entering the UAE market to capitalise on the infrastructure development contracts in Abu Dhabi and other emirates.

The company is in the process of opening offices in Abu Dhabi and is preparing several pre-qualification tenders for infrastructure projects in the emirate.

Ata Abulawi, General Manager of CGC's UAE branch, said, "We have not yet bid for any tenders as we are still in the process of classifying our company locally. We are working on several pre-qualification documents for potential clients, especially government clients. As most infrastructure projects are from the government, only those contractors classified as infrastructure contractors can bid for tenders."

The firm will become fully operational within two months, he told Emirates Business. "We are hoping that we will get the special category for major civil engineering fields, mainly roads, bridges and buildings along with other disciplines like sewerage and water networks. Very few contractors have the advantage and capability of working on all types of infrastructure development," he added.

According to him, there will be many small and medium level infrastructure projects that would be going out for tender in the UAE during the coming years.

"We are aware that Abu Dhabi would be tendering projects worth over Dh3 billion mainly in infrastructure. Moreover, there is room for small to medium type projects varying between Dh100 million and Dh300m.

"These are the types of contracts, which many people were not interested in six months ago. We are trying to capitalise on such projects, which are in the remote and certain areas of Abu Dhabi. They involve a lot of coordination with municipality and public works departments. These are the type of projects we will be probing first," said Abulawi.

"I have been in the market for the last 26 years and we will approach where competition is less." He said he is aware of the intense competition. "Especially, when there are very few projects going out on tender. In the past, there were very few contractors working on infrastructure projects. To work on highways you need a lot of machinery. With the present liquidity problem, not many will be in a position to invest in new machinery. Yet, the costs of machinery has come down today and used machines are readily available and it is easy to find operators as well. The competition will be much more than before."

Samer Al Ani, General Manager, CGC, Qatar branch, said his company is also looking towards hiring professionals for projects in Qatar.
Follow Emirates 24|7 on Google News.