Championing safety of workers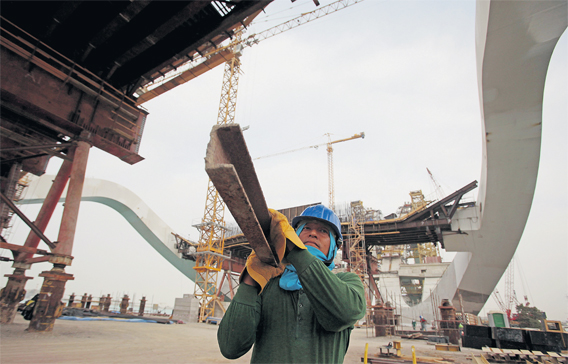 Five major UAE contracting companies are into the second successful week of the Build Safe UAE (BSU) Worker Champions initiative, which aims to disseminate health, safety and welfare (HS&W) information right down to every worker at five pilot projects sites, said a senior official. This could then be duplicated across other sites in the UAE, it was revealed to Emirates Business.
"Current rewards for positive behaviour change include tickets to cricket, lunch, sporting equipment, phone credit, cinema tickets, Metro rides and so on as well as project lunch celebration at completion," said Elias McGrath, Group Administrator BSU, and Assistant Project Manager at Bovis Lend Lease. "We are hoping that industry keeps an eye on the progress of these developments and it will evolve across the next weeks to other BSU members."
BSU selected five members on the workers champion committee namely Sam MacPhee, HSE Manager, Al Naboodah Contracting; Lyndon Davies, Regional HSE Manager, Six Construct; Steven Van der Vyver, Group HSE & Quality Manager, Dutco Balfour Beatty; Thomas McGuire, Director QHSE & Training, Al Habtoor Leighton Group; and R Subramanian, Assistant General Manager (Projects) at Al Basti & Muktha (ABM). This committee has, in turn, selected a mentor on each project from within their companies (see box on projects) as well as workers champions to work with them who were drawn from the ranks within the project.
The criteria for selecting 'Worker Champions' meant that one worker was selected from each of the following major trade groups (masons, steel fixers, carpenters and scaffolders), the designation of worker should be a 'general tradesman', he should have a willingness to engage and speak up in front of other workers and should be a person of good character who inspires others. He must also have good project and regional experience and must have good basic awareness and understanding of health, safety and welfare, it was decided.
The whole focus group came about due to Jaana Quaintance of Impactt Limited Middle East and North Africa, who developed and initiated the original idea. "Her contributions have supported the projects developments," added McGrath. Impactt is a labour standards consultancy with 12 years' experience in working in ethical trade and improving employment conditions for workers.
"We have mediated on issues for workers in developing countries and McGrath at BSU approached us for feedback in September 2009 since our focus is to enable companies to improve working conditions in supply chains in a way that brings clear business benefits to both ends of the chain. We do this by helping companies identify cost-effective, sustainable solutions to labour standards issues. Our approach is change-focused, innovative and practical, and enables companies to mitigate the business risk they face from poor working conditions," said Quaintance.
"We have found in our experience the worker champions model to be helpful for promoting worker engagement in a business, and ensuring that their power as key stakeholders is harnessed for good within that business. Furthermore, our experience has shown that engaging workers in this way can be a cost-effective force for achieving long-lasting and positive change within an organisation." This is the 10th focus group of the BSU initiative, which was set up in 2007 to identify and promote agreed minimum HS&W standards for the benefit of all workers in the construction industry of the UAE.
"So, in November 2009, we decided to develop a group of 'Build Safe UAE Worker Champions' focus group, which would be responsible for championing the promotion and creation of HS&W best practice in their respective businesses. They would work closely with the BSU initiative to ensure that it is in tune with the needs and perspectives of workers. In addition to their respective discipline of work, the worker champions will work with managers to support their respective businesses workers, their activities and welfare facilities so that the ultimate goal of zero accidents can be achieved," added McGrath.
Champions would be responsible for disseminating BSU information among their colleagues, discussing how HS&W on site could be improved, feeding information on operational issues and potential improvements back to management and BSU on a regular basis, identifying how BSU information could be made more effective and feeding this information back to BSU on a regular basis to improve the outputs of the initiative.
"In December 2009, we selected the projects, workers and prepared profiles. In February 2010, we held a briefing session to prepare 'Worker Champions' and launched the initiative, which will have a proposed duration of six months. On its completion in July, BSU will hold a debriefing with 'worker champions' and share lessons learnt with BSU membership," said McGrath.
Vyver said that even before Dutco Balfour Beatty signed up for the initiative, it had such a programme in place. "The idea was that the workers would look up to the mentor as an icon. So we let the workers choose their own champions from themselves," said Vyver. "There is a marked difference in the workers attitude since they feel that this initiative is not forced on them by the management or the HSE people. They are happy to be involved through their own people and that has a remarkable effect in my opinion. It was not a problem for us that they cannot speak English. We were looking for those who can speak to their people in their own language."
The mentor knows many languages and also listens in to what the worker champions are telling workers, he said. "We have divided the site into seven areas, which is further broken down into five zones. If we find two to three people not wearing safety glasses in a zone, the zone scores a zero. If they don't comply, we treat the entire zone are non-compliant," he said.
Since he joined the company six years ago, he has initiated an incentive programme. "We select people who work safe and reward them with Dh150 in cash and a certificate for the past six years," said Vyver. "We plan to wait until July and see how things progress and initiate the same elsewhere on other projects."
McGuire at the Al Habtoor Leighton Group said that in order to select the mentor and the organisation, the company decided to choose one of the most active project sites. "We looked at a site that had the opportunity to have a diverse group of participants and one where we could choose a sufficiently experienced mentor to get good communication and feedback. This in turn would help us to decide the kind of support we required to give the workers an improved confidence level. The workers champions were invited to join voluntarily from a group of individuals who we identified as interested in safety," said McGuire. "We had an initial training programme again and this involved the mentors in the initiative."
Subramanian of ABM said the five invited companies that formed the committee were involved in intensive discussions before setting up this focus group to chart out details. "We chose the worker champions from site to involve them in the process of safety implementation so that they share the information with their team members during construction. They will not supervise their co workers but remain as part of work group and monitor performance within the team – week after week," he said.
"We are giving performance-based incentives to workers so far but now we will also give them incentives based on their HS&W performance. On the other hand, we have given a lot of deliberation as to what kind of procedures we need to carry out on the site since it varies from contractor to contractor and by site. Every week, on a specific date, we give messages from the committee member to the mentor on this 45-storeyed project. He then briefs the champions who divide themselves across the teams and ensure compliance across the project. We are seeing very active participation in the groups since they come from workers and are not the supervisors. Though it is early, we are seeing an improvement on the teams."
Sam MacPhee of Al Naboodah Contracting, said that the company chose the workers champions from across different nationalities. "We covered the whole diversity of cultures, trade and abilities," he said. "With the mentor, we meet up with the champions every Sunday to discuss if things are on track. We plan to give them incentives by way of lunches and chats to elevate their status and get them engaged in discussions on how they can do things better."
Six Construct was not available for comment despite being contacted by this paper.
PILOT PROJECT SITES
Al Habtoor Leighton & Murray & Roberts JV has chosen the HMR 826 Paris Sorbonne University Campus on Al Reem Island Abu Dhabi as its pilot project site. The contract duration is two years and the building structure is complete and is at the finishing and cladding stage. About 2,500 workers from India, Pakistan and Bangladesh are working on the site, which has seen 700,000 man hours. The biggest health, safety and welfare challenges are work at height, space constraints and ensuring competence of workforce. The current focus is good on near-miss reporting system for incidents using the 'don't walk by' approach. Dennis Balogh, HSE Manager at Murray & Roberts, is the mentor on this site.
Six Construct
Six Construct has chosen the Abu Dhabi Sewage Treatment plant on Al Wathba Abu Dhabi as its pilot project site. The civil contract duration is 30 months and 50 per cent of concreting is complete on site. About 1,820 workers whose nationalities include Indian, Pakistani, Bangladeshi, Filipino, Sri Lankan, Syrian, Egyptian and Nepali have put in 420,000 man hours.
The biggest health, safety and welfare challenges are implementing safe work procedures and enforcing the use of PPE. The current focus is good and additionally the aim is to target nil temporary disability. Andrew Vaughan, Logistics offices, is the mentor on this site.
Al Basti Muktha
Al Basti Al Muktha has chosen Grosvenor House II - Hotel Tower at Marsa, Dubai Marina, Dubai as its pilot project site. The scope of work is 2B + G + 45 + 3SF and construction has reached the Level 16 slab. About 1,000 workers who nationalities include Indian, Pakistani and Bangladeshi have completed 2,671,680 man hours. Shahju Antony, HSE Manager at ABM, is the BSU mentor on this site.
Al Naboodah
Al Naboodah Contracting has chosen 20 PRT 801 Comprehensive Improvements of the Parallel Roads at Al Barsha (Dubai) as its pilot project site. The scope of works includes construction of five bridges, three underpasses and 25km road and utilities works and 69 per cent of works are completed. About 3,000 workers whose nationalities include Indian, Pakistani, Bangladeshi, Egyptian, South African, Filipino and UK have delivered 819,000 man hours. The biggest HS&W challenge include live traffic and deep line excavations (13 metres). Padakanti Ganapathy, HSE Advisor, is the mentor on this site
Dutco Balfour Beatty
Dutco Balfour Beatty chose the Al Ali Multi Complex – Novotel Hotel in Al Barsha, Dubai as its pilot project site. The scope of works: 3B + GF + M + 6P + 36 floors and construction has reached up to the eight floor of the structure. About 1,100 workers whose nationalities include Indian, Pakistani, Bangladeshi, Egyptian and South Africa have delivered 339,555 man hours.
HS&W challenges include working at height with plot area restrictions and ensuring competence of workforce and the current HS&W aim is to promote safety by making it personal and zero harm by 2012. Jude Michael, Division HSE Manager, is the mentor on this site.
Keep up with the latest business news from the region with the Emirates Business 24|7 daily newsletter. To subscribe to the newsletter, please click here.
Follow Emirates 24|7 on Google News.