Cirrus starts construction at Waterfront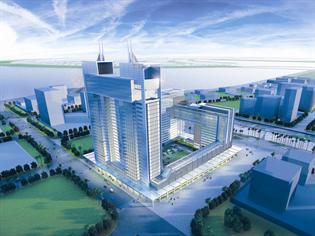 Cirrus Developments has recently become the first third party developer to start construction at Nakheel's Waterfront project with enabling works getting under way at the Dh3 billion Aquarius Gate.

"We have overcome various challenges due to current market conditions, which are affecting all developers, and are proud to be the first developer to start construction at Waterfront," said Behnam Eshragh, Chairman and CEO of Cirrus Developments. The project is expected to complete by the second quarter of 2011.

The development comprises two towers – one residential and one commercial – and is located in Madinat Al Arab, the beachfront community at Waterfront.

Work is on schedule with two-metre deep excavations completed on site and 50,000 cubic metres of earth shifted from site.

Marwan Al Qamzi, Managing Director Waterfront and Palm Jebel Ali, Nakheel, said: "We congratulate Cirrus for being the first developer to commence construction at Waterfront. This is another great milestone for Waterfront; major civil works and infrastructure have already commenced at Madinat Al Arab and last year we commenced flooding of the eight kilometre Palm Cove Canal."

Rehan Khan, Chief Operating Officer at Cirrus, said Nakheel is in advance stage in terms of infrastructure for this plot. "When it comes to Phase One of the Waterfront project, which is the Madinat Al Arab, Nakheel is going full steam ahead and is very advanced in its infrastructure works," said Khan.

"As an example, our plot has all the house connections in terms of sewerage, stormwater and so on."

The developer has already commissioned the enabling, piling and shoring contract to the German-based firm Zublin. "They will be on site until September," he said.

"The plot is a large and we have already completed two-metre deep excavations." Khan did not disclose the value of the contract but said that Zublin has started work on site last month.

"We are now starting shoring works on site," he said. "We expect to appoint the main contractor in August this year through tendering so that there is a smooth handing over of the project. We will go for tendering since the market is now a developers' market as opposed to being a contractors' market. All the contractors now are hungry for projects, which have cash. They are being flexible now with projects that are happening since a lot of projects have been delayed or put on hold. The last year and a half had seen a contractors' market but that has changed now."

Cirrus has made modifications to the design, he said.

"But nothing significant. We have tried to maintain the Leed Gold requirement by Nakheel and that has been quite challenging," he added.

Market conditions notwithstanding, Khan said the project is on progress since most of the units were picked up by long-term investors who actually wanted to live there. "Our rate was good value for money and we had customer loyalty. We also started construction, which according to the customers proved that the project is moving ahead."

One side of the development is planned to be dedicated to an art wall, which will showcase Islamic art from around the world.

"We plan to commission some Emirati and GCC artists and their works will feature the theme of Madinat Al Arab," he said.

Cirrus's other project, Celestial Heights in Downtown Jebel Ali, is progressing well, he added. "We are about to finish the enabling, piling and shoring and will announce the main contractor in two weeks," he said.
Follow Emirates 24|7 on Google News.