Construction cost in UAE declines by 30%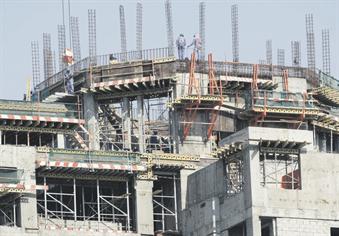 In the UAE, construction cost per square feet has dropped by an average of 30-per cent compared to the last quarter of 2008, even as building material prices continues to drop further.

The drop is between Dh50 and Dh100 in Dubai, Abu Dhabi and other emirates.

Some of the factors contributing to the sudden drop include the massive fall in steel prices and the significant fall in prices of other materials such as aluminium, wood and glass and diesel by an average of almost 15 per cent to 45 per cent. The fall in the value of euro has also contributed to the lowering of the construction cost.

Faris Saeed, General Manager, Diamond Developers, said: "You cannot really pinpoint the exact percentage of decline in the construction cost due to various reasons such as the type of projects, size and materials used.

"The bigger projects will incur higher construction execution charges compared to the smaller projects.

"But it is fair to say that construction execution charges or fees have decreased between 25 per cent to 30 per cent in comparison to the last quarter of 2008." In Dubai and Abu Dhabi, construction cost currently ranges between Dh400 to Dh900, depending on the location of residential buildings. In Ajman, it ranges between Dh170 to Dh200.

However, industry sources say the figure is further lower by around an average of Dh100 per square foot for commercial buildings. For example, one source said that average commercial buildings around Sheikh Zayed Road cost Dh380 per sq ft last month.

Imad Al Jamal of UAE Contractors Association said different areas in Dubai have different cost structures. "In Dubai Marina, for example, the construction cost per sq ft ranges between Dh550 to Dh900 as it is more expensive to build at the waterfront. Building on the water is any day a much more expensive proposition compared to construction on land," said Jamal.

The construction cost per sq ft comes down to between Dh500 to Dh700 on Sheikh for commercial buildings on Zayed Road, while it reduces further in other parts of the city. "The difference is also mainly due of the overhead costs," added Jamal.

Meanwhile, Dawood Samy Khorshed, Managing Director, Master Civil Constructions, told Emirates Business that prices have fallen mainly due to steel. "Obviously, there has been a slowdown and demand has reduced. But the steep fall in steel prices has had a major role to play in the fall in construction cost," he said.

Marwan Haloui, Head of Tech-Division at DEC, said falling oil prices was the main driver behind the reduction in steel, copper and cost of transportation prices.

"Again, before the last quarter of 2008, the contractors quoted fictitiously high prices as there was a high demand from the construction sector. Also there were few contractors to execute the projects," said Haloui.

"Besides, when it comes to overhead costs, Dubai and Abu Dhabi are the highest. But we will start to see that lower by the end of first quarter this year due to layoffs in the sector. In other emirates, the overheads were initially lower when compared to Dubai. Therefore, they may not feel any real impact on this cost."

According to him, all developers will now start renegotiating contracts with construction companies, as they would like to take advantage of the current market condition to reduce their cost. "The developers will make the best from the construction companies as they try to cover their overhead costs, even if that would mean not making high profit margins," he added.

Saeed said labour accommodation in Ras Al Khaimah is much cheaper than in Dubai. The latter, he said, faces a huge shortage of labour accommodation, which has forced prices to increase. "This is because the amount of projects under construction in Dubai vastly exceeds the amount in the Northern Emirates that do not face any sort of problems with regard to this issue."

Abdul Sattar Dero, Chairman, Sweet Homes Group, said the company has seen a fall in the cost of construction since the last quarter of 2008 by 20 per cent.

"The cost is expected to reduce even further and could come down by another 10 per cent to 15 per cent. Several factors including the steep demand of the prices of steel and cement have contributed to the situation. From now on, developers will benefit when they sign new contracts," he said. "However, I believe that the terms of the contract signed in the past will have to be honoured."

According to him, in 2008 the market saw contractors wanting to protect themselves from a steep rise in construction cost by insisting on the introduction of an escalation clause in the contract. "Today, it is the developers who would benefit from introducing such a clause," he added.

He said cement prices in the UAE have fallen and could bring down the construction cost even further.

Prices of steel fell by almost 70 per cent, since July 2008. In the Middle East, prices of rebars dropped from $1500 CFR levels in August 8 to $450CFR in January.

Pasha Mahmood, Sales and Marketing Manager at Polypipe, which supplies materials to various MEP contractors said due to sharp fall in the prices of oil material prices have fallen by almost 30 per cent.

"Our prices have come down by almost 30 per cent. We deal with plastic and polyster materials like PVC pipes and accessories, AVS polypropylene, etc. Today many clients are re-tendering in order to get lower prices," said Mahmood.

However, he added that the situation in the UAE is much better. "It is not that bad a situation in Dubai and the UAE. It is better than what is happening in Europe," he added.

Sunny Thomas, Chief Estimator at Belhasa Engineering and Contracting, feels the cost could reduce further with a fall in overhead costs.
Follow Emirates 24|7 on Google News.