Construction gets $3bn in Kazakh rescue plan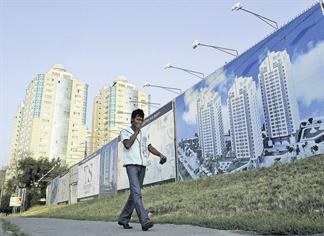 Kazakhstan has delivered 476 billion tenge (Dh11.6bn) to its four largest banks as part of a rescue package for the ailing sector, a government holding company said on Tuesday.

The cash injection is part of a $10bn (Dh36.7bn) economic stimulus package announced in November as the global credit crunch threatened the Central Asian state's once-booming economy.

The government's plan foresees $4bn going to the country's four main banks in exchange for the state receiving a 25 per cent stake in each. Another $3bn will go to the embattled construction sector.

The rest of the $10bn package will be spent on small business and infrastructure projects.

"In total, as of today, of the 480 billion tenge earmarked for stabilising the banking sector, 476 billion tenge has been delivered," the head of the state fund SamroukKazyna, Kairot Kelimbetov, said.

Since the plan was decided in November, the government has announced plans to take majority stakes in the country's two main banks, BTA and Alliance Bank, although the government has denied plans for fully fledged nationalisation.

International credit agency Standard and Poor's last week downgraded some long-term credit ratings for five major Kazakh banks and one mortgage company.

The global liquidity crisis, a domestic economic slowdown and the government's decision to take control of the country's two biggest banks were factors cited in the gloomy forecast.

The government plan is funded largely by a national fund of surplus oil revenues harvested during the recent high crude price.
The Kazakh economy has enjoyed growth rates of up to 10 per cent over the past years but it has been hit by the credit crunch as well as the fall in oil prices.
Follow Emirates 24|7 on Google News.