Demand for steel in UAE projected to drop by 50%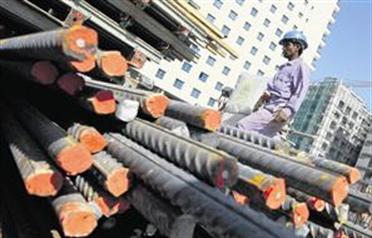 Steel demand in the UAE is expected to fall by almost 50 per cent due to slowdown in the construction sector, experts said.

In Dubai and the Northern Emirates alone, consumption has fallen by about 2.5 million tonnes than previously estimated, said Ajay Agarwal, CEO of RAK Steel.

"Last year, UAE's consumption was around 5.5 million tonnes of rebar, whereas we feel that the figure will drop by at least 50 per cent in 2009 because of slow down of construction in UAE," said Agarwal.

Also the per capita consumption in the UAE, he said, was too high compared to the world average.

"The world average was around 250kg per capita, whereas in the UAE it was about 1,300 to 1,400kg per capita. This is not sustainable. This is the right opportunity for us to bring it down to more realistic levels," Agarwal added.

He said the steel industry is very closely co-related to the construction sector, which right now is in the state of restructuring.

Meanwhile, steel demand from the Gulf states' construction industry could fall as much as 35 per cent in 2009, according to Reuters.

"It is obvious to most that demand will come off with announced slowdowns – less on-site consumption occurring per active project, stoppages of active projects and less building project starts," said John Short, Executive Director, Steel and Base Metals, Dubai Multi Commodities Centre (DMCC).

Short said the construction industry accounts for more than 80 per cent of Gulf steel demand. Globally, the car industry and construction sector are the main consumers of the $800 billion (Dh2.9 trillion) market.

Estimates for consumption in 2009 varied from nine million to 13 million tonnes in Gulf states, Short said, down from about 14 million tonnes in 2008.

Lack of demand has boosted inventories in the region over the past five months, with some analysts putting them at two million tonnes.

"It is clearly well-known that inventories in the region are extremely high," said Peter Fish, a senior consultant at Mepa International.

Worsening demand has already forced Saudi Basic Industries Corp, the largest Gulf steel maker, to temporarily suspend its steel operations in Saudi Arabia.

Several firms have also postponed planned expansion by another two years.

Steel rebar prices are now pegged below $500 a tonne, down from the peak of around $1,200 a tonne seen in the fourth quarter of 2008, said the report quoting analysts.

"While the cost of money – interest rates – in most economies is down, regionally it remains high. This is particularly the case in the construction and real estate sectors, where lenders' concerns on the financial health of the sectors and their borrowers translate into significant risk premiums being applied," said Short.
Follow Emirates 24|7 on Google News.