Depa net profit up 23 per cent in 2009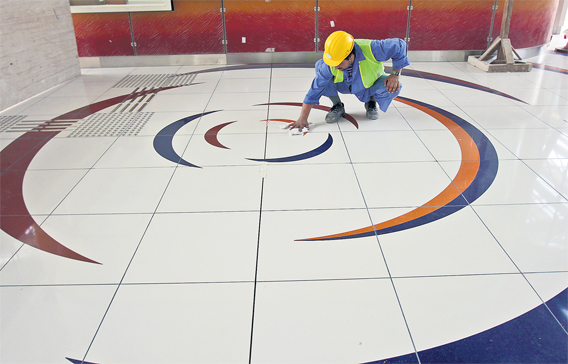 Depa Limited, an interior contracting company in the Mena and Southeast Asia regions, yesterday announced that its net profit was up 23 per cent at Dh240 million in 2009 against Dh194.5m in 2008 prior to adjusting impairment losses on acquisitions as of December 31, 2009.
Net revenues in contracted backlog were up by 36 per cent at Dh2.7 billion in 2009 from Dh2bn in 2008. The backlog includes over 100 projects, of which the top 37 account for 91 per cent of the backlog. It added that it has seen "significant contributions" coming from Abu Dhabi, Asian operations and infrastructure operations.
Meanwhile, its board has recommended an 18 per cent increase in exceptional dividend to Dh0.13 per share subject to AGM approval (Dh0.11 per share in 2008). It has taken a cautious approach by increasing allocation of project contingencies over and above the norm for such events to Dh30m in conjunction with 2008's unused contingencies of Dh10m.
Mohannad Sweid, CEO of Depa, said: "Despite the difficulties brought about by a once-in-a-generation downturn, Depa's revenues increased by 36 per cent in 2009, which verifies our diversification and growth strategies. As the company enters 2010, we look forward to another year of strong revenues and earnings, albeit with flat growth when compared with 2009.
In a recent interview with Emirates Business, Hadi El-Solh, Depa's Managing Director of Investments had said the company was eyeing two to four new acquisitions in 2010. "Those will continue our international expansion plans," he had said adding that he could not "disclose the precise sectors or markets right now".
Meanwhile, the company has completed Dh577m in infrastructure contracts in 2009 compared to Dh105m in the previous year and said it expects "2010 revenues from infrastructure works to be as significant as in 2009".
Its current focus is on counter-cyclical industries such as "refurbishment and infrastructure performing well", and it recently won contracts for the interior fit out of infrastructure and hospital projects. It has continued an active geographic diversification strategy to reduce reliance on any one market – 55.2 per cent of the 2009 backlog comprised UAE projects.
The company increased its presence in high growth markets, such as Abu Dhabi and Saudi Arabia, and grew its South East Asian operations. The Depa Design Studio in Singapore is now the fastest growing business, which saw revenue growth from Dh9m in 2008 to Dh266m in 2009."
It also said that "it firmly believes that infrastructure and healthcare are countercyclical sectors and that regional governments are committed to carrying out these projects despite the downturn in order to improve their economies. During the past six years alone, GCC governments awarded Dh2.6 trillion worth of infrastructure projects, which are currently being executed in an aggressive manner."
In August 2009, Depa entered the Angolan market through an initial contract of Dh25m while it experienced growth of 182 per cent in revenues from Abu Dhabi projects compared with 2008.
"The Abu Dhabi market has a rapidly growing hospitality sector and continues to grow as a proportion of overall revenues, increasing its contribution to total revenues from 5.1 per cent in 2008 to 14 per cent in 2009. Looking forward, it expects this market to begin maturing in 2010, but to continue contributing significantly to its top and bottom line earnings," the company said.
Meanwhile, it expects to enter additional South East Asian markets in the coming few years and "believes that the interior contracting market in this geographical area is poised for growth."
The company believes that 2010 will "also be challenging" and while its near-term growth lies in the GCC markets, its medium-term growth lies in South-East Asia; and its long-term growth lies in Africa. Depa has "historically entered two new geographical markets a year and plans to continue to do so, with a particular emphasis on Asia".
On March 28, an agency report said that Depa delayed splitting its stock and redenominating it to UAE dirham from the US dollar pending the migration of Nasdaq Dubai processing platform to the Dubai Financial Market. It said its shareholders on March 15 approved a stock split, resulting in the issuance of one share for each held.
Follow Emirates 24|7 on Google News.