Downturn triggers return to tendering of building contracts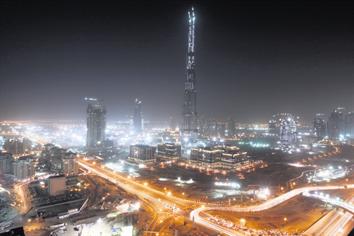 Days of negotiated contracts in the UAE's construction industry have ended as developers are once again returning to competitive tenders before awarding contracts.

Contractors have also expressed their criticism over developers resorting to cancelling contracts for renegotiation. Falling demand and reducing material prices have significantly reduced the construction cost in the UAE, following which developers are resorting to re-tendering.

Speaking to Emirates Business during the recently concluded Arabian World Construction Summit organised by Meed, many contractors said a serious shortage in the number of contracts has resulted in increasing competition among contractors, resulting in the return to old ways of awarding contracts.

Wassim Merhebi, Director, ACC, said the reversal started during December and is here to stay. "Back in 2008, there were a lot of contracts that were signed with fluctuating clauses. I do not expect it to happen anymore. They are going back to competitive bidding. During the past two or three years, developers were moving away from competitive bidding, as several contractors were not interested, due to the high risks and the high volume of work they had in hand," said Merhebi.

According to him, developers now believe they are in a position to dictate certain terms. "It is shifting towards being a developers' market," he said. The trend, he said, was specific to the UAE.

"The partnering did not happen anywhere else in the GCC – say, like in Qatar or Saudi Arabia. It was very specific to the UAE and we could see negotiated projects and partnering were only happening here. However, in other GCC countries tenders were still being awarded following competitive bidding. But, instead of a list of 10 contractors, you only had a selected list of two or three contractors," said Merhebi.

The trend, he said, has already started here. "We have been receiving quite a few invitations from developers inviting us to participate in bidding. Almost all developers we know of have started the process," he said.

Many developers confirmed the construction cost had dropped significantly, forcing them to renegotiate.

Meanwhile, many companies are cancelling orders from building material suppliers in an attempt to renegotiate prices of materials.

Prices of most materials have dropped by around 15 per cent to 30 per cent and according to building material suppliers, developers and contractors are unwilling to purchase materials at previously agreed prices.

Ahmed Shaikhani, Managing Director, Memon Investments, said many developers, including himself, are renegotiating contracts with construction companies. "As for Memon Investments, we are definitely renegotiating our contracts with our construction partners and making necessary adjustments to realign with the current construction costs," said Shaikhani.

Merhebi said none of the developers the company was currently working were re-tendering or negotiating. "But you know the market is very dynamic. So you never know what tomorrow holds. So far we have received confirmation from about 80 per cent of our clients the projects are going on as scheduled. But in most of our projects, we have some sort of a partnership with the client, where we are jointly doing the procurement in an effort to keep the costs down."

The developers have the luxury of choice and are being assisted by the fact the cash flow is slowing down, he said. "They can now stretch their construction periods. They have the luxury of re-tendering and bringing in more contractors for competitive bidding," said Merhebi.

Fatima Obaid Al Jaber, Chief Operating Officer, Al Jaber Company, recently said many contractors are still looking towards building partnerships with developers. "We are looking towards building long-term relations with major developers in Abu Dhabi and are keen on establishing strategic ties with them," she added.

However, this is not always the situation. Riaz H Malik, Managing Director of Bauer, a UAE-based piling and foundation contractor, said developers are setting a wrong trend in the industry by resorting to re-tendering of contracts. "Everybody has to respect the contract. Otherwise you are questioning the basis of the contract. You do not change the contract just because of change in circumstances. Any contract is based on trust. Contracts can be negotiated but cancelling it is immoral."

Contractors, according to him, will be ready to negotiate and reduce the prices. "They know the prices of steel and other commodities are going down. It is only but natural for us to avail the benefits of reduced cost and pass it on to our clients," he added.

Merhebi also termed some developers' cancelling contracts as highly unethical. "We personally feel it is highly unethical because when you enter into a contract, it is a document that binds both parties," he said.

According to him, contractors are very much open towards discussions with developers and looking at workable solutions. "We are very much open. We have told our clients we must work together to bring the cost down. We have to try and get the best prices. We are always revisiting the sub-contractors' prices to see where we can get the best deals," said Merhebi.

"But in certain instances, we have seen certain developers terminating contracts just for the sake of re-tendering it and bringing a new cheaper contractor on board. I think this is against the ethics of the industry," he said.

Joint discussions are on order, said Malik, who said the present crisis is mainly due to lack of confidence and trust. "Contractors, developers and the administration should sit together and discuss the issue and find out means to overcome the crisis and bring back the confidence. The government of Dubai had a vision, which was proceeding uninterrupted till a few months ago. Even today it is not that something is wrong with the vision. The problems that we are facing here are caused by external factors on which the policy makers here had very little control," said Malik.

"Therefore, it is important for us to instill confidence in the market. Many projects have stopped today, not because of the financial crisis but simply because people are reconsidering and aiming to get better prices. Although businesses are pausing to take stock of the situation, we definitely need to once again move forward," he added.

The property and real estate market in the UAE, he said, had been growing at a fast rate. "The companies here have been almost doubling their growth figures every year and growing at around 70 to 100 per cent. This was never a healthy phenomenon. It is a time for things to slow down and have a more balanced growth," said Malik.
Follow Emirates 24|7 on Google News.