Dubal not to cut aluminium output despite price drop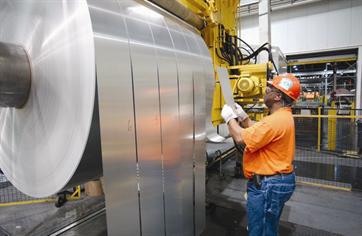 Dubai Aluminium (Dubal) yesterday said it does not plan to cut production in the near future despite a sharp drop in aluminium prices.

The prices of aluminium dropped further yesterday by 3.2 per cent to touch a low of $1,467 (Dh5,388) from $1,516 last week.

Industry sources have, meanwhile, warned that aluminium prices will take several years to recover, unless large producers make deeper cuts in output.

Abdulla Kalban, President and CEO of Dubal, told Emirates Business that the company does not plan to reduce production in the near future. Dubal currently produces about 960,000 metric tonnes per annum (mtpa).

During a recent conference Kalban had said when it came to production, the Gulf with its low energy costs had a significant advantage compared to the rest of the world. "Energy efficiency and operational costs coupled with established routes to markets and environmental standards will remain significant competitive advantages for new smelters," he said.

The company intends to go ahead with its plan to build the world's largest smelter in Abu Dhabi. The GCC has a capacity to produce 5.7 mtpa with Saudi Arabia being the largest producer followed by the UAE.

Demand for aluminium has dropped significantly resulting in an increase in inventories. Aluminium stocks rose 10,950 tonnes to 2.43 million tonnes, the highest level since September 1994, creating a stock overhang that could take considerable time to erode as consumption continues to fall. Almost 65 per cent of the demand is from the construction, transport and packaging industry, and both the construction and automobile sectors have been severely hit by the global slowdown.

Alumco LLC, a specialised aluminium façade contractor and one of UAE's largest manufacturer of aluminium façades, said it is continuing with all its projects for 2009 and there have not been any order cancellations. "Our order book remains the same and so is our output," said a senior official from Alumco.

Europe, North America and China contribute 71 per cent of the annual consumption. The three sectors and three geographical areas are the worst hit by the global slowdown. This has prompted a fall in consumption leading to inventory build-up on all three exchanges.

Aluminium prices have fallen almost 60 per cent since a record high of $3,380 a tonne last July.

Pittsburgh-based aluminium producer Alcoa Inc, which has announced output cuts, posted a fourth-quarter loss on Monday on lower demand and declining metal prices, according to AFP. It has reported a quarterly loss much steeper than expected. Alcoa, which last week announced massive lay offs and other cost-cutting moves, said its net loss for the past quarter was $1.19 billion including hefty reorganisation charges. It also said revenues fell 18 per cent in the quarter to $5.7bn. For all of 2008, the company swung to a loss of $74 million from a 2007 profit of $2.56bn, as revenues fell 8.1 per cent to $26.9bn.

Alcoa said results "were driven by a 35 per cent decline in prices in the quarter", including a 56 per cent decline from July, and a sharp drop in demand from the automotive, commercial transportation, building and construction sectors.

"We are taking wide-ranging measures to address the economic downturn," said Klaus Kleinfeld, President and Chief Executive of Alcoa. "We have streamlined our portfolio to focus on businesses where Alcoa is the recognised leader, curtailed production to adjust to weakened demand, reduced global headcount, and achieved significant savings in key raw materials.

Alcoa said last week it would slash some 13,500 jobs, or 13 per cent, of its global workforce and reduce output. Alcoa also said it was implementing a freeze on hiring and salaries.

According to a Dow Jones report, many major producers have shown restraint in cutting production. Apart from Alcoa Inc and Netherlands-based Vimetco NV, no other Western producer has announced a cut of the size needed to make a real difference in the market.

Aluminium Bahrain too has not announced any cuts nor has India's National Aluminium Co Ltd.

All Indian aluminium majors are said to be sticking to their current expansion plans. As per the current capex plans, the production capacity of India will double to 2.7 mtpa by 2012 and 3.2 mtpa by 2013.

However, despite the various cuts and 4.5 million metric tonnes of aluminium estimated to have been removed from production schedules, consumption has collapsed much more than the reduced supply.

Analysts estimate production will still exceed demand by at least three million tonnes after these cuts.
Follow Emirates 24|7 on Google News.