DWC secured with fences and gates costing Dh26m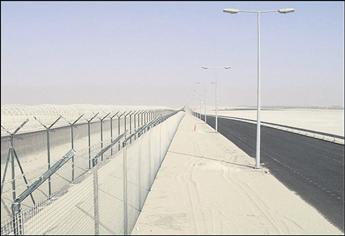 The installation of fences and gates around Dubai World Central (DWC), the 140-square kilometres, multi-phase urban land

development centred around what is to become the world's largest airport – the DWC-Al Maktoum International Airport – has been completed.

Stretching across a total area of 80km and costing Dh26 million, the fences and gates cover the remaining unfenced sections of DWC site boundary, all free zone area across Dubai Logistics City and DWC Aviation City, and the Phase 1 of the airfield.

"The total fencing is equivalent to that of securing an area nearly twice the size of Hong Kong Island – a feat quite remarkable in itself," said Abdulla Al Falasi, Director of Marketing and Corporate Communications at DWC.

About 30,000 tonnes of steel and wires were used throughout the entire area, which took workers some 365 days to finish.

"With this special fencing of the DWC site boundary, its internal landside and airside fences, and the free zone area, the way has been paved for a clear delineation and security within DWC's major components," said Al Falasi.

"It also provides for the necessary security and protection from any possible untoward outside intrusion as DWC's construction, particularly that of the DWC-Al Maktoum International Airport goes full steam ahead," he added.

Other infrastructure work within DWC such as the cargo terminal building, control tower, navigational aids, aprons and taxiways, central utility complexes, electrical substation, fuel staging area, fire stations and police station and other facilities are expected to be completed soon.

"DWC's construction work has been going on unhampered in preparation for the first flight in and out of DWC-Al Maktoum International Airport, which is expected by the end of 2009," said Al Falasi.
Follow Emirates 24|7 on Google News.