Foundation work of Dh750m Schön Business Park completed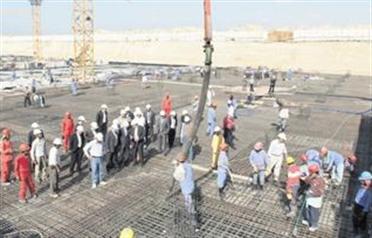 Construction of Schön Business Park, which is scheduled for completion in the first quarter of 2010, moved forward this week as a 250-man crew laid down 300 tonnes of steel and poured 1,900 cubic metres of concrete to complete the first phase foundation work on the Dh750 million project at the Dubai Investment Park.

United Engineering Construction (Unec), the prime contractor, took 17 hours to complete the work by using three continuously running cement pumps.

One of Dubai's leading private real estate developers, Schön Properties is also one of the most financially sound. "We have always had a conservative approach to real estate development financing and we have zero debt from any financial institution," said Schön Properties Chairman Tahir H Schön.

"This has given us a great deal of resilience over the past few months and we have been able to fully focus on completion and delivery of our existing projects, which are all on schedule.

"Schön Business Park has been one of our most successful projects so far, with 90 per cent sold out within weeks of its launch.

"We are certain that this will be one of Dubai's most attractive and successful business centres."

Executive Director of Schön Properties Sonia H Schön stressed the long-term viability of business property developments in Dubai. "The massive investments in business infrastructure over the past decade have ensured Dubai's place as the commercial epicentre of the Middle East for the long term", she said. "Although there is a slowdown, economists are forecasting a turnaround in 2010 and this is when Schön Business Park is scheduled to open. We are absolutely optimistic about the prospects for our customers."

Construction on the 106,372 square metres Schön Business Park project was fast-tracked through 2008 by the developer's strategic decision to split the enabling and main construction works.

Ground Engineering specialists NSCC (National Services and Contracting) were contracted to handle all enabling works, including 350 metres of open excavation, which involved removing 200,000 cubic metres of earth and 360 meters of shoring, which were completed within eight months.

Unec was awarded the Dh378m construction contract for Schön Business Park, which includes completion of the substructure, superstructure, external envelope, shell and core office and retail spaces as well as electro-mechanical works throughout the project.

Upon completion of the enabling works, Unec took over the site in December 2008. Overall construction of foundations and framework will use 8,175 tonnes of steel and 53,944 cubic metres of concrete, requiring an average of 165 cubic metres of concrete and 31 tonnes of steel per day.

Divided into two wings of shell and core office space and featuring two levels of underground car parking, a ground level filled with individual office units, restaurants, coffee shops, banks, ATM machines, travel centre and prayer rooms as well as three levels of office space, Schön Business Park is designed to fill the need for flexible and cost effective office space. On the current slowdown in the Dubai property market, Tahir Schön is philosophical.

"The market was overheated and badly needed a correction. We have been in business for decades and fully understand that all markets are cyclical.

"Those developers and investors who forgot this fact of life, who thought that the property boom would never end and were seduced by quick and easy profits, those who leveraged themselves beyond their means, are suffering now, but this does not mean Dubai is not still a fantastic place to invest and do business. The days of flipping towers are, thankfully, over and both developers and investors are having a reality check but one should not forget that the extraordinary development in Dubai is the result of a long-term vision, not a speculative fantasy.

"The transformative civil works being undertaken by the RTA and other infrastructure developments, which are forging ahead as planned, are going to reinforce Dubai's pre-eminence as the business hub of the Middle East for a long-time to come. I have complete confidence in the prospects for sensible long-term real estate investment in Dubai. I am not worried," he said.
Follow Emirates 24|7 on Google News.