High capital spending to boost Saudi cement sale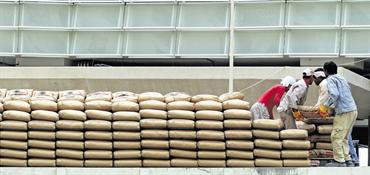 Saudi Arabia's approval of record capital spending in 2010 will stimulate the domestic economy and allow local cement companies to expand sales and cut swelling stock, the kingdom's largest bank said yesterday.

A decision by the Saudi government to lift a ban on cement exports pushed up sales by the 12 producers in the world's dominant oil exporter, but increasing output capacity kept cement inventory at high levels, National Commercial Bank (NCB) said in a study sent to Emirates Business.

NCB said the Saudi market, the largest in the Middle East, was well supplied in 2009, with the combined clinker capacity of the 12 producing factories peaking at nearly 45.1 million tonnes, resulting in an attainable output of 47.2 million tonnes.

Total cement sales increased by around 15.1 per cent to 37.85 million tonnes, easing the tight supply situation that has been persisting since 2006, it said.

Its figures also showed sales to the domestic market leaped by 22.9 per cent to 36.71 million tonnes, absorbing nearly 97 per cent of the kingdom's total output.

It noted that with capacity utilisation rates reaching nearly 80 per cent by the end of 2009, Saudi authorities have lifted the ban on cement exports on the condition that local prices do not surpass SR200 (Dh195.9) per tonne.

"This will inevitably increase the percentage of production being exported. On the downside, the gains in capacity had lead to a 47 per cent increase in combined clinker inventory. Furthermore, intense competition has weighed on prices and the profitability of domestic producers," said NCB.

Citing their balance sheets, it said the combined net profits of the eight listed cement companies fell by about 9.8 per cent in 2009 to around SR3.61 billion, while the weighted average net-profit per tonne of cement sold, in both local and exports markets, declined by 17.1 per cent to nearly SR114.52 per tonne.

"Going forward, demand stemming from capital investment expenditure plans announced in Saudi Arabia's budget for this year (SR260 billion) should reduce cement inventories and support prices."

Announcing its 2010 budget just before the end of the year, Saudi Arabia said it would maintain an expansionary fiscal policy to support economic growth following a sharp slowdown caused by the global fiscal distress.

Besides record public spending, the 2010 budget also includes record investment expenditure of SR260bn, an increase of about 16 per cent over the last year's budget, which was the largest historically, and about three times the level in 2005, the first year in the current eighth development plan.

A government statement said the budget gives emphasis to projects that ensure sustainable and balanced development as well as job creation. Total spending in 2010 was assumed at SR540bn and revenue at SR470bn, creating a deficit of SR70bn.

Saudi Arabia, which controls over a fifth of the world's extractable crude deposits, also plans to spend nearly $400bn (Dh1.49 trillion) in the next five years on infrastructure and other development projects, according to official estimates.

In a recent report, NCB said licences for new cement projects and expansions of existing units would boost total production to a record 54 million tonnes in 2010. "While cement exports absorb nearly 10 per cent of the total cement sales, the remaining 25 per cent is met by the transient demand created by the waves of construction projects, both public and private sectors," it said.

"Upon completion of these projects, a time we believe could be around 2015, excess capacity above the sustainable domestic demand and exports is widely feared amongst industry analysts. Thus, in the domestic market perspective, the capacity overhang looks as a real possibility that would tend to intensify competition among local cement producers and to push prices lower."
Keep up with the latest business news from the region with the Emirates Business 24|7 daily newsletter. To subscribe to the newsletter, please click here.
Follow Emirates 24|7 on Google News.