Hiring picking up on construction recovery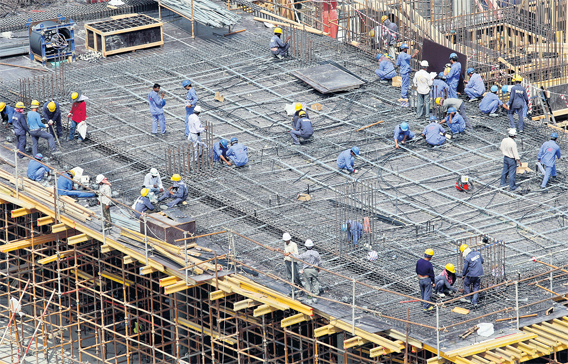 The construction sector, one of the hardest hit in the UAE, seems to be on the recovery path as hiring has picked up during the first two months this year and is going steady, according to experts.
"Hiring has been steady in the construction industry in the first quarter of this year. It has increased by as much as 20-25 per cent in Q1 2010 over last year," Ian Giulianotti, Associate Director at Nadia Recruitment, told Emirates Business.
"This is mainly limited to jobs in the blue-collared, administration, junior and middle management categories. These are jobs that range from Dh15,000 to Dh45,000 per month," he said.
According to Jamie Wilks, Business Manager at Pathway Engineering, the number of jobs available in the industry across the region has gone up significantly.
"[We have] seen a sharp increase in demand across the construction sector so far this year. Compared to last year, we have identified 41 per cent more jobs available and expect this to slowly increase over the course of the year as more contracts are awarded," he told this paper.
"A significant amount of re-tendered contracts are coming live, mainly focused around public infrastructure projects across the GCC," he added.
As far as senior management roles are concerned, hiring has picked up, but is still low as compared to less paying jobs in the industry.
"In the case of senior management, we are seeing jobs being filled in the CFO field and risk assessment and the increase has been approximately 15 per cent. There is not much hiring happening in other senior management roles, firstly because companies don't want to increase their expenses and secondly, in current times, they prefer being defensive," Giulianotti explained.
He believes the renewed demand in the UAE is not from new project launches but to compensate for the massive lay-offs that the industry witnessed last year.
"I would like to stress that hiring is not going on so much because of new contracts but because of the huge number of people companies had laid-off in 2009 and now have to finish work.
"People are expecting demand from big nuclear projects, but here I would say that these kind of projects require very specialised talent and most of the people for such work will be coming from countries like US, Japan and Korea. This will not affect the local market much, but there will be some residual impact," he said.
Experts believe that major redundancies will not be on the cards for most companies this year.
"We expect very few redundancies in the sector this year as most companies have downsized accordingly," said Wilks.
Some experts, however, maintain that lay-offs might continue albeit at a much slower pace than in 2009.
"We cannot rule out further redundancies in the construction sector this year, as some companies will be completing projects this year without having new projects secured," said Cliff Single, Commercial Manager at BAC Middle East.
"It's inevitable that we will see more job losses as some projects come to the end and the employer has nowhere to send its team to," said Matthew Carter, Managing Director at McArthur Murray.
"However, we do not anticipate large-scale lay-offs or redundancies at the same levels as in 2009. Some companies are in a stronger position in terms of a project pipeline than others; so it is not a uniform picture across the sector," Single said.
"For contractors who have broadened their focus and grown across the region, then perhaps opportunity will be there to relocate staff and avoid job losses," said Carter.
As far as salaries are concerned, experts are unanimous that 2010 may not usher in any hikes or bonuses.
"There will not be any increases and we don't expect any bonuses to be given out. Moreover, there will be no negotiation as far as money is concerned. There is still a pool of candidates available in the market," said Giulianotti.
"We do not anticipate any major change in construction sector salaries in 2010. Although the pool of available candidates has reduced since last year, there remains spare capacity in the sector and the employers still generally have the stronger negotiating position," agreed Single.
"Average salaries are on the decline as the Middle East market corrects. So far, we have seen a 28 per cent reduction in average salaries across senior construction professionals in the region. Q1 will finish much stronger than last year, but some way off the highs of 2007," added Wilks.
Carter said: "My sense is that the basic laws of supply and demand will come into play and that salaries will level out. Where some projects are complex and require specific skills, perhaps you will see some spikes in compensation. Some construction companies who have the mid-term in their minds will recognise the need to retain good talent and will reward their staff accordingly. On the other hand employees will need to be more flexible in location and projects."
Keep up with the latest business news from the region with the Emirates Business 24|7 daily newsletter. To subscribe to the newsletter, please click here.
Follow Emirates 24|7 on Google News.