Iraq to award oil field servicing contracts by second half: minister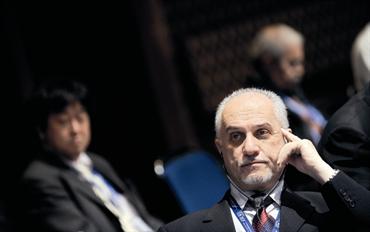 Iraqi Oil Minister Hussain Al Shahristani said the first bidding round of oil field servicing contracts would be awarded by mid-2009, and the second round by the end of the year.

He said he expected the total additional crude oil produced from these new fields to reach 3.5 million barrels per day. "We hope to finish awarding these contracts in the middle of this year, for the first bidding round. We hope the second bidding round would be awarded by the end of this year," Shahristani said.

"The total amount of additional crude oil produced from these fields will be 1.5 million bpd for the first round and another two million bpd for the second round. So the total would be 3.5 million bpd," he said.

The minister also said oil prices could not continue at such low levels and that Opec may look into an output cut at the group's next meeting in Vienna.

"Oil prices cannot continue at these low levels. The oil market has slowly and gradually picked up in the last two months. We hope it will continue," Shahristani told reporters in the Jordanian capital Amman. "Opec producers might look into an oil cut in Vienna if there's a surplus with no demand," he said.

Some members of the Opec have raised the prospect it may cut its oil output further to boost oil prices at a March 15 meeting.

Opec has agreed to lower its production by a total of 4.2 million bpd, about five per cent of daily world demand, since last September to bolster prices and counter declining consumption.

Oil settled more than four per cent higher on Friday as expectations Opec could reduce output again outweighed weak US economic data.
Follow Emirates 24|7 on Google News.