Limitless seeks bids for Downtown Jebel Ali people mover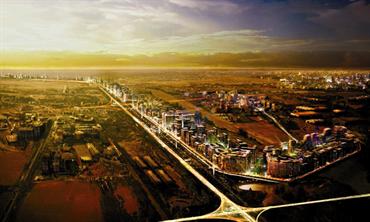 Limitless has invited bids for the design and construction of its Downtown Jebel Ali people mover, with the contract due to be awarded by mid-2009, the company said yesterday.

The people mover – an environmentally-friendly alternative – will carry residents and visitors around each of the four zones that will make up the 200 hectare Downtown Jebel Ali (DJA).

The developer did not confirm whether the people mover was a monorail.

Salah Ameen, Project Director, Downtown Jebel Ali, said: "Downtown Jebel Ali is designed for people to use two legs instead of four wheels, with a number of transport options – metro links, people movers and areas where people can walk or cycle – to reduce car dependency and our collective impact on the environment."

Limitless is also working with the Roads and Transport Authority to build three of the four Dubai Metro stations that will be located in Downtown Jebel Ali. The four zones will each have a Metro station alongside a mixed-use central plaza building, providing transport links to other zones and to the rest of Dubai.

Douglas Kelbaugh, Executive Director, Design and Planning, Limitless, said: "We are carrying out projects that are sustainable and a big part of that is transportation. Modern urban planners have focused on the big and specialised – super everything. Limitless is doing mixed-use projects and has been looking at new urbanism with Peter Calthorpe of Calthorpe Associates.

"The DJA is completely focused on and built around the transit stops. It is conceived and driven by walkability around the transit stop and the people mover, which will take you beyond the walking radius to a mosque or home or shopping area," said Kelbaugh.

"The question is to ask how people will take shorter and fewer trips, while not doing away with cars. It means bringing people back together and mixing them up. It means having a stronger public realm, walking more and using transit.

"Our projects, such as DJA, use transit – connecting to the RTA's main line but also a people mover that will connect the RTA stations to the micro-destinations within the neighbourhood."

He said: "The DJA is a fine project. You need sufficient density and proximity to the city. It is also about building communities. You cannot feel a sense of place through a windshield.

"All Limitless developments are a network of streets with a lot of intersections where you can turn left," said Kelbaugh.

The developer has stopped hiring but is not letting people go, he said. "We were going to hire people but have not done so. And we are not letting people go like most firms," added Kelbaugh.

"But we have an advantage and can cherry-pick projects around the world and that makes sense. The slowdown is good for the economy at the macro level. At Limitless, we are in a position to weather it."

The current project portfolio, which includes Malaysia, China, Jordan and Al Wasl in Saudi, is moving ahead he added.

"At the Arabian Canal – we are monitoring the market and adjusting accordingly. The digging of the Canal is continuing and we are still looking at Phase One and Phase Two. We still have people out there but it is not moving as fast. But that is a 15-year project," he said.

"Since we deal at the urban scale, we have to absorb the upturns and downturns. There are times you speed up and times you slow down. So in this climate, our strategy has been to speed some projects and slow down others."

Focus markets include the Far East – Singapore, Malaysia, China and Vietnam. "We are also involved in the Middle East. And we are looking at Russia and the Subcontinent," he said.

The developer takes design very seriously, he added.

"This company is committed to design. We are going to mix the architects so that the areas within projects do not look repetitive.

"We are also working with regional architects like Rasem Badran and Khalid Essam and with local architects in China," said Kelbaugh.
Follow Emirates 24|7 on Google News.