Low and mid-income residential projects need of the hour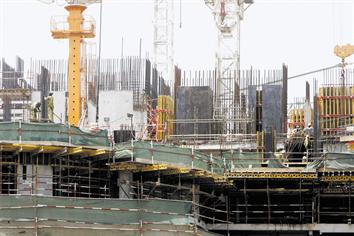 From a contractor's point of view, the market should look at developing low income residential projects with costs of construction between Dh200 and Dh250 a square foot, according to Arabtec Holding CEO Riad Kamal.

"For mid-income buildings, again from a contractor's point of view, we could look at a figure between Dh250 and Dh300 per sqft. It is not a risk to quality but it depends on your choice of quality in terms of final finishes. For high-end, you are looking at Dh600 to Dh700 per sqft. Location also has a great impact. But I think people will have to bring down their prices or else sit on their property." He was speaking at the sidelines of the Arabian World Construction Summit 2009.

Arabtec Holding PJSC, the UAE's biggest construction company, recorded a 3.8-per cent decline in fourth-quarter profit as the country's five year-old property boom slowed amid the global financial crisis, said agency reports yesterday.

Net income in the three months to December 2008 fell to Dh184.8 million ($50.3m) from Dh192.1m in the year-earlier period.

Bloomberg calculated the figure by subtracting nine-month data from full-year results reported by the company to the Dubai bourse yesterday. Arabtec confirmed the numbers, according to the agency.

Renegotiations on contracts are in order and Kamal told Emirates Business that situation will only apply to new contracts. "Many of our contracts are coming to an end. But when it comes to contracts that have not yet started, many of our clients are asking for revisions of figures on projects and we are helping them where we can to achieve more competitive budgets for their projects," he said.

Even after the Meydan project contract cancellation in January, Arabtec Holdings order book stands at Dh30bn. "If no projects are cancelled," he added. "This is discounting the Dh10bn rom the Okhta project in St Petersburg, Russia." We will know about the Okhta project in the next few weeks. We have been working with the client in the last couple of weeks trying to achieve the optimum for them in the design and for their budget and now the ball is in their court. As far as we know, the project is going ahead."

He discounted rumours of his stepping down and said that the only change was the designation of the General Manager Thomas Barry at Arabtec Construction to the CEO for that division. "We wanted to give him a bigger share of responsibility. My role is still the same as CEO of Arabtec Holding and Executive Chairman of Arabtec Construction," said Kamal.

Layoffs will come if there is no work, he said. "There will be some job losses. In 2009, we are going to be as busy as 2008. But I cannot predict how 2010 will develop. While we still have a good backlog, I am not sure if projects will move ahead in full or even if there will be some changes in that figure. What we have had to do is adjust our growth numbers," said Kamal. "We are looking to consolidate what we have, keep sufficient staff and cut costs. Earlier nobody was focusing on costs but on delivering a product. Now clients are looking at squeezing their budgets and their prices and we have had to comply by cutting down on the luxury in our staff. We are also looking at our efficiency, productivity and being able to squeeze our suppliers and sub-contractors since pricing is being revised on projects that are underway."

The group sees new markets in Qatar and Saudi Arabia. "We are still strong in the UAE market in terms of estimating new projects and being involved in infrastructure and public projects will hopefully compensate for some of the private real estate developments that will probably dry up in the coming years," he said.

Arabtec operates in the the UAE, Qatar, Jordan, Syria and Pakistan, although Dubai contributes more than 50 per cent of its orders. The group, which includes more than 10 companies including Austrian Arabian Ready Mix Concrete Co, is the contractor for Burj Dubai, the world's tallest tower being built by Emaar Properties.

Arabtec shares rose 2.3 per cent to 89 fils at 12pm in Dubai when they were suspended from trading ahead of the company's board meeting. The stock has declined 61 per cent this year, said Bloomberg.

Developers in Dubai are scaling back projects as demand for property slows. Construction projects valued at $582bn have been put on hold in the UAE. since the onset of the global credit crisis, Dubai-based research company Proleads said last week.
Follow Emirates 24|7 on Google News.