Lower liquidity may see more renegotiations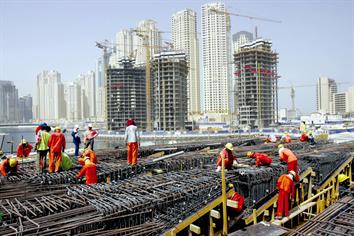 There will be a rise in construction disputes in the next two years since finance is not easily available as before, said DLA Piper, an international legal firm.

In the next 12 to 18 months, the industry will also have fewer opportunities to postpone the settling of disputes.

"It will be interesting to see how the difficult scenarios are going to play out in the next 12 to 18 months. With the current scenario, developers and sub-developers might have difficulty in financing new projects or refinancing existing projects (where their finance facility has matured before the project completion)," said Jim Delkousis, partner at DLA Piper. "In the past, developers and contractors solved their differences effectively by moving on to the next project. That will be challenged now because there is less liquidity in the market and those opportunities will start to reduce if there are not enough projects for the parties to settle their disputes in the future. They will have to finish and settle either through negotiation or through formal process."

Added David Nancarrow, also a partner at the firm, that renegotiations will increase. "The market was going at breakneck speed and hence the legal industry had to work at the same pace. Earlier, we saw delays due to materials prices and labour. Now the slowdown is market driven due to cancelled contracts and delayed payments," said Nancarrow. "Sub-developers are renegotiating with their master developers on timing. So whether that means six or 12 months in terms of delays, you will see both sides looking at getting to a point of renegotiated timeframes."

Issues that both forsee in the coming months include disputes arising due to the fact that developers might have a change of deal.

"They might not want to pursue what they planned or it might have a change of form," said Delkousis. "This for the most part will involve the contractor saying that he has to be paid for work finished and for what he has lost by not finishing the job."

If a master developer decides to downsize the project if the funding is not available, the legal firm has to reassess what the client's rights and obligations are in this case. "We have to advise whether the contract can be cancelled and if so what are the penalties and where it can be renegotiated," said Delkousis. Many developers have a 'termination for convenience' clause, where they can cancel the contract anytime. "But it they do so, they have to pay a cost to the contractors," he added. "If the developer is facing a financial crunch where they cannot pay the penalty, then the contractors will have to take action by renegotiation or legal action."

Delkousis said more difficult scenarios will arise when buildings are half complete. "We might see situations where the investors have shown lack of confidence and where they have pulled out or stopped making payments," said Delkousis. "Banks will increase pressure and there will be a squeeze with sub-developers, who will have to renegotiate with their contractors and their developers in terms of time and payment. There will be some kind of fallout there."

According to both, the legal market in the region is still developing in terms of the construction industry. "It has a number of players from different backgrounds. Not just lawyers (many with common law and civil law backgrounds) but also those in the construction project management, who bring their own legal backgrounds and ways of doing things. Added to which, you have the client's representative from the developers' side sitting at the project table who has his own experience. So you find that their standard form contracts are Fidic contracts," said Delkousis. "Yet, the UAE has a civil law system. And many of the industry players here don't understand how the civil law functions and that has its challenges."

For a construction lawyer, it is certainly different culture, he said. "The first option here is renegotiation," said Delkousis. Other options in the resolution of disputes will include formal mediation, arbitration at DIAC or DIFC or litigation in the UAE Courts. "One mechanism, which is in the very early stages here is a formal mediation process where you have an independent mediator who both parties respect," said Delkousis. "Hopefully, they come to a resolution."

According to Nancarrow, a construction contract in UAE has a lot of process that has been developed over the years from the people who have been actually delivering the project. "That then is used to fit in with the legal framework here and hence it is a new market. The projects here are massive in size and very quick. It is very interesting dynamic," he said.

"Usually, history governs what goes forward. We don't have a precedent system here and the market is still young and developing. The resolution of disputes is always evolving – people are looking for newer ways to develop. But people don't want to always go for arbitration – they prefer to settle the issue and look at maintaining an ongoing relationship," he said. "How will this unfold? It will depend on the developer, the contractor and the project. Right now, the discussion is focused on where they want the relationship to head in the project. However, sophisticated people will look at what they want to do in the next year and then the next five years. The construction industry is increasingly looking at this scenario in the recent months."

He said many projects have shortcomings from a documentation point of view. "Disputes are not so different here from projects being done internationally but the projects here are bigger. International construction has these issues but not on the scale of what you see here."

The vast majority is settled commercially, added Delkousis. A small percentage go for arbitration and courts but both are of the opinion that the courts in the UAE still do not have the kind of flow through of work in construction disputes that other jurisdictions have.
Follow Emirates 24|7 on Google News.