Maintaining liquidity key to sector's growth, say officials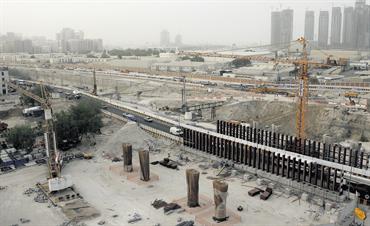 Major players of the UAE's construction sector gave a mixed opinion about the prospect for 2010.

While some major contractors expressed confidence that stalled projects would restart, others said it would take another eight to twelve months for the situation to get back to 2007- 2008 levels.

This year will see a slight increase in the prices of building material prices. The leading players in the UAE construction industry are concerned that maintaining liquidity in the market is essential in 2010, and that otherwise might affect the smaller subcontractors' and suppliers' ability to continue doing business in the market.

Consolidation, restructuring and diversification of their portfolio risks will be the name of the game in the coming year, they said.

According to a recent report by Economist Intelligence Unit (EIU), lower oil production allied with slowing construction activity depressed the UAE economy in 2009. It is expected to rebound by nearly four per cent in 2010.

"A gradual increase in oil output, the coming on stream of several large projects in the country and a return of investor confidence, are expected to lead to a growth of four per cent in 2010, helped then by positive base effects," it said.

According to the EIU statement, the UAE economy is projected to pick up pace in 2011 as consumer and investor confidence returns on the back of more robust world economic growth and as banks resume lending.

"The bias to our forecast remains on the downside, especially for 2011, owing to the possibility of a W-shaped global recovery, with a new downturn in late 2010 or early 2011. Many real estate projects have been cancelled or postponed, and these may not resume if previous growth levels are not attained," the report said.

UAE Contractors Association's Imad Al Jamal said that in his opinion the construction sector would require at least another six months to an year to recover. "It will not happen immediately. Yes, the construction cost has decreased and would not increase any time soon. I don't see we will see anything moving ahead like it was in the beginning of 2008 until another six to eight months or may be until the end of this year," said Jamal.

Giving an account of 2010, Ziad Makhzoumi, the CFO of Arabtec Holding, said: "In 2010, we have to see what the new liquidity will do to the market. The next year will see some major restructuring of projects though there will not be any new projects coming.

"Next year, will be a continuation of exiting the announced projects. We will have to see what the priorities are and how they will be executed in Dubai. The industry will basically witness a consolidation," he said.

According to Makhzoumi, the situation in Abu Dhabi is, however, different. "Investment programmes are longer and different since they are focusing on developing infrastructure to support its existing strengths in oil and gas one way or another.

"Some companies might suffer because of lack of liquidity because they are not big enough to sustain the waiting that is required. It is a concern that we have highlighted all the time that we have to keep liquidity in the market to keep the economic cycle going," he said.

Commenting on the company's strategy in 2010 he said: "We are repositioning our activities outside. We believe that our work will continue in Dubai for the coming two to three years and then new projects will come on line but not of the same magnitude."

In 2010, he said it would be important for the companies to consolidate outside Dubai. "Qatar has picked up and Saudi is the biggest market we are targeting, similar to Dubai when it was booming and picking up. Russia is also a major project for us and we are more or less on target. We hope that by end 2010, we come back to what we are now in 2009 and in 2011, we will go to what we were at the major peak in 2008 since major projects will come in. We are positive about Libya and there are few projects that will happen and we are in the process of setting up an office there."

According to Hassan Auji, General Manager of ACC, 2010 should be promising for ACC as the company is concentrating in many areas.

"We are not just in one area but are also in Abu Dhabi. We believe that Dubai will overcome the problem with the Abu Dhabi infusion of funds. Meanwhile, Saudi Arabia also looks promising," he said.

It is very crucial how the subcontractors and suppliers emerge out of the crisis, said Auji. "We do not know how the subcontractors and suppliers are affected by the situation. It is not just about the main contractors. We are looking at it as one entity. This will have an impact on the whole project. Most of the problem we would face is with the subcontractors and suppliers survival and their survival will be crucial to all of us," he said.

ACC's strategy is to take up only whatever work can be achieved. "The company's strategy is to have steady single digit growth. Even during the boom, we watched our growth and avoided a sharp increase," said Auji.

Beshoy Azmi, Chief Executive Officer of Al Shafar General Contracting, was also of the opinion that payments continue to remain a key issue. "Delayed payments created havoc and the reduction in the number of projects due to suspension or delay," he said.

"I see the industry as continuing to be alive but recovering from near death illness. I see it as a challenging environment with contractors being asked to reduce costs even further and squeeze margins and subcontractors and suppliers even further and work diligently to deliver projects in the current real estate market, which has low returns on real estate."

Saleh Muradweij, Executive Director of GTCC and a DSI board member, said one of the lessons that contractors in the UAE learnt from the crisis is to diversify into other markets.

"You have to be in other places, markets and the industry to diversify. As far as Drake & Scull is concerned, we are very optimistic, especially in the region and specifically in Abu Dhabi and Saudi Arabia. The budget that Saudi Arabia recently announced for SR540 billion (Dh528.8bn) for 2010 gives an opportunity for projects to be awarded to international contractors," he said.

According to him the company's main focus in 2010 will be Saudi Arabia. "Existing local contractors in Saudi are over saturated with work and have a massive backlog. In the UAE, Abu Dhabi is picking up noticeably.

"A lot of projects that went on hold towards the beginning of 2009 and are retendered are on track to be awarded. The first quarter of 2010 will see a lot of mega projects being awarded.

"A lot of contractors are looking to diversify not just in the GCC but across the Mena and other parts of Asia. We are tendering projects worth in billions with Aramco. Qatar is also picking up and we are in Qatar as well. We have just entered Kuwait. We have been in Libya for the past one month. We are also operating in Jordan and Thailand. It is just a matter of translating it into more jobs coming in 2010," said Muradweij.

The company would soon start recruiting again, he said. "We are recruiting specially for the Saudi market. The size of the projects coming in the kingdom are enormous and require a large number of staff," he added.

Meanwhile, most of the industry players were of the opinion that the building materials prices would have bottomed out and would only increase marginally during 2010.

"It all depends on what happens in places such as China. If that picks up, it might go up but then nothing is happening elsewhere so that will balance it," said Makhzoumi.

According to him Saudi would also play a role in determining the price structure. "If Saudi decides to raise its infrastructure spending, then again some increase might happen but gradually, since they dropped too much from the peak. Construction prices per square foot depend on labour, overheads and prices of materials.

"While labour has not dropped, materials and overheads did, but it depends on the quality of finishes. I have seen quotes where prices are low but overheads are priced higher," said Makhzoumi.

Auji is of the opinion that with a strong euro and the current prices of oil ranging between $80 to $85, prices might rise slightly. "Steel and cement are two commodities which are affected by the demand and supply.

"If they reduce the production, it might have an impact on the prices. The prices of cement will depend on whether projects reduce. If Abu Dhabi decides to back the infrastructure projects, then prices might rise slightly, if not remain steady."

Beshoy Azmi said the prices would neither increase nor drop during 2010. "I don't see them going up and there won't be a major boost in demand. At the same time prices won't go down because we are very near to the bottom. We have reached bottom in terms of construction prices," he said.

Muradweij said that prices of building materials have already bottomed out and would only increase marginally. "The main challenge in 2010 will be the banking and financing of projects. The contractors will not be able to do anything much unless the banks start financing again as it is the bread and butter of the construction industry," he added.

"During the first quarter of 2009, companies experienced a lot of challenges and difficulties. It will continue to be a worrying factor during 2010. Unless something is done, I am anticipating an injection of liquidity from central bank and the government to ease up banking regulations," he said.

According to Makhzoumi, the first quarter of the year witnessed a lack of clarity and projects being put on hold, which changed by the end of the first quarter.

"The second quarter saw more liquidity in the market, some projects restarted and we saw some receivables again. The third quarter was influenced by summer and Ramadan but things were clearer. The fourth quarter saw good news that liquidity was being put into the market and debts being restructured," he said.

Auji said the major issues were slowing of work, rescheduling and reprogramming most of the work.

"The global crisis had an impact on all sectors. We were extending the time progress of completion by a year with some projects. As a company, we were lucky that things did not affect us badly since the payments were made according to schedule. Couple of them asked us to extend the completion date by certain time period."
Keep up with the latest business news from the region with the Emirates Business 24|7 daily newsletter. To subscribe to the newsletter, please click here
Follow Emirates 24|7 on Google News.